What is Kuwait known for?
tinyladybug283

last edited by




Kuwait

Kuwait, country of the Arabian Peninsula located in the northwestern corner of the Persian Gulf.

Kuwait has so much to offer, here are some of the things Kuwait is known for.

Souq Mubarakiya: Catching a sense of Kuwait's living history at this bustling, authentic marketplace.
Kuwait Towers: Marvelling at the bulbous towers, an icon of the nation.
Dar Al Athar Al Islamiyya: Admiring ancient artefacts from the region's rich past.
Al Shaheed Park: Strolling a beautifully manicured green urban park, with paths covering 2km.
Tareq Rajab Museum: Marvelling at the fine ethnographic collection that survived the Iraqi invasion.
Grand Mosque: Touring the extravagant prayer room of Kuwait's largest mosque.
Al Qurain Martyrs' Museum: Remembering the Kuwaitis who tried to resist Iraqi arrest at this sobering museum.
Al Boom: Dining in a dhow in the shadow of one of the largest wooden boats on Earth.
Mirror House: Experiencing art-in-action in a house covered with mirrors.
The Avenues: Promenading the air-conditioned shopping 'avenues' that mimic European streets.
DiscussPlaces
is a place to make new friends and share your passions and interests. Quench your thirst for knowledge, discuss places with other aficionados, and swap recommendations. Are you an aspiring foodie who dreams of living in New York? Or perhaps you are looking for the best chicken wings in Cincinnati? Then this is the place for you! Any one can join in with a passion or interest – whether it be talking about their favorite restaurant in Barcelona or raving about their latest trip to Italy. Join us!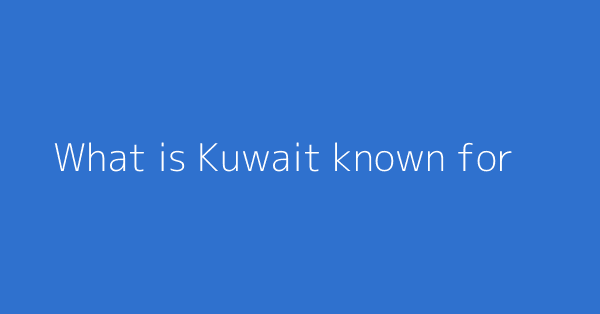 This page shows discussions around "What is Kuwait known for?"