What is Namibia known for?
tinypeacock763

last edited by




Namibia

Namibia, officially Republic of Namibia, also called (internationally until 1968) South West Africa, Afrikaans Namibië or Suidwesafrica, country located on the southwestern coast of Africa.
It is bordered by Angola to the north, Zambia to the northeast, Botswana to the east, South Africa to the southeast and south, and the Atlantic Ocean to the west.
It ranges from arid in the north to desert on the coast and in the east.
The landscape is spectacular, but the desert, mountains, canyons, and savannas are perhaps better to see than to occupy.

Namibia has so much to offer, here are some of the things Namibia is known for.

Etosha National Park

There are few places in Southern Africa that can compete with the wildlife prospects in extraordinary Etosha National Park:. A network of waterholes dispersed among the bush and grasslands surrounding the pan – a blindingly white, flat, saline desert that stretches into the horizon – attracts enormous congregations of animals. A single waterhole can render thousands of sightings over the course of a day, with lions and rhinos the highlights. Etosha is simply one of the best places on the planet for watching wildlife.

Sossusvlei

Towering red dunes of incredibly fine sand that feels soft when it trickles through your fingers and changes iridescently with the light, Sossusvlei: is an astounding place, especially given that the sands originated in the Kalahari millions of years ago. The Sossusvlei valley is dotted with hulking dunes and interspersed with unearthly dry vleis (low, open natural basin). Clambering up the face of these constantly moving giants is a uniquely Namibian experience. You survey the seemingly endless swath of nothingness that surrounds you and it feels as though time itself has slowed.

Fish River Canyon

This enormous gash in the surface of the planet in the south of Namibia is an almost implausible landscape. Seen most clearly in the morning, Fish River Canyon: is desolate, immense and seemingly carved into the earth by a master builder. The exposed rock and lack of plant life are quite startling and invoke thoughtful reflection and a quiet sense of awe. Its rounded edges and sharp corners create a symphony in stone of gigantic and imposing proportions.

Lüderitz

Namibia is a country that defies African stereotypes and this is perhaps nowhere more true than in the historic colonial town of Lüderitz:. Straddling the icy South Atlantic and the blazing-hot Namib Desert is this bizarre mini-Deutschland seemingly stuck in a time warp. After walking its streets and sitting down to a plate of sausages and sauerkraut with an authentic weiss beer, you'll survey the German art nouveau architecture, check the map again and shake your head in disbelief.

Adventure Activities

Namibia is fast becoming Southern Africa's headquarters for adventure sports. If you want to jump out of a plane, hurtle down the face of a sand dune in the world's oldest desert, or live out your *Lawrence of Arabia–*inspired Saharan fantasies on the back of a camel, you're in the right place. A uniquely African activity is black rhino tracking: – on foot – through wild bushland with a couple of trackers, a guide and a lot of caution.

Swakopmund

Easily Namibia's finest urban scene, swanky Swakopmund: is a feast of German art nouveau architecture, with its seaside promenades, half-timbered homes and colonial-era buildings. Stuck out on the South Atlantic coast and surrounded by desert, it feels like a movie set. Let loose on a skydive or horse ride, or sandboard down a 300m-high dune because you are in the adventure capital of the region. 'Swakop' pulls off the backpacker scene and the clinking-wine-glass set equally, so you'll find your niche here.

Skeleton Coast

Travel on the Skeleton Coast:, a treacherous stretch of shore where many ships have become graveyards, is the stuff of road-journey dreams. It's a murky region with rocky and sandy coastal shallows, where rolling fogs and swirling sandstorms encapsulate its ghostly, isolated and untamed feel. It is among the most remote and inaccessible areas in the vast country of Namibia. And it's here, in this wilderness, that you can put your favourite music on, sit back and let reality meet your imagination.

The Himba and Hereo

Culturally rich Namibia, with its colonial overtones, is best experienced in the varied communities of the Herero population, of which the Himba of the Kaokoveld: are a subgroup. They're a striking people. The characteristic Herero women's dress is derived from Victorian-era German missionaries and consists of an enormous crinoline worn over a series of petticoats, with a horn-shaped hat or headdress. In contrast, Himba women are famous for smearing themselves with a fragrant mixture of ochre, butter and bush herbs, which dyes their skin a burnt-orange hue. Don't come to stare. Instead, sit alongside them for an afternoon and learn about their world.

Okonjima Nature Reserve

Namibia has more cheetahs than any other country on earth, but these elegant, graceful speedsters are falling increasingly victim to human-wildlife conflict, often through no fault of their own. In steps AfriCat, with its fine, 200-sq-km reserve: dedicated to cheetah and other wildlife conservation. Track cheetahs, leopards and wild dogs, and learn about this fascinating conservation project at its excellent information centres. With comfortable accommodation, expert guides and a real sense of being out in the wild and supporting a good cause, it will reward you many times over.

Cape Cross

It's one of Namibia's most underrated images – a beach in the Cape Cross Seal Reserve: backed by Atlantic swell and covered with the oily (and rather odoriferous, it must be said) bodies of more than 100,000 lounging Cape fur seals. In a corner of the world where land-based predators or tusked giants of the dunes get most of the attention, this writhing mass of sea mammals is one of the continent's most memorable wildlife-watching experiences.

Caprivi Strip

One of the more curious shapes on the map of Africa, Namibia's Caprivi Strip:, otherwise known as Namibia's Zambezi Region, is a narrow finger of land rich in national parks. Poaching ravaged wildlife populations here in the past, but the animals are making a comeback, and why not? After all, they're just across the border and/or water from Botswana's prolific Okavango Delta and Linyanti wetlands. You're also a stone's throw from both Zambia and Botswana, adding numerous enticing options for your onward journey.

Twyfelfontein

When people in the know talk of Southern Africa's fabulous galleries of millennia-old rock art, chances are that they're talking of Unesco World Heritage–listed Twyfelfontein:. On the dramatic rocky walls, paintings and engravings tell the story of the region – its wildlife, its people, its climatic ebbs and flows. Tracking these down can feel like stumbling upon hidden treasure, and, taken as a whole, Twyfelfontein evokes a feeling of walking through a priceless library of an otherwise-undocumented period of ancient history.

Waterberg Plateau

The rocky spine that runs north-south through the centre of Namibia finds one of its most dramatic expressions in the sandstone Waterberg Plateau:. This is one of those landscapes that's as beautiful from afar (it looms 150m straight up from the surrounding barren badlands) as it is intriguing when you venture within. Apart from the scenery, which is wild and wonderful, the Waterberg hosts some of Namibia's most pleasing wildlife possibilities, from black rhinos to sable and roan antelope.

Damaraland

Damaraland: is Namibia in a rather beautiful nutshell. The landscapes here, turning burnt orange and blood red with the sinking sun, would be reason enough to visit – this is one beautiful corner of the country, with bouldered mountains, snaking dry valleys, bizarrely photogenic tree shapes – but the wildlife is also a wonderful story. Tracking down the free-roaming black rhinos, desert elephants and desert lions that are such icons of the Namibian wild in such gorgeous surrounds is a wonderful way to spend your time.
DiscussPlaces
is a place to make new friends and share your passions and interests. Quench your thirst for knowledge, discuss places with other aficionados, and swap recommendations. Are you an aspiring foodie who dreams of living in New York? Or perhaps you are looking for the best chicken wings in Cincinnati? Then this is the place for you! Any one can join in with a passion or interest – whether it be talking about their favorite restaurant in Barcelona or raving about their latest trip to Italy. Join us!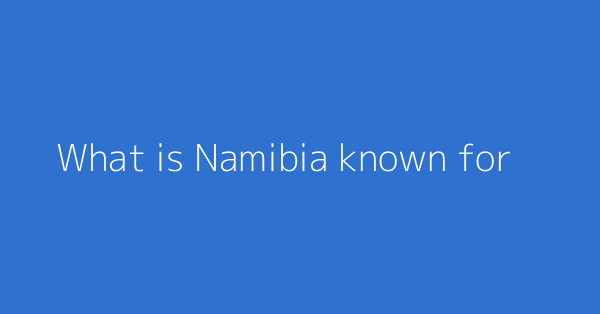 This page shows discussions around "What is Namibia known for?"