What is Luxembourg known for?
heavypanda370

last edited by




Luxembourg

Luxembourg, country in northwestern Europe.
One of the world's smallest countries, it is bordered by Belgium on the west and north, France on the south, and Germany on the northeast and east.
Luxembourg has come under the control of many states and ruling houses in its long history, but it has been a separate, if not always autonomous, political unit since the 10th century.
The ancient Saxon name of its capital city, Lucilinburhuc ("Little Fortress"), symbolized its strategic position as "the Gibraltar of the north," astride a major military route linking Germanic and Frankish territories.

Luxembourg has so much to offer, here are some of the things Luxembourg is known for.

Chemin de la Corniche: Promenading along Europe's 'most beautiful balcony' in Luxembourg City before making the scenic descent to the Grund neighbourhood.
Vianden: Swaying on a chairlift above this picturesque village, heading up to the forested hilltop, from where it's a gentle stroll to its castle.
Echternach: Hiking into the enchanting Müllerthal's woodlands and rocky micro-canyons.
Beaufort: Exploring Beaufort's neighbouring medieval and Renaissance castles and tasting the local Cassero (blackcurrant liqueur).
US Military Cemetery: Paying homage to General Patton in this cemetery just outside Luxembourg City where he's buried with his troops.
Moselle Valley: Sipping sparkling wines amid the Moselle Valley's hillside vineyards.
Esch-sur-Sûre: Strolling through this pretty riverside village and its adjacent nature park.

Luxembourg City

No it's not just banks and Eurocrats. Wealthy Luxembourg City: is one of Europe's most underestimated capitals, with a fine range of museums and galleries and a brilliant dining scene. But most impressive is the town centre's spectacular setting, straddling a deep-cut river gorge whose defences were the settlement's original raison d'être. Come on a summer weekend when accommodation prices drop, the streets are often full of music and there's an ample flow of the local bubbly.
What is discussplaces?
DiscussPlaces
is a place to make new friends and share your passions and interests. Quench your thirst for knowledge, discuss places with other aficionados, and swap recommendations. Are you an aspiring foodie who dreams of living in New York? Or perhaps you are looking for the best chicken wings in Cincinnati? Then this is the place for you! Any one can join in with a passion or interest – whether it be talking about their favorite restaurant in Barcelona or raving about their latest trip to Italy. Join us!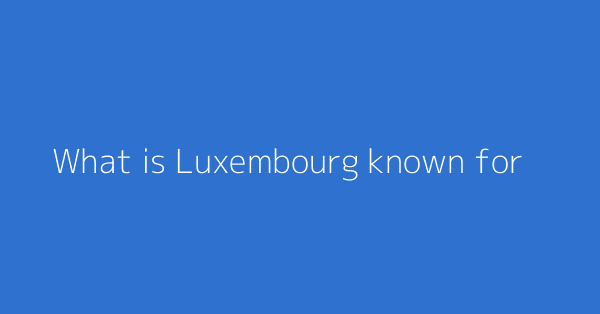 This page shows discussions around "What is Luxembourg known for?"
Whether the information provided was useful?
---