What is Germany known for?
beautifulbear403

last edited by




Germany

Germany, officially Federal Republic of Germany, German Deutschland or Bundesrepublik Deutschland, country of north-central Europe, traversing the continent's main physical divisions, from the outer ranges of the Alps northward across the varied landscape of the Central German Uplands and then across the North German Plain.

Germany has so much to offer, here are some of the things Germany is known for.

Berlin

Berlin's: alternative edge, exciting food scene, palpable history and urban glamour never fail to enthral and enchant. More than a quarter century after the Wall's collapse, the German capital has grown up without relinquishing its indie spirit and penchant for creative improvisation. There's haute cuisine in a former brewery, all-night parties in power stations and world-class art in a WWII bunker. Visit major historical sights – including the Reichstag, Brandenburger Tor and Checkpoint Charlie – then feast on a smorgasbord of culture in myriad museums.

Munich

If you are looking for Alpine clichés, Munich: will hand them to you in one chic and compact package. But the Bavarian capital also has plenty of unexpected trump cards under its often bright-blue skies. Here, folklore and age-old traditions exist side by side with sleek BMWs, designer boutiques and high-powered industry. The city's museums showcase everything from artistic masterpieces to technological treasures and Oktoberfest history, while its music and cultural scenes are second only to those found in Berlin.

Schloss Neuschwanstein

Commissioned by Bavaria's most celebrated (and loopiest) 19th-century monarch, King Ludwig II, Schloss Neuschwanstein: rises from the mysterious Alpine forests like a bedtime-storybook illustration. Inside, the make-believe continues, with chambers and halls reflecting Ludwig's obsession with the mythical Teutonic past – and his admiration of composer Wagner – in a confection that puts even the flashiest oligarch's palazzo in the shade. This sugary folly is said to have inspired Walt's castle at Disney World; now it inspires tourist masses to make the pilgrimage along the Romantic Road, which culminates at its gates.

The Black Forest

Mist, snow or shine, the deep, dark Black Forest: is just beautiful. If it's back-to-nature moments you're after, this sylvan slice of southwestern Germany is the place to linger. Every valley reveals new surprises: half-timbered villages looking every inch the fairy-tale fantasy, thunderous waterfalls, cuckoo clocks the size of houses. Breathe in the cold, sappy air, drive roller-coaster roads to middle-of-nowhere lakes, have your cake, walk it off on trail after gorgeously wooded trail, then hide away in a heavy-lidded farmhouse. Hear that? Silence. What a wonderful thing.

The Romantic Rhine

As the mighty Rhine flows from Rüdesheim to Koblenz:, the landscape's unique face-off between rock and water creates a magical mix of the wild (churning whirlpools, dramatic cliffs), the agricultural (near-vertical vineyards), the medieval (hilltop castles, half-timbered hamlets), the legendary (Loreley) and the modern (in the 19th-century sense: barges, ferries, passenger steamers and trains). From every riverside village, trails take you through vineyards and forests, up to panoramic viewpoints and massive stone fortresses, and back to a romantic evening spent sampling the local wines.

Heidelberg

The 19th-century romantics found sublime beauty and spiritual inspiration in Germany's oldest university town: and so, in his way, did Mark Twain, who was beguiled by the ruins of the hillside castle. Generations of students have attended lectures, sung lustily with beer steins in hand, carved their names into tavern tables and, occasionally, been sent to the student jail. All of this has left its mark on the modern-day city, where age-old traditions endure alongside world-class research, innovative cultural events and a sometimes raucous nightlife scene.

Dresden

The apocalypse came on a cold February night in 1945 – hours of carpet-bombing reduced Germany's 'Florence on the Elbe': to a smouldering pile of bricks. The dead Dresden's comeback is nothing short of a miracle. Reconstructed architectural jewels pair with stunning art collections that justify the city's place in the pantheon of European cultural capitals. Add to that a contagiously energetic pub quarter, Daniel Libeskind's dramatically redesigned Military History Museum and a tiara of villas and palaces lining up along the river and you've got one enticing package of discovery.

Trier

There was a time when Trier: was the capital of Western Europe. Okay, that time was 2000 years ago, when Emperor Constantine ruled the fading Roman Empire from here. Nowhere else in Germany has the Roman legacy survived as beautifully and tangibly as in this charming town with its ancient amphitheatre, thermal baths and Porta Nigra city gate – Unesco noticed, designating nine World Heritage sites. Today, Germany's oldest city is as unhurried as the Moselle River it sits on, within a grape toss of the country's finest – and steepest – vineyards.

German Food and Drink

If you crave traditional German comfort food, you'll certainly find plenty of places to indulge in a meat-potato-cabbage diet. These days, though, 'typical' German fare: is lighter, healthier, more creative and prepared with seasonal and locally sourced ingredients. The cities especially brim with organic eateries, gourmet kitchens, vegan bistros and a UN's worth of ethnic restaurants. Talented chefs have been racking up the Michelin stars, especially in the Black Forest. And then there's German beer and bread. Is there any other country that does either better?

Nuremberg

Capital of Franconia, an independent region until 1806, Nuremberg: may conjure visions of Nazi rallies and grisly war trials, but there's so much more to this energetic city. Dürer hailed from the Altstadt, his house now a museum. Germany's first railway trundled from here to neighbouring Fürth, leaving a trail of choo-choo heritage. And Germany's toy capital has heaps of things for kids to enjoy. When you're done with sightseeing, the local beer is as dark as the coffee and best employed to chase down Nuremberg's delicious finger-sized bratwurst.

Cologne Cathedral

At unexpected moments you see it: Cologne's cathedral:, the city's twin-towered icon, looming over an urban vista and the timeless course of the Rhine. And why shouldn't it? This perfectly formed testament to faith and conviction was started in 1248 and completed six centuries later. You can feel the echoes of the passage of time as you sit in its soaring stained-glass-lit and artwork-filled interior. Climb the 95m-high tower for views of the surrounding city that are like no others.

Saxon Switzerland

Isn't nature incredible? This is the first thought that springs to mind when you clap eyes on the sandstone wonderland of the Sächsische Schweiz:, just south of Dresden. A bizarre rockscape of pinnacles, buttresses, mesas and spires, this national park – a favourite of 19th-century Romantic artists – is arrestingly beautiful. And its beauty, some say, is best appreciated by hitting one of the many hiking trails leading deep into thick forest or to medieval castle ruins. Free climbers are in their element in these rugged heights.

Oktoberfest

Anyone with a taste for hops-scented froth knows that the daddy of all beer festivals, Oktoberfest:, takes place annually in Munich. The world's favourite suds-fest actually begins in mid-September and runs for 16 ethanol-fuelled days on the Theresienwiese (Theresa's Meadow), with troops of crimson-faced oompah bands entertaining revellers; armies of traditionally garbed locals and foreigners guzzling their way through seven million litres of lager; and entire farms of chickens hitting the grill. So find your favourite tent and raise your 1L stein. 'O'zapft is!' (The tap is in!).

Potsdam

We can pretty much guarantee that your camera will have a love affair with Potsdam's: marvellous palaces, idyllic parks, stunning views, inspired architecture and tantalising Cold War sites. Just across the Glienicke 'spy bridge' from Berlin, the state capital of Brandenburg was catapulted to prominence by King Frederick the Great. His giddily rococo Sanssouci palace is the glorious crown of this Unesco-recognised cultural tapestry that synthesises 18th-century artistic trends from around Europe in one stupendous masterpiece. A day spent here is sure to charm and enlighten you.

Hamburg

Anyone who thinks Germany doesn't have round-the-clock delights hasn't been to Hamburg:. This ancient, wealthy city on the Elbe traces it roots back to the Hanseatic League and beyond. By day you can tour its magnificent port, explore its history in restored quarters and discover shops selling goods you didn't think were sold. By night, some of Europe's best music clubs pull in the punters, and diversions for virtually every other taste are plentiful as well. And then, another Hamburg day begins.

Bamberg

Often overlooked by travellers but actually one of Germany's most attractive towns, Bamberg: is a medieval and baroque masterwork chock-full of Unesco-listed townhouses that were mercifully spared the destruction of WWII. Half of the Altstadt's beauty comes from its location straddling two waterways, the River Regnitz and the Rhine-Main-Danube Canal. Away from the urban eye candy, lower-brow entertainment is provided by Bamberg's numerous brewpubs, which cook up the town's unique Rauchbier (smoked beer) – some say it tastes a bit like bacon.

Rothenburg ob der Tauber

With its jumble of neatly restored half-timbered houses enclosed by sturdy ramparts, Rothenburg ob der Tauber: lays on the medieval cuteness with a trowel. (One might even say it's too cute for its own good, if the deluges of day trippers are any indication.) The trick is to experience this historical wonderland at its most magical: early or late in the day, when the last coaches have hit the road and you can soak up the romance all by yourself on gentle strolls along moonlit cobbled lanes.

Frankfurt

Germany's financial capital, Frankfurt: may first appear all buttoned up, but behind the corporate demeanour lurks a city brimming with cultural, culinary and shopping diversions. The best way to discover the city's soul is to head away from the high-rises. It's easy to join Frisbee-tossing locals in the grassy parkland along the Main River, grab an espresso at an old-time cafe, go museum-hopping along the riverbank and sip tart Ebbelwei (apple cider) while tucking into hearty local fare at a wood-panelled tavern.
What is discussplaces?
DiscussPlaces
is a place to make new friends and share your passions and interests. Quench your thirst for knowledge, discuss places with other aficionados, and swap recommendations. Are you an aspiring foodie who dreams of living in New York? Or perhaps you are looking for the best chicken wings in Cincinnati? Then this is the place for you! Any one can join in with a passion or interest – whether it be talking about their favorite restaurant in Barcelona or raving about their latest trip to Italy. Join us!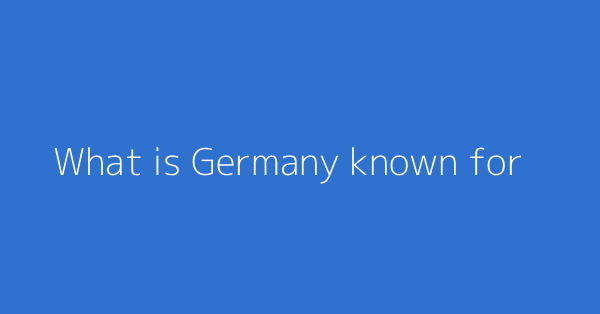 This page shows discussions around "What is Germany known for?"
Whether the information provided was useful?
---