organicbird383

last edited by




Spain

Spain, country located in extreme southwestern Europe.
It occupies about 85 percent of the Iberian Peninsula, which it shares with its smaller neighbour Portugal.

Spain has so much to offer, here are some of the things Spain is known for.

Barcelona

Home to cutting-edge architecture, world-class dining and pulsating nightlife, Barcelona: has long been one of Europe's most alluring destinations. Days are spent wandering the cobblestone lanes of the Gothic quarter, basking on Mediterranean beaches or marvelling at Gaudí masterpieces. By night, Barcelona is a whirl of vintage cocktail bars, gilded music halls, innovative eateries and dance-loving clubs, with the party extending well into the night. There are also colourful markets, hallowed arenas (such as Camp Nou where FC Barcelona plays), and a calendar packed with traditional Catalan festivals.

Madrid Nightlife

Madrid is not the only European city with nightlife, but few can match its intensity and street clamour:. As Ernest Hemingway said, 'Nobody goes to bed in Madrid until they have killed the night'. There are wall-to-wall bars, small clubs, live venues, cocktail bars and megaclubs beloved by A-list celebrities all across the city, with unimaginable variety to suit all tastes. It's in the barrios (districts) of Huertas, Malasaña, Chueca and La Latina that you'll really understand what we're talking about.

The Alhambra

The palace complex of Granada's Alhambra: is close to architectural perfection. It is perhaps the most refined example of Islamic art anywhere in the world, not to mention the most enduring symbol of 800 years of Moorish rule in what was known as Al-Andalus. From afar, the Alhambra's red fortress towers dominate the Granada skyline, set against a backdrop of the Sierra Nevada's snowcapped peaks. Up close, the Alhambra's perfectly proportioned Generalife gardens complement the exquisite detail of the Palacio Nazaríes. Put simply, this is Spain's most beautiful monument.

Pintxos in San Sebastián

Chefs here have turned bar snacks into an art form. Sometimes called 'high cuisine in miniature', pintxos (Basque tapas) are piles of flavour often mounted on a slice of baguette. As you step into any bar in central San Sebastián:, the choice lined up along the counter will leave you gasping. In short, this is Spain's most memorable eating experience. Although the atmosphere is always casual, the serious business of experimenting with taste combinations (a Basque trademark) ensures that it just keeps getting better.

Córdoba's Mezquita

A church that became a mosque before reverting back to a church, Córdoba's stunning Mezquita: charts the evolution of Western and Islamic architecture over a 1300-year trajectory. Its most innovative features include some early horseshoe arches, an intricate mihrab, and a veritable 'forest' of 856 columns, many of them recycled from Roman ruins. The sheer scale of the Mezquita reflects Córdoba's erstwhile power as the most cultured city in 10th-century Europe. It was also inspiration for magnificent buildings to come, most notably in Seville and Granada.

La Sagrada Família

The Modernista brainchild of Antoni Gaudí, La Sagrada Família: remains a work in progress more than 90 years after its creator's death. Fanciful and profound, inspired by nature and barely restrained by a Gothic style, Barcelona's quirky temple soars skyward with an almost playful majesty. The improbable angles and departures from architectural convention will have you shaking your head in disbelief, but the detail of the decorative flourishes on the Passion Facade, Nativity Facade and elsewhere are worth studying for hours.

Seville

Nowhere is as quintessentially Spanish as Seville:, a city of capricious moods and soulful secrets, which has played a pivotal role in the evolution of flamenco, bullfighting, baroque art and Mudéjar architecture. Blessed with year-round sunshine and fuelled culturally by a never-ending schedule of ebullient festivals, everything seems more amorous here, a feeling not lost on legions of 19th-century aesthetes, who used the city as a setting in their romantic works of fiction. Head south to the home of Carmen and Don Juan and take up the story.

Bilbao: Spain's Northern Gem

It only took one building, a shimmering titanium fish called the Museo Guggenheim Bilbao, to turn Bilbao: from a byword for industrial decay into a major European art centre. But while it's this most iconic of modern buildings that draws the visitors, it's the hard-working soul of this city that ends up captivating. And let's face it, there's plenty to be entranced by: riverside promenades, clanky funicular railways, superb pintxos bars, an iconic football team, a clutch of quality museums and, yeah OK, a shimmering titanium fish.

Semana Santa

Return to Spain's medieval Christian roots in the country's dramatic Easter celebrations. Religious fraternities parade elaborate pasos (figures) of Christ and the Virgin Mary through the streets to the emotive acclaim of the populace; the most prestigious procession is the madrugada (early hours) of Good Friday. Seen for the first time, it's an exotic and utterly compelling fusion of pageantry, solemnity and deep religious faith. The most extraordinary processions are in Castilla y León, Castilla La Mancha and Andalucía, but if you choose one, make it Seville:.

Sampling Tapas

One of the world's most enjoyable ways to eat, tapas are as much a way of life as they are Spain's most accessible culinary superstars. These bite-sized bar snacks are the accompaniment to countless Spanish nights of revelry and come in seemingly endless variations. In Andalucía:, expect the best jamón (ham) or fine Spanish olives. In San Sebastián and elsewhere in the Basque Country – where they're called 'pintxos' – tapas are an elaborate form of culinary art. Other great places for tapas include Madrid and Zaragoza.

Hiking in the Pyrenees

Spain is a walker's destination of exceptional variety, but we reckon the Pyrenees in Navarra:, Aragón and Catalonia offer the most special hiking country. Aragón's Parque Nacional de Ordesa y Monte Perdido is one of the high points (pun intended) of the Pyrenees, while its glories are mirrored across the regional frontier in Catalonia's Parc Nacional d'Aigüestortes i Estany de Sant Maurici. It's tough but rewarding terrain, a world of great rock walls and glacial cirques, accompanied by elusive but soulful Pyrenean wildlife.

A La Playa

It's easy to see why Spain's beaches are Europe's favourite summer playground, but the beach is also an obsession among Spaniards in summer, when the entire country seems to head for the coast. There's so much more to Spain's coastline than the overcrowded beaches of Benidorm: the rugged coves of the Costa Brava, or Cabo de Gata: in Andalucía, come close to the Mediterranean ideal, while the Atlantic beaches from Tarifa to the Portuguese frontier and the dramatic coastline of Spain's northwest are utterly spectacular.

Renaissance Salamanca

Luminous when floodlit, the elegant central square of Salamanca:, the Plaza Mayor, is possibly the most attractive in all of Spain. It is just one of many highlights in a city whose architectural splendour has few peers in the country. Salamanca is home to one of Europe's oldest and most prestigious universities, so student revelry also lights up the nights. It's this combination of grandeur and energy that makes so many people call Salamanca their favourite city in Spain and who are we to argue?

Sierra Nevada and Las Alpujarras

Dominated by the Mulhacén (3479m), mainland Spain's highest peak, the Sierra Nevada: makes a stunning backdrop to the warm city of Granada. Skiing in winter and hiking in summer can be mixed with exploration of the fascinating villages of Las Alpujarras, arguably Andalucía's most engaging collection of pueblos blancos (white towns). Suitably for one of the last outposts of Moorish settlement on Spanish soil, the hamlets of Las Alpujarras resemble North Africa, oasis-like and set amid woodlands and the deep ravines for which the region is renowned.

Picos de Europa

Jutting out in compact form just back from the rugged and ever-changing coastline of Cantabria and Asturias, the Picos de Europa: comprise three dramatic limestone massifs, unique in Spain but geologically similar to the Alps and jammed with inspiring trails. These peaks and valleys form Spain's second-largest national park, with some of the most spectacular mountain scenery in the country – no small claim considering the presence of the Pyrenees and the Sierra Nevada. The Picos de Europa deservedly belong in such elite company.

La Rioja Wine Country

La Rioja: is the sort of place where you could spend weeks meandering along quiet roads in search of the finest drop. The mainstays in this region are bodegas offering wine tastings and picturesque villages that shelter excellent wine museums; watch also for wine-centric festivals. The Frank Gehry–designed Hotel Marqués de Riscal, close to Elciego, has been likened to the Museo Guggenheim Bilbao in architectural scale and ambition, and has become the elite centre for wine tourism in the region.

Three Cultures in Toledo

Symbolic home to Spain's Catholic Church, once host to thriving Muslim and Jewish communities, the medieval core of Toledo: is an extraordinary piece of world heritage. Known as 'the city of the three cultures', it remains a fascinating labyrinth today with former mosques, synagogues and churches; the latter are still very much in use and the cathedral is one of Spain's most imposing. Given Toledo's proximity to Madrid, the city can get overrun with day trippers. Stay overnight – that's when Toledo really comes into its own.

Madrid's Golden Art Triangle

Madrid is one of the fine-arts capitals of the world, with an extraordinary collection of art galleries concentrated in an extraordinary patch of city-centre real estate:. The Museo del Prado, housing works by Goya, Velázquez, El Greco and masters from across Europe, is the showpiece, but also within a short stroll are the Centro de Arte Reina Sofía, showcasing Picasso's Guernica, plus works by Dalí and Miró, and the Museo Thyssen-Bornemisza, which carries all the big names spanning centuries, styles and masterpieces.

Flamenco

The soundtrack to Europe's most passionate country, flamenco: has the power to lift you out of the doldrums and stir your soul. It's as if by sharing in the pain of innumerable generations of dispossessed misfits you open a door to a secret world of musical ghosts and ancient spirits. On the other side of the coin, flamenco culture can also be surprisingly jolly, jokey and tongue-in-cheek. There's only one real proviso: you have to hear it live, preferably in its Seville–Jerez–Cádiz heartland, although anywhere in Andalucía should do.

Ciudad de las Artes y las Ciencias

Created by Santiago Calatrava, one of the nation's star architects, the City of Arts and Sciences: in Valencia has helped transform Spain's third-largest city into one of the country's most vibrant. A daring and visually stunning piece of contemporary architecture, the complex includes a state-of-the-art theatre, planetarium and science museum. Whether or not you venture into one of its numerous entertainment venues, the area surrounding it, with the complex as its backdrop, is one of the most attractive urban landscapes in the country.

Asturian Coast

According to one count, the emerald-green northern Spanish region of Asturias: boasts more than 600 beaches. While the coolness of the Atlantic may be a drawback for those planning on catching some sun and taking the plunge, the beauty of many of these frequently wild and unspoiled stretches is utterly breathtaking. Even better, the villages of the coast and hinterland are among the prettiest anywhere along the Spanish shoreline, and the food served in this part of the country is famous throughout Spain.

Staying in a Beautiful Parador

Sleeping like a king has never been easier than in Spain's state-run chain of paradores – often palatial, always supremely comfortable former castles, palaces, monasteries and convents. There are many dozens of them scattered across the country. Ranking among Europe's most atmospheric sleeping experiences, many are sited on prime real estate – like inside the grounds of Granada's Alhambra: – and prices are more reasonable than you might imagine, especially if you book online and far in advance. It's a wonderful way to experience the country's lavish past without the five-star price tag.

Beaches of Menorca

At a time when the Spanish Mediterranean has become a byword for mass tourism, Menorca: is just a little bit different. Saved from the worst effects of overdevelopment, most of the island is a Unesco Biosphere Reserve with 216km of coastline and beaches that defy description. Some assert that reaching them by sea is the height of pleasure, but happening upon them from the interior brings equal joy. Among the best are Cala Macarelleta and Cala en Turqueta, but pick any and you're unlikely to leave disappointed.

Cabo de Gata

For a cherished memory of what the Spanish coastline used to look like before megaresorts gatecrashed the Costa del Sol, come to Cabo de Gata:, a wild, rugged, golf course–free zone where fishing boats still reel in the day's catch and bold cliffs clash with the azure Mediterranean. Considering it's one of the driest areas of Europe, the Cabo is abundant with feathered fauna and scrubby vegetation. It's also a protected area, so you can wave goodbye to your car; biking and hiking are the best means of transport.

Camino de Santiago

Every year, tens of thousands of pilgrims and walkers with all manner of motivations set out to walk across northern Spain. Their destination, Santiago de Compostela, is a place of untold significance for Christians, but the appeal of this epic walk: goes far beyond the religious. With numerous routes to Santiago from all over the Iberian Peninsula, there's no finer way to get under Spain's skin and experience the pleasures and caprices of its natural world. And even completing one small stage will leave you with a lifetime of impressions.

Segovia

One of the most beautiful medium-sized towns in Spain, Segovia: has the usual glittering array of Castilian churches and a fine location, strung out along a ridge against a backdrop of often snowcapped mountains. But two buildings of legend set Segovia apart: its multiturreted Alcázar provided the inspiration for Walt Disney's castle confection, while a gigantic but elegant Roman aqueduct of granite blocks (held together by not a drop of mortar) has stood the test of time in the heart of town for almost 2000 years.

Las Fallas

Spain's noisiest festival is also one of its most spectacular. Taking place every March in Valencia, Las Fallas: is an explosive fiesta of fireworks, music and bonfires that light up the sky for almost a week. But this is more than just noise. A festival with deep cultural roots and great inventiveness, Las Fallas sees each Valencia neighbourhood try to outdo each other with elaborate wood-and-papier-mâché sculptures that go up in flames in an extraordinary climax. You thought the rest of Spain was loud. This is loud.

Hanging out in Cádiz

Cádiz: has a laid-back, almost rakish live-for-the-present feel that makes its somewhat decayed 18th-century centre instantly likeable. Locals party the sweltering summer nights away in the old town squares and waterfront bars, while Cádiz' celebrations of Carnaval are renowned throughout the country for their fun and fervour. And the city itself has charm as well – fascinating historical monuments, snaking whitewashed lanes, panoramic viewpoints and a cathedral square as beautiful as any in Spain are even better when cooled by Cádiz' salty sea breeze.

Costa Brava

Easily accessible by air and land from the rest of Europe, and filled with villages and beaches of the kind that spawned northern Europe's summer obsession with the Spanish coast, the Costa Brava: in Catalonia is one of our favourite corners of the Mediterranean. Beyond this, the spirit of Salvador Dalí lends so much personality and studied eccentricity to the Costa Brava experience, from his one-time home in Port Lligat near Cadaqués to the Dalí-centric sites of Figueres and Castell de Púbol.

yellowswan996

last edited by




Costarrinces, or more commonly, Ticos or Ticas.
DiscussPlaces
is a place to make new friends and share your passions and interests. Quench your thirst for knowledge, discuss places with other aficionados, and swap recommendations. Are you an aspiring foodie who dreams of living in New York? Or perhaps you are looking for the best chicken wings in Cincinnati? Then this is the place for you! Any one can join in with a passion or interest – whether it be talking about their favorite restaurant in Barcelona or raving about their latest trip to Italy. Join us!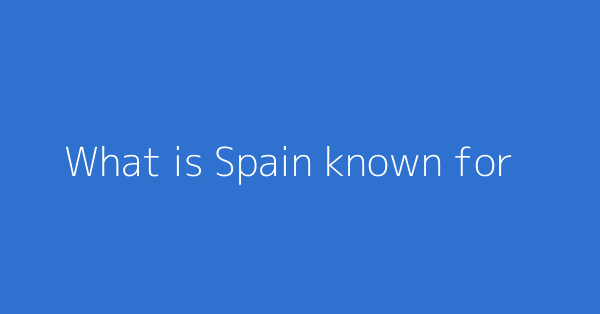 This page shows discussions around "What is Spain known for?"