What is Martinique known for?
purplerabbit983

last edited by




Martinique

Martinique, island and overseas territorial collectivity of France, in the eastern Caribbean Sea.
It is included in the Lesser Antilles island chain.
Its nearest neighbours are the island republics of Dominica, 22 miles (35 km) to the northwest, and Saint Lucia, 16 miles (26 km) to the south.
Guadeloupe, another part of overseas France, lies about 75 miles (120 km) to the north.

Martinique has so much to offer, here are some of the things Martinique is known for.

Grande Anse des Salines: Swimming and sunning yourself at one of the most beautiful beaches in the French Antilles.
Route de la Trace: Driving this superbly scenic road through the center of the island, stopping for a walk in the foothills of Mont Pelée.
Presqu'île de Caravelle: Delighting in the sun and sand by day and the gourmet flavors by night.
Grand-Rivière: Hiking a dramatic 20km trail along Martinique's pristine and dramatic northern coast.
Les Anses d'Arlet: Enjoying a beach day at any of these gorgeous coves in southwestern Martinique.
St-Pierre: Seeing the devastation of Mont Pelée firsthand in the former capital, as the volcano broods in the distance.
Jardin de Balata: Putting your botanist's hat on and exploring the amazing variety of local plants at this excellent botanical garden.
DiscussPlaces
is a place to make new friends and share your passions and interests. Quench your thirst for knowledge, discuss places with other aficionados, and swap recommendations. Are you an aspiring foodie who dreams of living in New York? Or perhaps you are looking for the best chicken wings in Cincinnati? Then this is the place for you! Any one can join in with a passion or interest – whether it be talking about their favorite restaurant in Barcelona or raving about their latest trip to Italy. Join us!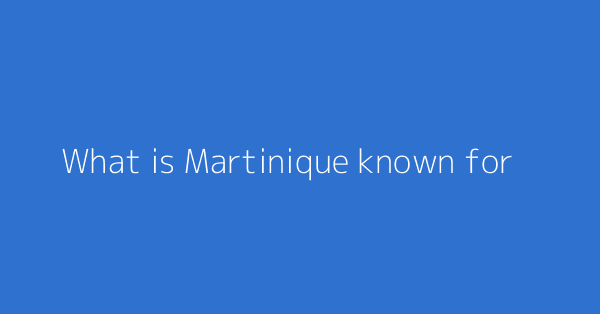 This page shows discussions around "What is Martinique known for?"