What is Denmark known for?
organictiger969

last edited by




Denmark

Denmark, country occupying the peninsula of Jutland (Jylland), which extends northward from the centre of continental western Europe, and an archipelago of more than 400 islands to the east of the peninsula.
Jutland makes up more than two-thirds of the country's total land area; at its northern tip is the island of Vendsyssel-Thy (1,809 square miles [4,685 square km]), separated from the mainland by the Lim Fjord.
The largest of the country's islands are Zealand (Sjælland; 2,715 square miles [7,031 square km]), Vendsyssel-Thy, and Funen (Fyn; 1,152 square miles [2,984 square km]).
Along with Norway and Sweden, Denmark is a part of the northern European region known as Scandinavia.
The country's capital, Copenhagen (København), is located primarily on Zealand; the second largest city, Århus, is the major urban centre of Jutland.

Denmark has so much to offer, here are some of the things Denmark is known for.

Copenhagen

You may find it hard to suppress your envy for residents of Scandinavia's coolest capital:. While this 850-year-old harbour town retains much of its historic good looks (think copper spires, cobbled squares and pastel-coloured gabled abodes), the focus here is on the innovative. Denmark's high-achieving capital is home to a thriving design scene, a futuristic metro system, and clean, green developments. Its streets are awash with effortlessly hip shops, cafes and bars; world-class museums and art collections; brave new architecture; and no fewer than 15 Michelin-starred restaurants.

Danish Dining

In recent times, the New Nordic movement has relaxed a little and become more accessible, while world-conquering Noma has travelled and reinvented itself. Michelin reviewers have cast their net wider to celebrate regional dining standouts, and modern Danish food: continues to evolve. Emboldened by the attention and praise lavished on local produce and innovative chefs, food producers continue to embrace and modernise old-school culinary delights. Expect new spins on beloved rye breads and pastries, smørrebrød (open sandwiches), smoked fish, and even humble pork-and-potato dishes, and to eat damn well in unexpected corners of the country.

Cycling

Is Denmark the world's best nation for cycling? Probably, thanks to its extensive national network of cycle routes, terrain that is either flat or merely undulating, and a culture committed to two-wheeled transport. But you needn't embark on lengthy tours of the country to enjoy cycling here. The cities are a breeze to pedal around, and many have public bike-sharing schemes. More than 50% of Copenhagen commuters travel by cycle – it's easy to follow their lead, especially with new cycling bridges like Inderhavnsbroen and Cirkelbroen popping up around the city:.

Bornholm

Bornholm: is a Baltic beauty lying some 200km east of the Danish mainland, located closer to Germany and Sweden than to the rest of Denmark. This magical island holds a special place in the hearts of most Danes, and is beloved for its plentiful sunshine, glorious sandy beaches, endless cycle paths, iconic rundekirke (round churches), artistic communities, fish smokehouses and idyllic harbourside villages. If that's not enough to lure you, the island has developed a reputation for outstanding restaurants and local edibles.

Lego in Billund

A long way from the capital, unassuming Billund: is the home town of the Lego Company and unofficial HQ for happy wholesome families. Here, the Legoland theme park and the inspired new Lego House (designed to resemble gigantic Lego bricks) are geared to celebrate the 'toy of the century' (as adjudged by Fortune magazine in 2000) in detail-rich ways that will delight your child, and your inner child. They're indicative of a country that's overflowing with child-friendly attractions, from Tivoli Gardens in the capital to first-rate aquariums, animal parks and water parks.

Summer Music Festivals

There's a fat calendar of summer festivals countrywide, from folk music in Tønder to riverboat jazz in the Lake District around Silkeborg. The capital lets loose the hepcats at its largest event, Copenhagen Jazz Festival, over 10 days in July, and celebrates electronic beats at Strøm. Meanwhile, NorthSide is augmenting Aarhus' music-fest street cred, and Tinderbox is doing the same for Odense. But it's the festivals outside the cities that draw the biggest crowds: Roskilde rocks with Scandinavia's largest music festival:, and Skanderborg hosts Denmark's 'most beautiful' event, lakeside Smukfest.

Ærø

Denmark has been likened to a china plate that's been dropped and smashed into pieces. Each fragment represents an island – and there are 406 of them. The midsized islands, each with their own distinctive character, are the most fun to explore, and south of Funen there's a whole archipelago of them, making it a prime sailing destination. Steeped-in-time, Ærø: is an idyllic slice of Danish island life: visit for seafaring heritage, rural bike lanes, cobblestoned villages, sandy beaches and photogenic bathing huts.

Kronborg Slot

Something rotten in the state of Denmark? Not at this fabulous 16th-century castle: in Helsingør, made famous as the Elsinore Castle of Shakespeare's Hamlet. Kronborg's primary function was as a grandiose toll house, wresting taxes for more than 400 years from ships passing through the narrow Øresund between Denmark and Sweden. The fact that Hamlet, Prince of Denmark, was a fictional character hasn't deterred legions of sightseers from visiting the site. It's the venue for glorious summer performances of Shakespeare's plays during the HamletScenen festival.

Skagen

Skagen: is an enchanting place, both bracing and beautiful. It lies at Denmark's northern tip and acts as a magnet for much of the population each summer, when the town is full to capacity yet still manages to charm. In the late 19th century, artists flocked here, infatuated with the radiant light's impact on the rugged landscape. Now tourists flock to enjoy the output of the 'Skagen school' artists, soak up that luminous light, devour the plentiful seafood and laze on the fine sandy beaches.

Bog Bodies

Relics and monuments from Denmark's illustrious past abound. Two stars of the early Iron Age are the intact bodies of men who lived around 300 BC and were exhumed from Denmark's peat bogs after their two-millennia-long slumber; their discovery brings us tantalisingly close to ancient societies. The bodies also provide compelling historical who- and why-dunnits: were they human sacrifices, executed prisoners, or victims of murder perhaps? Tollund Man rests in a museum in bucolic Silkeborg; Grauballe Man: lies in Aarhus' magnificent Moesgaard Museum.

Ribe

Compact, postcard-perfect Ribe: is Denmark's oldest town, and it encapsulates the country's golden past in style, complete with imposing 12th-century cathedral, cobblestone streets, skewed half-timbered houses and lush water meadows. Stay overnight in atmospheric lodgings that exude history (low-beamed rooms in a wonky 1600s inn, or in converted jail cells), and take a free walking tour narrated by the town's night watchman – the perfect way to soak up the streetscapes as well as tall tales of local characters.

Viking History

The Vikings ensured that the Danes were known and feared throughout northern Europe from the 8th to 11th centuries, but battle and bloodlust is far from the whole story. The Vikings were not just plunderers but successful traders, extraordinary mariners and insatiable explorers. Getting a feel for the Viking era is easy, whether visiting the ship-burial ground of Ladby, the Viking forts of Zealand, the longship workshops at Roskilde: or the many museums that seek to recreate the era with live re-enactments.

Danish Design

Denmark is a world leader in applied design, characterised by cool clean lines, graceful shapes and streamlined functionality – visit the capital's revitalised Designmuseum Danmark: to learn more. Danish design concepts have been applied to everything from concert halls to coffee pots to Lego blocks. The result has not just been great artistic acclaim but also big business: iconic brands include Bang and Olufsen (sleek stereos), Bodum (kitchenware), Georg Jensen (silverware and jewellery) and Royal Copenhagen Porcelain. Then there are the furniture designers and fashion houses. Credit cards ready?

Beaches

Having been cooped up for the winter, Denmark comes alive in summer, and the country's 7314km of coastline and its smorgasbord of islands draw the locals for wholesome pursuits and a dose of vitamin D. True, water temperatures may be a little unkind, but long sandy strands such as Bornholm's Dueodde:, Marielyst on Falster, and northern Jutland's Skagen easily fulfil seaside-holiday fantasies. Other stretches, especially at towns like Hvide Sande and Klitmøller along Jutland's wild west coast, crank up activities harnessing the wind's power.

Aarhus

Always the bridesmaid, never the bride – Aarhus:, the second-largest city in Denmark, has laboured in the shadow of Copenhagen in terms of tourist appeal, but is now enjoying some well-earned time in the spotlight. This is a terrific city to explore. It has a booming dining scene, thriving nightlife (much of it catering to the large student population), a transformed waterfront, picturesque woodland trails and beaches along the city outskirts, and one of the country's finest art museums, turning heads thanks to its crowning glory, Your Rainbow Panorama.
DiscussPlaces
is a place to make new friends and share your passions and interests. Quench your thirst for knowledge, discuss places with other aficionados, and swap recommendations. Are you an aspiring foodie who dreams of living in New York? Or perhaps you are looking for the best chicken wings in Cincinnati? Then this is the place for you! Any one can join in with a passion or interest – whether it be talking about their favorite restaurant in Barcelona or raving about their latest trip to Italy. Join us!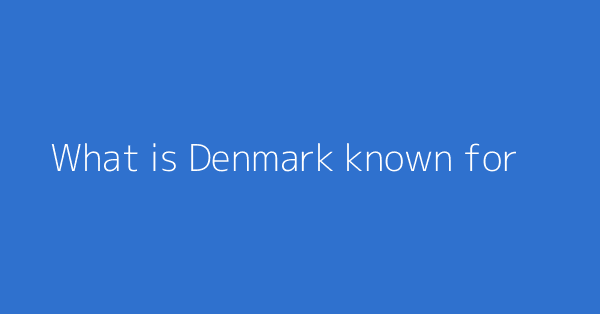 This page shows discussions around "What is Denmark known for?"