What is Venezuela known for?
goldenbear846

last edited by




Venezuela

Venezuela, country located at the northern end of South America.
It occupies a roughly triangular area that is larger than the combined areas of France and Germany.
Venezuela is bounded by the Caribbean Sea and the Atlantic Ocean to the north, Guyana to the east, Brazil to the south, and Colombia to the southwest and west.
The national capital, Caracas, is Venezuela's primary centre of industry, commerce, education, and tourism.

Venezuela has so much to offer, here are some of the things Venezuela is known for.

Marveling at Salto Ángel (Angel Falls):, the world's highest waterfall, dropping over 300 stories in Parque Nacional Canaima.
Feeling the adrenaline rush while playing outside in the adventure-sports capital of Mérida:.
Hiking to the lost world of the Roraima: table mountain for moonscape scenery and unique plant life.
Stretching out on white-sand beaches or snorkeling and diving the day away at the tiny, undeveloped islands of Archipiélago Los Roques:.
Being on the lookout for capybaras, anacondas, caimans and other wildlife in Los Llanos:, the grassy flatlands of Venezuela's cowboy country.
Encountering dolphins, howler monkeys and parrots in the wildlife-rich Delta del Orinoco:.
Kicking back and watching the world-famous lightning show over Lake Maracaibo in Catatumbo:.
Getting truly off the grid and exploring the pristine beaches of Península de Paria:.
DiscussPlaces
is a place to make new friends and share your passions and interests. Quench your thirst for knowledge, discuss places with other aficionados, and swap recommendations. Are you an aspiring foodie who dreams of living in New York? Or perhaps you are looking for the best chicken wings in Cincinnati? Then this is the place for you! Any one can join in with a passion or interest – whether it be talking about their favorite restaurant in Barcelona or raving about their latest trip to Italy. Join us!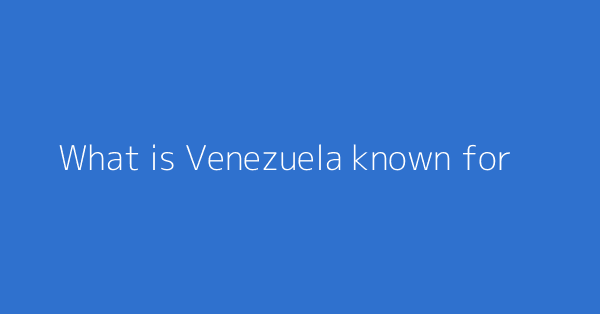 This page shows discussions around "What is Venezuela known for?"
---
Because conversations are the one thing we all have in common. We provide a platform where those conversations can be had freely, widely, and openly.
We are focused on building a community where people from around the world can share their interests.
---