What is Botswana known for?
redbutterfly148

last edited by




Botswana

Botswana, country in the centre of Southern Africa.
The territory is roughly triangular—approximately 600 miles (965 km) from north to south and 600 miles from east to west—with its eastern side protruding into a sharp point.
Its eastern and southern borders are marked by river courses and an old wagon road; its western borders are lines of longitude and latitude through the Kalahari, and its northern borders combine straight lines with a river course.
Within the confines of Botswana's borders is a rich variety of wildlife, including many species of mammals, birds, reptiles, amphibians, and fish.

Botswana has so much to offer, here are some of the things Botswana is known for.

A Luxury Safari

Botswana didn't invent the luxury safari, but it may just have perfected it. Nowhere else on earth will you find so many remote and utterly exclusive lodges and tented camps, accessible only by air or boat, where your every dream of the perfect safari comes true. Most are in the Okavango Delta, but you'll also find them in the neighbouring areas of Linyanti, Chobe National Park and the Central Kalahari Game Reserve. Picking favourites is always difficult, but we love Vumbura Plains Camp:.

Chobe National Park

There are more elephants in Chobe: – tens of thousands of them – than anywhere else on earth. And these are big elephants, really big. Then there are the iconic landscapes of Savuti with its elephant-eating lions; or Linyanti, one of the best places on the continent to see the highly endangered African wild dog; or the Chobe Riverfront where most of Africa's charismatic megafauna comes to drink. Put all of this together and it's easy to see why Chobe National Park ranks among the elite of African safari destinations.

Moremi Game Reserve

What Chobe is for elephants, Moremi Game Reserve: is for just about everything else. Accessible to both self-drive campers and those visitors on fly-in, high-end safaris, Moremi is like a BBC Wildlife documentary come to life as a full suite of predators and prey battle for survival. They've got it all out here – big cats in abundance, aquatic antelope, hundreds of bird species and just about every possible species of charismatic African megafauna you can think of.

Rock Art

The Tsodilo Hills:, which became a Unesco World Heritage Site even before the Okavango Delta, is sometimes referred to as the 'Louvre of the Desert'. More than 4000 ancient paintings, many dating back thousands of years, adorn the caves and cliffs of these picturesque mountains, which remain a sacred site for the San people. Expertly rendered in ochre-hued natural pigments, the paintings are at once beautiful and an invaluable chronology of the evolving relationship between human beings and the natural world. And such is their remoteness, you might just have them all to yourself.

Makgadikgadi Pans National Park

Part of the world's largest network of salt pans, the endless horizons of Makgadikgadi: are one of the Kalahari's least known treasures. It is here, during the rainy season, that zebras migrate en masse – one of the great wildlife migrations in a continent of many. During the dry season, wildlife draws near to the rejuvenated Boteti River in similarly epic numbers. Meerkats are another highlight. And away across the pans, remote islands of baobabs rise from the salt like evocations of some ancient African oasis.

Central Kalahari Game Reserve

There is something about the Kalahari:. Perhaps it owes its unmistakable gravitas to a name that carries more than a whiff of African magic. Or perhaps it is the sheer vastness of this desert, which is Africa's largest protected wilderness area. The presence of black-maned Kalahari lions doesn't hurt, either. Whatever the reason, this is not your average desert. It's home instead to ancient river valleys, light woodland and surprising concentrations of wildlife around its extensive network of salt pans. And then there is the silence of the Kalahari night…

Kgalagadi Transfrontier Park

One of the most beautiful expanses of the Kalahari is found in the Kgalagadi Transfrontier Park:, which straddles the border between Botswana and South Africa. Some of the desert's most beautiful salt pans and sand dunes provide habitat for desert-adapted wildlife that includes all of the big cats, meerkats, abundant birdlife and old desert favourites such as gemsboks and ostriches. With riverine woodland and some real wilderness stretches, this is one of Botswana's most underrated parks.

Mokoro Trips in the Okavango Delta

The Okavango is an astonishing, beautiful, wild place, and there's something special about drifting slowly down its reed-lined channels in a mokoro: or dugout canoe. As a local poler punts you across the water, you become a part of a land that belongs to crocodiles, hippos, rich birdlife and elephants wallowing in the shallows. With no engine noise to drown out nature's soundtrack, the mokoro is the quintessential Okavango experience and the ideal way to savour this extraordinary realm.

Scenic Flight

There are so many magical corners of the Okavango Delta, but to gain an appreciation of the sheer scale of this remarkable place, take to the air. In Maun you'll find numerous companies ready to take you out over the delta's skein of waterways, but our pick of the bunch is Helicopter Horizons: – with three passenger seats, no doors to ruin your photos and an ability to hover within a zoom lens of some of Africa's greatest wildlife spectacles, this is one of world travel's most memorable experiences.

The San People

Spending time in the presence of southern Africa's inhabitants of longest standing is one of the most rewarding things to do while in Botswana. Ghanzi, considered by many to be Botswana's capital of the Kalahari, and the nearby village of D'Kar put you within reach of numerous San-owned craft shops, art centres and camps where you can spend time learning how to forage for bush foods and even hunt as the San have done for thousands of years. One of the best is Dqãe Qare San Lodge:.
DiscussPlaces
is a place to make new friends and share your passions and interests. Quench your thirst for knowledge, discuss places with other aficionados, and swap recommendations. Are you an aspiring foodie who dreams of living in New York? Or perhaps you are looking for the best chicken wings in Cincinnati? Then this is the place for you! Any one can join in with a passion or interest – whether it be talking about their favorite restaurant in Barcelona or raving about their latest trip to Italy. Join us!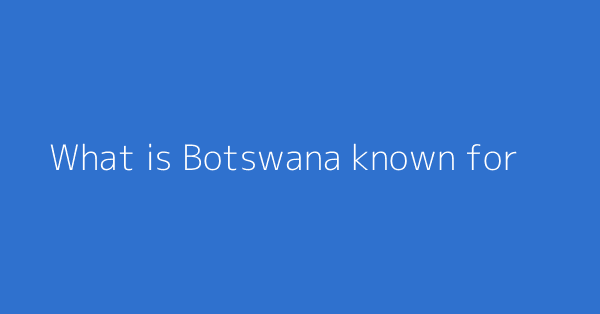 This page shows discussions around "What is Botswana known for?"