Pros and Cons of Living in Buenos Aires, Argentina
silvergorilla641 Discussion Fanatics

last edited by




One of my favourite cities to live in. I highly recommend living in Palermo especially if it's your first time in the city. There are a lot of amazing coworking spaces, I decided to work at Area3 which is a really big space with all the top tech companies. The city is amazing in the summer. I really enjoyed being there January - March. It was hot but I never found it incredibly humid, though that changes by the year. Apartment prices can vary significantly. If you want the best deal I recommend searching through facebook and going to visit the apartment in person. If you don't mind the premium Airbnb is good. Food is incredible and they are even getting more diverse vegetarian options as well as gluten free options in the city. Highly recommend downing the app Rappi - it's like Uber for everything. You can sign up for unlimited deliveries for like something crazy like $5 a month. They can grocery shop for you, bring you cash from the ATM - it's amazing. Lastly for you non-European people I get my money via World Remit. It's like western union but way less sketchy and also better rates. ATM are crazy there so you don't want to be taking out cash from the machines often.
What is discussplaces?
DiscussPlaces
is a place to make new friends and share your passions and interests. Quench your thirst for knowledge, discuss places with other aficionados, and swap recommendations. Are you an aspiring foodie who dreams of living in New York? Or perhaps you are looking for the best chicken wings in Cincinnati? Then this is the place for you! Any one can join in with a passion or interest – whether it be talking about their favorite restaurant in Barcelona or raving about their latest trip to Italy. Join us!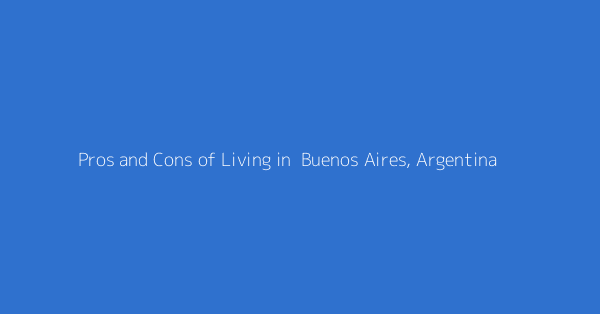 This page shows discussions around "Pros and Cons of Living in Buenos Aires, Argentina"
Whether the information provided was useful?
---