happyostrich128

last edited by




Andorra is located in Europe.

bigcat538

last edited by




@happyostrich128 Andorra is a tiny country in south western Europe, located in the eastern Pyrenees mountains and bordered by Spain and France. Once isolated, it is currently a prosperous country mainly because of tourism and its status as a tax haven.

Andorra consists of a cluster of mountain valleys whose streams unite to form the Valira River. Two of these streams, the Madriu and the Perafita, flow into the Madriu-Perafita-Claror valley, which occupies about one-tenth of Andorra's land area and is characterized by glacial landscapes, steep valleys, and open pastures. The valley was designated a UNESCO World Heritage site in 2004.

A country of only 468km2 (180.5mi2) that can only be accessed through land, either from Barcelona or Toulouse – where the nearest major airports are located. It's around 2.5 hours from Barcelona by car, or around 3 hours by bus at a cost of €15 one-way.

Despite being located in Western Europe, Andorra is not part of the EU but does use the Euro for currency. The official language is Catalan – however, most locals speak at least two, if not three or more languages, varying between Spanish, French, English, and Portuguese.

greencat217

last edited by




Andorra is officially the Principality of Andorra. Andorra is a sovereign landlocked microstate on the Iberian Peninsula, in the eastern Pyrenees, bordered by France to the north and Spain to the south. Believed to have been created by Charlemagne, Andorra was ruled by the count of Urgell until 988, when it was transferred to the Roman Catholic Diocese of Urgell. The present principality was formed by a charter in 1278. It is known as a principality as it is a diarchy headed by two princes: the Bishop of Urgell in Catalonia, Spain, and the President of the French Republic.

Andorra is the sixth-smallest nation in Europe, having an area of 468 square kilometres (181 sq mi) and a population of approximately 77,006. The Andorran people are a Romance ethnic group of originally Catalan descent. Andorra is the 16th-smallest country in the world by land and the 11th-smallest by population. Its capital, Andorra la Vella, is the highest capital city in Europe, at an elevation of 1,023 metres (3,356 feet) above sea level. The official language is Catalan, but Spanish, Portuguese, and French are also commonly spoken.

Due to its location in the eastern Pyrenees mountain range, Andorra consists predominantly of rugged mountains, the highest being the Coma Pedrosa at 2,942 metres (9,652 ft), and the average elevation of Andorra is 1,996 metres (6,549 ft). These are dissected by three narrow valleys in a Y shape that combine into one as the main stream, the Gran Valira river, leaves the country for Spain (at Andorra's lowest point of 840 m or 2,756 ft). Andorra's land area is 468 km2 (181 sq mi).
What is discussplaces?
DiscussPlaces
is a place to make new friends and share your passions and interests. Quench your thirst for knowledge, discuss places with other aficionados, and swap recommendations. Are you an aspiring foodie who dreams of living in New York? Or perhaps you are looking for the best chicken wings in Cincinnati? Then this is the place for you! Any one can join in with a passion or interest – whether it be talking about their favorite restaurant in Barcelona or raving about their latest trip to Italy. Join us!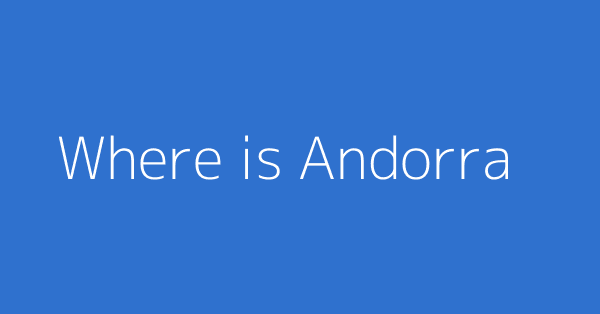 This page shows discussions around "Where is Andorra?"
---
We all have one thing in common: Conversations Discuss Places serves as a platform for discussions to take place freely, extensively, and openly about anything you like. We're focusing on creating a community where people from all around the world can share their passions.
---