smallzebra734 Discussion Fanatics

last edited by




There are around 14 holidays observed in Croatia.

Here is the list of holidays in 2021

Friday Jan 01, 2021 New Years Day is a Nova Godina
Wednesday Jan 06, 2021 Three Kings Day is a Bogojavljenje, Sveta tri kralja
Monday Apr 05, 2021 Easter Monday is a Uskrs i uskrsni ponedjeljak
Saturday May 01, 2021 Labour Day is a Medunarodni praznik rada (International Workers Day)
Sunday May 30, 2021 Statehood Day is a Dan državnosti (National Day)
Thursday Jun 03, 2021 Corpus Christi is a Tijelovo (Second Thursday after Whitsun)
Tuesday Jun 22, 2021 Anti-Fascist Struggle Day is a Dan antifašističke borbe
Thursday Aug 05, 2021 Victory and Homeland Thanksgiving Day is a Dan pobjede i domovinske zahvalnosti
Sunday Aug 15, 2021 Assumption of Mary is a Velika Gospa ()
Monday Nov 01, 2021 All Saints Day is a Dan svih svetih
Thursday Nov 18, 2021 Remembrance Day is a Dan sjećanja na sve žrtve Domovinskog rata
Saturday Dec 25, 2021 Christmas Day is a Božić
Sunday Dec 26, 2021 St. Stephens Day is a Sveti Stjepan
What is discussplaces?
DiscussPlaces
is a place to make new friends and share your passions and interests. Quench your thirst for knowledge, discuss places with other aficionados, and swap recommendations. Are you an aspiring foodie who dreams of living in New York? Or perhaps you are looking for the best chicken wings in Cincinnati? Then this is the place for you! Any one can join in with a passion or interest – whether it be talking about their favorite restaurant in Barcelona or raving about their latest trip to Italy. Join us!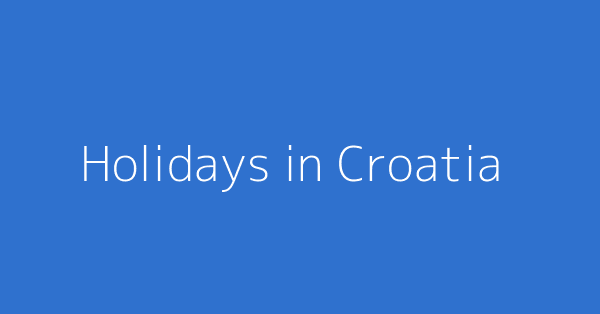 This page shows discussions around "Holidays in Croatia"
Whether the information provided was useful?
---