What is Sri Lanka known for?
heavybutterfly196

last edited by




Sri Lanka, formerly Ceylon, island country lying in the Indian Ocean and separated from peninsular India by the Palk Strait.
It is located between latitudes 5°55′ and 9°51′ N and longitudes 79°41′ and 81°53′ E and has a maximum length of 268 miles (432 km) and a maximum width of 139 miles (224 km).

Sri Lanka has so much to offer, here are some of the things Sri Lanka is known for.

Stunning Beaches

There are long, golden-specked ones, there are dainty ones with soft white sand, there are wind- and wave-battered ones, and ones without a footstep for miles. Some have a slowly, slowly vibe and some have a lively party vibe, but whichever you choose, the beaches of Sri Lanka really are every bit as gorgeous as you've heard. In a land where beaches are simply countless, consider the beaches of Tangalla:, each with its own personality, and each beguiling in its own way, yet all easily visited in a day.

Travelling by Train

Sometimes there's no way to get a seat on the slow but oh-so-popular train to Ella:, but with a prime standing-room-only spot looking out at a rolling carpet of tea, who cares? Outside, the colourful silk saris of Tamil tea pickers stand out in the sea of green; inside, you may get a shy welcome via a smile. At stations, vendors hustle treats, including some amazing corn and chilli fritters sold wrapped in somebody's old homework paper. Munching one of these while the scenery creaks past? Sublime.

Uda Walawe National Park

This huge chunk of savanna grassland centred on the Uda Walawe: reservoir is the closest Sri Lanka gets to East Africa. There are herds of buffalo (although some of these are domesticated!), sambar deer, crocodiles, masses of birds, and elephants – and we don't just mean a few elephants. We mean hundreds of the big-nosed creatures. In fact, we'd go so far to say that for elephants, Uda Walawe is equal to, or even better than, many of the famous East African national parks.

Ancient Anuradhapura

At Anuradhapura:, big bits of Sri Lanka's cultural and religious heritage sprawl across 3 sq km. In the centre is one of the world's oldest trees, the Sri Maha Bodhi (more than two thousand years old). That it has been tended uninterrupted by record-keeping guardians for all those centuries is enough to send shivers down the spine. The surrounding fields of crumbling monasteries and enormous dagobas (stupas) attest to the city's role as the seat of power in Sri Lanka for a thousand years. Biking through this heady past is a thrilling experience.

Soaring Sigiriya Rock

The rolling gardens at the base of Sigiriya: would themselves be a highlight. Ponds and little man-made rivulets put the water in these water gardens and offer a serene idyll amid the sweltering countryside. But look up and catch your jaw as you ponder this 370m rock that erupts out of the landscape. Etched with art and surmounted by ruins, Sigiriya is an awesome mystery, one that the wonderful museum tries to dissect. The climb to the top is a wearying and worthy endeavour.

Bundala National Park

With all the crowds heading to nearby Yala National Park, its neighbour to the west, Bundala National Park:, often gets overlooked. But with the park's huge sheets of shimmering waters ringing with the sound of birdsong, skipping it is a big mistake. Bundala has a beauty that other parks can only dream of and is one of the finest birding destinations in the country. Oh, and in case herons and egrets aren't glam enough for you, the crocodiles and resident elephant herd will put a smile on your face.

Adam's Peak Pilgrims

For over a thousand years, pilgrims have trudged by candlelight up Adam's Peak: (Sri Pada) to stand in the footprints of the Buddha, breathe the air where Adam first set foot on earth and see the place where the butterflies go to die. Today tourists join the throngs of local pilgrims and, as you stand in the predawn light atop this perfect pinnacle of rock and watch the sun crawl above waves of mountains, the sense of magic remains as bewitching as it must have been for Adam himself.

Kandy Cultural Capital

Kandy: is the cultural capital of the island and home to the Temple of the Sacred Tooth Relic, said to contain a tooth of the Buddha himself. For the Sinhalese, this is the holiest spot on the island, but for tourists Kandy offers more than just religious satisfaction: there's a pleasing old quarter, a pretty central lake, a clutch of museums and, in the vicinity, some beautiful botanical gardens. In case you need further blessings from the gods, there's also a series of fascinating ancient temples.

Unmissable Galle Fort

Man and nature have joined forces in Galle Fort: to produce an architectural work of art. The Dutch built the streets and buildings, the Sri Lankans added the colour and style, and then nature got busy covering it in a gentle layer of tropical vegetation, humidity and salty air. The result is an enchanting old town that is home to dozens of art galleries, quirky shops, and boutique cafes and guesthouses, plus some splendid hotels. For tourists, it's without doubt the number one urban attraction in the country.

Surfing at Arugam Bay

The heart of Sri Lanka's growing surf scene, the long right break at the southern end of Arugam Bay: is considered Sri Lanka's best. From April to September you'll find surfers riding the waves; stragglers catch the random good days as late as November. Throughout the year you can revel in the surfer vibe: there are board-rental and ding-repair joints plus plenty of laid-back cheap hangouts offering a bed or a beer or both. And if you need solitude, there are nearby breaks up and down the coast

Feeling the Healing Ayurveda

If you start to feel the burden of the centuries while in Sri Lanka, let ancient history have the opposite effect at one of Sri Lanka's restorative Ayurvedic spas:. Some Ayurvedic treatments date back more than 2500 years and devotees of Ayurveda claim enormous benefits from its treatments. Herbs, spices, oils and more are used on and in the body to produce balance. Some people go on multiweek regimens in clinics; others enjoy a pampering afternoon at a luxury spa. The west coast, particularly around Beruwela, is rife with these treatments.

Whale-Watching at Mirissa

People once visited the beaches of southern Sri Lanka to laze under palm trees and maybe go and peer at a few little fish on a diving excursion. Then somebody realised that the deep blue was home to more than just schools of workaday fish. It turns out that the waters off Sri Lanka are home to the planet's biggest creature, the blue whale (not to mention the nearly as huge sperm whale). Now, every morning in season, boats leave Mirissa: in search of creatures like no other.

The East's Undiscovered Beaches

Truly magnificent beaches in Sri Lanka's east and north are luring travellers away from their more famous counterparts in the west and south. Horizon-reaching ribbons of white sand are just awaiting discovery – and your footprints. A prime place to start is in Nilaveli:, just north of the nascent traveller hangout of Uppuveli. Perfect white sand shaded by palms stretches on and on. There are no cafes, guesthouses or people. Pick any dirt lane off the lonely coast road for your private patch of paradise.

Savouring Rice and Curry

Venture into a large Sri Lankan market and you'll see and smell the nation's rich diversity of foods and flavours. An average Sri Lankan cook spends hours each day tirelessly roasting and grinding spices while mincing, slicing and dicing all manner of foods. The seemingly humble rice and curry can consist of dozens of intricately prepared dishes, each redolent of a rich and, yes, at times fiery goodness. You can enjoy splendid rice and curries across Sri Lanka; Galle's Spoon's Cafe: is wonderfully typical.

Horton Plains and World's End

The wild, windswept Horton Plains:, high, high up in Sri Lanka's Hill Country, are utterly unexpected in this country of tropical greens and blues, but they are far from unwelcome. You'll need to wrap up (a morning frost isn't uncommon) for the dawn hike across these bleak moorlands – it's one of the most enjoyable walks in the country. And then, suddenly, out of the mist comes the end of the world and a view over what seems like half of Sri Lanka.

Visiting a Tea Plantation

It wasn't really all that long ago that Sri Lanka's Hill Country was largely a wild and ragged sweep of jungle-clad mountains, but then along came the British, who felt in need of a nice cup, so they chopped down all the jungle and turned the Hill Country into one giant, verdant tea estate. Sri Lankan tea is now famous across the world. Visiting a tea estate such as the Lipton-built Dambatenne Tea Factory: near Haputale and seeing how the world's favourite cuppa is produced is absolutely fascinating.

Jaffna and the Islands

In Jaffna:, everything seems different, especially the language: the rapid-fire staccato of spoken Tamil is a real change from singsong Sinhala. So too is the cuisine: singularly spiced and, in season, complemented by legendary mangoes. The city has never looked better, with new hotels and energy. Sights include its vast colonial fort, leafy suburbs and ancient relics of a lost kingdom. Get a bike and catch a rickety ferry to the nearby islands like Neduntivu, where you can get lost in their end-of-the-earth appeal.

Colonial Legacy

Yes, the Brits were chased out at independence in 1948, but their legacy lives on in much more than an often impenetrable bureaucracy addicted to forms. The heart of Colombo, Fort, is where you'll see the structures of the empire at its most magnificent. Along the capital's wide, tree-shaded streets, the National Museum: building evokes the British Empire. You'll find colonial legacies of the Dutch and Portuguese as well, not just in Colombo's popular Dutch Hospital but in old fortresses that ring the nation's coasts.

Polonnaruwa's Stupendous Structures

Arrayed around a vast grassy quadrangle like the chess pieces of giants, Polonnaruwa's: intricately carved buildings and monuments offer a visitor-friendly briefing on what was the centre of the kingdom some thousand years ago. Handy plaques are loaded with information, although you may find the buildings too extraordinary to switch your concentration to signage. Catch sight of the ruins at sunrise and sunset, when rosy rays of light bathe the complex in a romantic glow.

Shopping in Colombo

Part of the magic of Colombo is plunging into the shopping maelstrom of the city. The timeless markets of Pettah: heave with goods and just general chaos. Shouting porters will knock you aside even as a laden cart bears down on your back. It's not for the faint-hearted, but it's a sensory overload that will leave you bewildered – and thrilled. And if you'd like something calmer and more stylish, the city has a growing collection of chic boutiques, stores and malls, and lovely quarters like Cinnamon Gardens.

purplerabbit549

last edited by




Here are a few popular Dutch dishes. Please share your favorites as a reply.

Pannekoek (Pancake)
Speculaas (Cookie)
Poffertjes (Pancake)
Kapsalon (Street Food)
Stamppot (Vegetable Dish)
Stroopwafel (Cookie)
Appeltaart (Sweet Pie)
Kroket (Snack)
Gouda Holland (Cheese)
Gin (Spirit)
DiscussPlaces
is a place to make new friends and share your passions and interests. Quench your thirst for knowledge, discuss places with other aficionados, and swap recommendations. Are you an aspiring foodie who dreams of living in New York? Or perhaps you are looking for the best chicken wings in Cincinnati? Then this is the place for you! Any one can join in with a passion or interest – whether it be talking about their favorite restaurant in Barcelona or raving about their latest trip to Italy. Join us!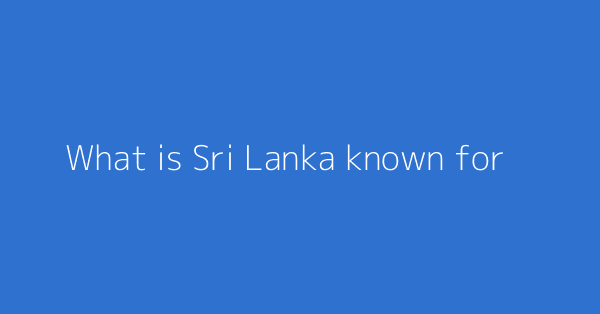 This page shows discussions around "What is Sri Lanka known for?"