What is Saudi Arabia known for?
purplewolf566

last edited by




Saudi Arabia

Saudi Arabia, arid, sparsely populated kingdom of the Middle East.

Saudi Arabia has so much to offer, here are some of the things Saudi Arabia is known for.

Jeddah: Wandering beneath coral architecture and looking for bargains in the country's biggest souq.
Jubbah: Admiring the country's greatest open-air gallery of sophisticated ancient rock art.
Mecca: Staring in awe at the hypnotic tawaf (circumnavigation of the Kaaba) inside the world's biggest mosque.
Asir National Park: Standing atop the Kingdom's tallest peak and exploring its mysterious villages.
Yanbu: Diving the dazzling Seven Sisters to hang out with hammerheads.
Hejaz Railway: Listening for the ghost of TE Lawrence (Lawrence of Arabia) and exploring Arabia's romantic railway remnants.
Farasan Islands: Imagining the wealth of the merchants who once resided in the islands' unique and beautifully carved houses.
Dammam: Enjoying world-class opera and theatre here at the country's premiere performing-arts venue, Ithra.
Madain Saleh: Marvelling at the evocative rock-hewn tombs and sublime desert setting of the 'other Petra'.
Diraiyah: Reliving the capital's capture beneath the mud-brick ruins where modern Saudi Arabia was born.




Saudi Arabia is famous for oil, to be the origin of Islam, Arabian horses, the world's largest sand desert (Rub' Al Khali), the world's largest oasis (Al-Ahsa), Arabian coffee, oil, countless palaces, veiled women, countless mosques, Bedouins on horses, Bedouins on camels, Bedouins with falcons, sword-wielding dance
DiscussPlaces
is a place to make new friends and share your passions and interests. Quench your thirst for knowledge, discuss places with other aficionados, and swap recommendations. Are you an aspiring foodie who dreams of living in New York? Or perhaps you are looking for the best chicken wings in Cincinnati? Then this is the place for you! Any one can join in with a passion or interest – whether it be talking about their favorite restaurant in Barcelona or raving about their latest trip to Italy. Join us!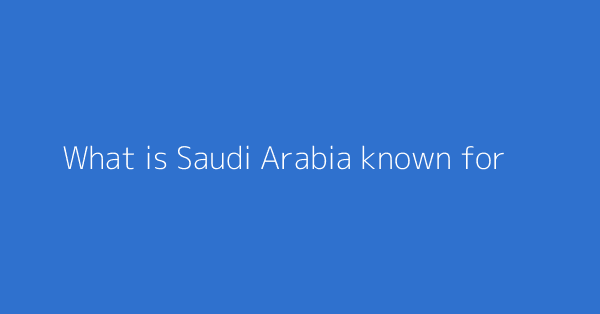 This page shows discussions around "What is Saudi Arabia known for?"