What is Slovenia known for?
ticklishgoose482

last edited by




Slovenia

Slovenia, country in central Europe that was part of Yugoslavia for most of the 20th century.
Slovenia is a small but topographically diverse country made up of portions of four major European geographic landscapes—the European Alps, the karstic Dinaric Alps, the Pannonian and Danubian lowlands and hills, and the Mediterranean coast.
Easily accessible mountain passes (now superseded by tunnels) through Slovenia's present-day territory have long served as routes for those crossing the Mediterranean and transalpine regions of Europe.

Slovenia has so much to offer, here are some of the things Slovenia is known for.

Climbing Mt Triglav

They say you're not really a Slovene until you climb Mt Triglav: and get 'spanked' at the summit. And it's all but stamped in locals' passports once they've made the trek up the country's tallest mountain. The good news for the rest of us is that Triglav is a challenging but accessible peak that just about anyone in decent shape can conquer with an experienced guide. There are several popular approaches, but whichever path you choose, the reward is the same: sheer exhilaration.

Ljubljana

Slovenia's capital city: effortlessly achieves that perfect pitch between size and quality of life. It's big enough to offer lively clubs, theatre, exciting exhibitions and great concerts, yet small enough to walk – or better yet, cycle – around at a leisurely pace. And no place in Slovenia waltzes through architecture so adroitly as does the capital, from its ancient hilltop castle and splendid art nouveau buildings to all of those wondrously decorative pillars, obelisks and orbs found everywhere designed by local boy Jože Plečnik.

Piran

Venice in Slovenia? That busy merchant empire left its mark up and down the Adriatic coast, and Slovenia was lucky to end up with one of the best-preserved medieval Venetian ports anywhere. It's true that Piran: attracts tourist numbers on a massive scale in season, but the beautiful setting means it's never less than a constant delight. Enjoy fresh fish on the harbour, then wander the narrow streets and end up for drinks and people-watching in a glorious central square.

River Adventures

Rarely does a river beckon to be rafted as convincingly as does Slovenia's Soča:. Maybe it's that piercing sky-blue-bordering-on-green – or is it turquoise? – colour of the water, or the river's refreshing froth and foam as it tumbles down the mountains. Even if you're not the rafting type, you'll soon find yourself strapping on a wetsuit for that exhilarating ride of the summer. Outfitters in Bovec, Bled and Kobarid specialise in guided rafting trips. For gentler floats, try the Krka River.

Lake Bled

With its sky-blue lake, picture-postcard church on a tiny island, a medieval castle clinging to a rocky cliff and some of the country's highest peaks as backdrops, Bled: seems to have been designed by the very god of tourism. But Slovenia's biggest draw is more than just a pretty face. There's a lively cultural calendar during the summer months and a raucous adventure scene too, with diving, cycling, rafting and canyoning, among other active pursuits. The town is blessed with excellent campgrounds, hostels and hotels.

Postojna Cave

The cave system at Postojna: is Slovenia's biggest subterranean attraction. The rather innocent-looking entrance might not look like much at first, but when you get whisked 4km underground on a train and only then begin exploring, you start to get a sense of the scale. The caverns are a seemingly endless parade of crystal fancies – from frilly chandeliers and dripping spaghetti-like stalactites to paper-thin sheets and stupendous stalagmites, all laid down over the centuries by the simple dripping of mineral-rich water.

Ptuj

Its name might sound like a cartoon character spitting, but Ptuj: is no joke. Rather, it's one of Slovenia's richest historical towns. Everyone since the Romans over the centuries has left their mark here, and the centre is still a maze of red roofs and medieval streets, dotted with churches, towers and museums, as well as street cafes to enjoy the passing scenes. Ptuj has great hotels and restaurants and is within easy reach of some of the country's best wine-producing regions.

Crossing the Vršič Pass

Making your way – whether by car or (yikes!) on bike – across this breathtakingly scenic Alpine pass: that zigs and zags through peaks and promontories, it's hard not to think of the poor Russian WWI POWs who were forced in the dead of winter to build the road – now called the Ruska cesta (Russian road) in their honour. This summer-only roadway links Kranjska Gora with Bovec, 50km to the southwest, and includes a number of photo-op rest stops and several mountain huts along the way.

Predjama Castle

Slovenia is over-endowed in castles and caves, but one inside the other? Now that's something special. Few fortresses have a setting as grand as this, wedged halfway up a cliff face at the foot of the valley:. The location has a story behind it that's equally dramatic: Slovenia's 'Robin Hood', Erazem Lueger, apparently taunted besieging troops here by hurling fresh cherries at them that he collected via a secret passage. He came to a swift and rather embarrassing end, however.

Škocjan Caves

Where Postojna Cave is entirely baroque, the caves at Škocjan: are positively Gothic. It's all about the melodrama here – think Jules Verne, Tolkien and Wagner rolled up in one. Forget crawling around in tiny underground spaces; the Murmuring Cave has walls reaching something like a hundred metres high, while the Cerkevnik Bridge crosses a gloomy chasm with a 45m plunge to where the Reka River carves its way through the rock. Visiting the caves is a truly awesome experience.

Vipava Valley Wines

Slovenia is blessed with the means to produce some of the region's best wines and the Vipava Valley: particularly stands out among the country's three wine-making regions. It enjoys a warm Mediterranean climate freshened by cold winter winds, making it the ideal destination for those wanting to treat their palates. Wineries with some of the best merlots in the world? Check. The best air-dried pršut ham? Yep. Pick up some local fruits and olives and you've got a Slovenian picnic to remember.

Traditional Spas

A spa in Central Europe can often mean a fusty 19th-century royal relic with lots of great architecture but not much in the way of modern treatments. Slovenia's natural and thermal spas have the architecture, but more importantly they offer a wealth of high-quality wellness and beauty treatments, including massage, mud baths, saunas, warm sea-water baths and more. Most of the spas are situated in the eastern half of the country and usually offer in-house (or nearby) accommodation as well; Dolenjske Toplice: is a fine spot to take the waters.

Folklore Festivals

Expect lots of booze, colourful costumes and accordion music as Slovenes let their hair down at centuries-old folklore festivals. The best known is Kurentovanje:, a rite-of-spring party celebrated at Ptuj in the days leading up to Shrove Tuesday and the start of Lent. Jurjevanje: in Črnomelj in June celebrates an ancient Slavic deity called Green George and is Slovenia's oldest international folklore festival. The zany Cows' Ball in the towns around Lake Bohinj in September sees bovines trip the light fantastic.

Rustic-Glam Accommodation

To enhance Slovenia's clean, green appeal to travellers, locals are embracing and redefining the art of 'glamping'. Unique sleeps are springing up in scenic locales; some are heavy on the clever camping element (sleeping in 'pods' in Bela Krajina:) while others emphasise the glamour (safari tents: with private hot tubs in Bled). Some are not-quite-camping but far from regulation hotel rooms: beds in wine barrels in Ptuj, haylofts in Logarska Dolina and even under the herb garden in the Vipava Valley. An inventive and fun way to escape the everyday.
DiscussPlaces
is a place to make new friends and share your passions and interests. Quench your thirst for knowledge, discuss places with other aficionados, and swap recommendations. Are you an aspiring foodie who dreams of living in New York? Or perhaps you are looking for the best chicken wings in Cincinnati? Then this is the place for you! Any one can join in with a passion or interest – whether it be talking about their favorite restaurant in Barcelona or raving about their latest trip to Italy. Join us!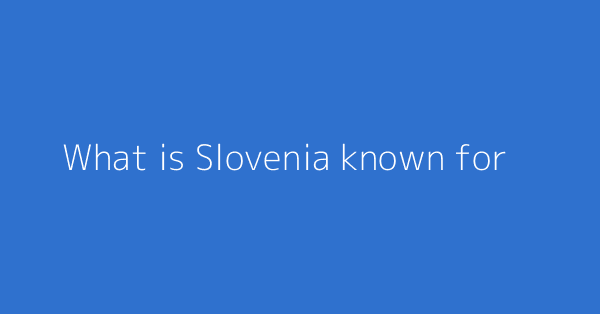 This page shows discussions around "What is Slovenia known for?"