What is Uganda known for?
angrytiger116

last edited by




Uganda

Uganda, country in east-central Africa.
About the size of Great Britain, Uganda is populated by dozens of ethnic groups.
The English language and Christianity help unite these diverse peoples, who come together in the cosmopolitan capital of Kampala, a verdant city whose plan includes dozens of small parks and public gardens and a scenic promenade along the shore of Lake Victoria, Africa's largest freshwater lake.
The Swahili language unites the country with its East African neighbours Kenya and Tanzania.

Uganda has so much to offer, here are some of the things Uganda is known for.

Bwindi Impenetrable National Park: Trekking through the jungle to marvel at critically endangered mountain gorillas.
Nile River: Taking on the wild waters of the Kalagala Falls, some of the best white-water rafting in East Africa.
Murchison Falls: Gazing upon the world's most powerful waterfall during a boat ride up the Victoria Nile.
Lake Bunyonyi: Chilling out on a remote island on the most beautiful lake in Uganda.
Kidepo Valley National Park: Exploring unvarnished Africa at its wild and colourful best.
Rwenzori Mountains: Tackling the ice-capped peaks of Africa's highest range, evocatively known as the 'Mountains of the Moon'.
Ssese Islands: Lazing in a hammock on a powdery white-sand beach in the middle of Lake Victoria.
Queen Elizabeth National Park: Going on game drives to see herds of elephants, hippos, giraffes and lions.
DiscussPlaces
is a place to make new friends and share your passions and interests. Quench your thirst for knowledge, discuss places with other aficionados, and swap recommendations. Are you an aspiring foodie who dreams of living in New York? Or perhaps you are looking for the best chicken wings in Cincinnati? Then this is the place for you! Any one can join in with a passion or interest – whether it be talking about their favorite restaurant in Barcelona or raving about their latest trip to Italy. Join us!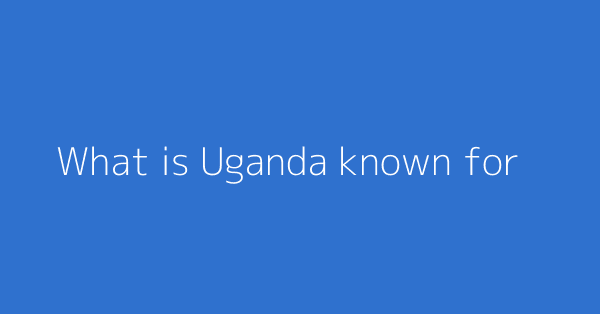 This page shows discussions around "What is Uganda known for?"