happyostrich128

last edited by




Haiti

Haiti, country in the Caribbean Sea that includes the western third of the island of Hispaniola and such smaller islands as Gonâve, Tortue (Tortuga), Grande Caye, and Vache.
The capital is Port-au-Prince.

Haiti has so much to offer, here are some of the things Haiti is known for.

Jacmel Carnival: Joining the country's most theatrical parade and street party, which celebrates Vodou, sex, death and revolution.
Citadelle Laferrière: Discovering a mountain fortress, above a Versailles-like ruined palace, that commands the landscape as a proud symbol of the world's first black republic.
Parc National la Visite: Hiking alongside local farmers in Haiti's pine forest, past weird broken rock formations with views out to the Caribbean Sea.
Vodou Ceremony: Heading out from Gonaïves and plugging into Haiti's subconscious by attending a Vodou ceremony, with its drums, sung prayers and bright imagery.
Île-à-Vache: Kicking back on this white-sand sliver of paradise, splashing around in turquoise shallows and feasting on fresh lobster.
Port-au-Prince: Exploring the soul of the country via thriving art, music and cultural scenes within the buzzing capital.

Carnival at Jacmel

You want shiny sequins and sanitized carnival bling? Plenty of places will serve that up for you. Jacmel's street theater is another game altogether, close to the surreal, where individuals and troupes parade and act in homemade costumes and papier-mâché masks from local artisans. Vodou, sex, death and revolution all play their part, mixed with street music and wild antics, in a parade: where both crowd and performers mix as participants. And where else will you see a donkey dressed in sneakers and hat, talking on a cell phone?

Hiking in Parc National la Visite

Haiti is such a mountainous country that it would be a shame to only experience them from afar, whizzing around in traffic. The perfect hike is through Parc National la Visite:, from Furcy, high above Port-au-Prince, down to Seguin. The park still has plenty of Haiti's original pine forest, as well as weird broken rock formations, and as the scenery opens up, great views out to the Caribbean Sea. A long day's walk on a path shared with local farmers, it's the perfect leg-stretching antidote to the buzz of the big city.

La Citadelle la Ferrière

If ever a country settled on making a statement of intent on winning its independence, Haiti found it in the mighty Citadelle la Ferrière:. A giant battleship of a fortress sitting atop a mountain crag, with a Versailles-like ruined palace at its base, it commands its landscape as a proud symbol of the world's first black republic. Epic in concept and execution and largely hidden from the world's gaze, it easily holds its own against the best historical sites the Americas can offer.

Vodou Ceremony

If you're thinking zombies and dolls with pins in them, you need to disconnect from Hollywood. Vodou is the wellspring of the Haitian character, a spiritual religion borne of the country's African roots, but which took adopted practices from both the island's original Indian inhabitants and French colonial masters. Heading out from Gonaïves: to attend a Vodou ceremony, with its drums and sung prayers, bright imagery and often-healing nature is the best way to plug yourself in to Haiti's subconscious.
DiscussPlaces
is a place to make new friends and share your passions and interests. Quench your thirst for knowledge, discuss places with other aficionados, and swap recommendations. Are you an aspiring foodie who dreams of living in New York? Or perhaps you are looking for the best chicken wings in Cincinnati? Then this is the place for you! Any one can join in with a passion or interest – whether it be talking about their favorite restaurant in Barcelona or raving about their latest trip to Italy. Join us!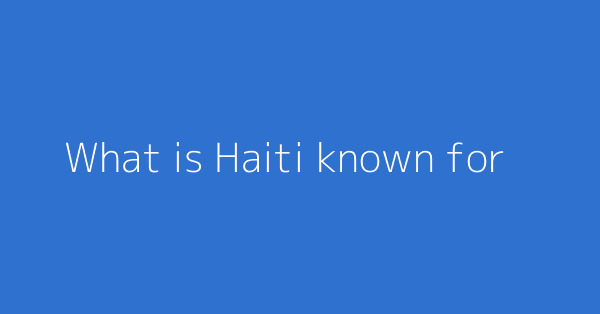 This page shows discussions around "What is Haiti known for?"