What is Taiwan known for?
crazypanda278

last edited by




Taiwan

Taiwan, Chinese (Wade-Giles romanization) T'ai-wan or (Pinyin) Taiwan, Portuguese Formosa, island in the western Pacific Ocean that lies roughly 100 miles (160 km) off the coast of southeastern China.
It is approximately 245 miles (395 km) long (north-south) and 90 miles (145 km) across at its widest point.
Taipei, in the north, is the seat of government of the Republic of China (ROC; Nationalist China).
In addition to the main island, the ROC government has jurisdiction over 22 islands in the Taiwan group and 64 islands to the west in the P'eng-hu (Pescadores) archipelago.
Two island groups controlled by the ROC government, Matsu and Quemoy, lie just off the coast of China's Fujian (Fukien) province.
In the East China Sea, the ROC claims the group of islands it calls Diaoyutai, which also are claimed by Japan as Senkaku and by the People's Republic of China as Diaoyu.
Moreover, in the South China Sea, the ROC's claim to the Paracels is disputed with the People's Republic of China and Vietnam, whereas a larger group of countries—the People's Republic of China, Vietnam, Malaysia, and the Philippines, in addition to the ROC—all claim the Spratly Islands.

Taiwan has so much to offer, here are some of the things Taiwan is known for.

Taroko Gorge

Taiwan's top tourist draw is a walk-in Chinese painting. Rising above the froth of the blue-green Liwu River, the marble walls (yes, marble!) of Taroko Gorge: swirl with the colours of a master's palette. Add grey mist, lush vegetation and waterfalls seemingly tumbling down from heaven, and you have a truly classic landscape. Walk along the Swallow Grotto to see the gorge at its most sublime or brave the Jhuilu Old Trail, a vertiginous path 500m above the canyon floor.

Temple Treasures

There are 15,000 official temples in Taiwan, three times as many as there were 30 years ago. Still the focus of local culture, temples play the role of community centre as much as house of worship. Both Tainan and Lukang boast a wealth of old buildings, from understated Confucius temples to Mazu temples rich in examples of southern folk decorative arts. But if you can only visit one temple in Taiwan, head to Bao'an Temple: in Taipei, a showcase of traditional design, rites and festivities.

Cafes and Coffees of Taiwan

Blessed with good soil, and a climate and altitudes conducive to Arabica trees flourishing, Taiwan has become the coffee mecca of Asia, winning worldwide awards for its beans that range from nutty to tea-like. You can sip them at their source in Gukeng and Dongshan, but it's more interesting to go to a cafe that serves an excellent cup of coffee, and also roasts and sells beans. A bonus is the setting, which can range from retro Japanese coffee houses, through cultured book-and-bean set-ups, to delightful scrapyards:.

National Palace Museum

Taiwan houses what is often believed to be the greatest collection of Chinese art in the world. With ancient pottery, bronzes and jade, Ming vases, Song landscape paintings and calligraphy that even those who are not art lovers can appreciate, Taipei's National Palace Museum: isn't merely a must-visit, it's a must-repeat-visit. Why? Out of the nearly 700,000 pieces in the museum's collection – spanning every Chinese dynasty, in addition to prehistory and the modern-age – only a tiny fraction is ever on display at the one time.

Tainan on Foot

The Tainanese are proud of their past as Taiwan's oldest city and justifiably so – Tainan: (台南; Táinán) is full of gems that offer a multifaceted experience of history. Besides temples and markets, there are fascinating streets with repurposed shophouses and entire districts built around old military sites; all these can be easily explored on foot, with a bus ride in between to tide you over. When you're tired, take a break at a cafe frequented by Nobel Prize–winning poets or sip a cocktail in a former medical clinic.

The Penghu Archipelago

The collection of islands known as Penghu: (澎湖; Pénghú) is distinctive yet hard to pin down. Its wave-whipped coastlines feature coral stone-walled settlements, charming sea-facing temples and beaches suitable for water sports – in winter it becomes a wind-surfing paradise for top-class athletes the world over. Added to this mix are geological wonders, handsome military sites, a large aquarium, remnants of ancient sea trade, a banyan from dynastic times and prickly pear sorbet. Further still, Penghu cuisine is celebrated for its delicious simplicity and abundance of seafood.

Cycling the East Coast

Cycling fever has taken over the island, and the unspoiled and sparsely populated east coast has emerged as the top destination for multiday trips. Like the sea? Then ride the stunning coastline on Hwy 11, between Hualien: and Taitung (台東; Táidōng), the east coast's two largest cities. You'll pass beaches, fishing harbours and art villages. Love the mountains? Try the Rift Valley, bounded by lush, green ranges. On both routes there are enough roadside cafes, campgrounds, homestays and hot springs to ensure your cycling trip won't be an exercise in logistics.

Gourmet Taiwan

Besides being one of the world's street-food capitals, Taiwan is steadily making a mark on Asia's fine-dining landscape. Twenty restaurants received stars in the inaugural Michelin Star Taipei in 2018, rising to 24 in 2019. The lists don't just include European-style establishments, or expensive Japanese or Cantonese kitchens, but also restaurants that specialise in traditional or contemporary Taiwanese cuisine. Besides this, there are an increasing number of chefs in Taichung and other cities – with or without culinary awards – who have done inspiring things with Taiwanese ingredients, like JL Studio:.

Sun Moon Lake National Scenic Area

Sun Moon Lake: is the largest body of water in Taiwan and has a watercolour background, ever-changing with the season. Although the area is packed with tour groups these days, it's still easy to get away from the crowds on the trails and cycling paths. For diverse fun, loop down to the old train depot at Checheng or visit the Chung Tai monastery in nearby Pul. No matter what, don't miss the region's high-mountain oolong tea: it's among the world's finest.

Hiking Jungles and High Mountains

Taiwan is 50% forested and the urban jungle gives way to the real thing astonishingly quickly. In the mountainous Wulai: township, old indigenous hunting trails cut through tropical forests. Take a break from your trek to enjoy crystal-clear streams or deep swimming pools and repeat this experience all over the island. Taiwan is also two-thirds mountainous: hundreds of mountains soar above 3000m, and well-established hiking routes run everywhere. Yushan is the highest peak in Northeast Asia, but the second highest, Snow Mountain, is a more scenic climb.

A Stationary Feast: Night Markets

Taiwan's night markets are as numerous as they are varied. Fulfilling the need for both food and entertainment (to say nothing of socialising), the markets bring happy crowds almost every night of the week to gorge on a bewildering array of snacks and dishes. Check out the Miaokou Night Market: in Keelung, in many ways the grandaddy of them all, for the quintessential experience of eating and people-watching. The night market snacks in Tainan are copied everywhere, but are still best enjoyed on their home turf.

The Magic Lights of the Lantern Festival

One of the oldest of the lunar events, the Lantern Festival celebrates the end of the New Year's festivities. The focus of course is light, and everywhere streets and riversides are lined with glowing lanterns, while giant neon and laser displays fill public squares. Making the mundane surreal and the commonplace magical, the little mountain village of Pingxi: takes simple paper lanterns and releases them en masse into the night sky. There are few sights more spectacular or mesmerising.

The Mazu Pilgrimage

This mother of all walks across Taiwan is, appropriately enough, dedicated to Mazu (literally, old granny), the maternal patron deity of the island. For nine days, hundreds of thousands of the faithful (and visitors) follow a revered statue of Mazu: over 350km across Taiwan, while several million more participate in local events like elaborate ceremonies, theatrical performances and feasting. This is Taiwan's folk culture at its most exuberant and festive, with crowds, wild displays of devotion and a whole lot of fireworks.

Indigenous Taiwan

Though long suppressed, tribal culture and pride has made a remarkable turnaround in the 21st century. Begin your understanding at the Shung Ye Museum of Formosan Aborigines in Taipei, and then check into a homestay run by Yami islanders on Lanyu: during the flying fish season. Or consider a visit to the communally run Smangus, a high-mountain centre of Atayal culture and language. In the summer, head to the east coast around Taitung for exuberant festivals celebrating harvests, coming of age and a deep love of live music.

Hot Springs Wild and Tamed

Taiwan's surface has plenty of fissures, and the abundance of spring sources is hard to match anywhere in the world. The waters boil and bubble but cause no trouble; they are effective for everything from soothing muscles to conceiving male offspring. Nature lovers heading to hot springs in Beitou: and Taian will find them a double happiness: stone, wood and marble coupled with mountain views. If you're willing to walk in, you'll discover there are still quite a few pristine wild springs deep in the valleys.
DiscussPlaces
is a place to make new friends and share your passions and interests. Quench your thirst for knowledge, discuss places with other aficionados, and swap recommendations. Are you an aspiring foodie who dreams of living in New York? Or perhaps you are looking for the best chicken wings in Cincinnati? Then this is the place for you! Any one can join in with a passion or interest – whether it be talking about their favorite restaurant in Barcelona or raving about their latest trip to Italy. Join us!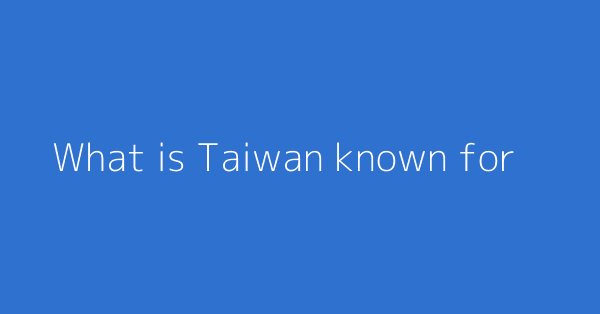 This page shows discussions around "What is Taiwan known for?"