What is Ireland known for?
purplesnake135

last edited by




Ireland

Ireland, Irish Éire, country of western Europe occupying five-sixths of the westernmost major island of the British Isles.

Ireland has so much to offer, here are some of the things Ireland is known for.

Dingle, County Kerry

Dingle: is the quintessential Irish town in all its colourful beauty. Sharing its name with the picturesque, ruin-strewn peninsula jutting into the Atlantic from County Kerry, Dingle is a delight: fishing boats unload fish and shellfish that couldn't be any fresher if you caught it yourself, many pubs are untouched since their earlier incarnations as old-fashioned shops, artists sell their creations (including beautiful jewellery with Irish designs) at intriguing boutiques, and toe-tapping trad sessions take place around roaring pub fires.

Connemara, County Galway

A filigreed coast of tiny coves and beaches is the Connemara Peninsula's: beautiful border with the wild waters of the Atlantic. Characterful roads lead you from one village to another, each with trad pubs and restaurants serving seafood chowder cooked from recipes that are family secrets. Inland the scenic drama is even greater. In fantastically desolate valleys, green hills, yellow wildflowers and wild streams reflecting the blue sky provide elemental beauty. Rambles take you far from other people, and back to a simpler time.

Dublin

Ireland's capital and largest city: by some stretch is the main gateway into the country, and it has enough distractions to keep visitors engaged for at least a few days. From world-class museums and entertainment, to superb dining and top-grade hotels, Dublin has all the baubles of a major international metropolis. But the real clinchers are the Dubliners themselves, who are friendlier, more easygoing and more welcoming than the burghers of virtually any other European capital. And it's the home of Guinness.

Causeway Coast

County Antrim's Causeway Coast is an especially dramatic backdrop for Game of Thrones filming locations. Put on your walking boots by the swaying Carrick-a-Rede rope bridge, then follow the rugged coastline for 16.5 spectacular kilometres, passing Ballintoy Harbour (aka the Iron Islands' Lordsports Harbour) and the geological wonder of the Giant's Causeway: with its outsized basalt columns, as well as cliffs and islands, sandy beaches and ruined castles, before finishing with a dram at the Old Bushmills Distillery.

Wild Atlantic Way

Depending on what direction you travel, the craggy, crenellated Donegal coastline is either the dramatic finale of the Wild Atlantic Way: or its breathtaking beginning. Ireland's northwestern corner is an untamed collection of soaring cliffs (the tallest in Europe), lonely, sheep-speckled headlands and, between them, secluded coves and long stretches of white, powdery sand – among them, in the county's southwest, is Rossnowlagh, one of Europe's premier surf beaches and a hotspot for big-wave surfers.

The Pub

Every town and hamlet has at least one: no matter where you go, you'll find that the social heart of the country beats loudest in the pubs, which are still the best places to discover what makes Ireland tick. In suitable surroundings – whether a traditional pub such as John Benny's: in Dingle with flagstone floors and live music, or a more modern bar – take a moment or an evening to listen for that beating heart…and drink some decent beer in the process.

Ring of Kerry

Driving around the Ring of Kerry: is an unforgettable experience in itself, but you don't need to limit yourself to the main route. Along this 179km loop around the Iveragh Peninsula, there are countless opportunities for detours. From near Killorglin it's a short hop up to the beautiful, little-known Cromane Peninsula. Between Portmagee and Waterville, you can explore the Skellig Ring, while the peninsula's interior offers mesmerising mountain views. And that's just for starters. Wherever your travels take you, remember to charge your camera batteries!

Galway City

One word to describe Galway city:? Craic! Ireland's liveliest city literally hums through the night at music-filled pubs where you can hear three old guys playing spoons and fiddles, or a hot young band. Join the locals as they bounce from place to place, never knowing what fun lies ahead but certain of the possibility. Add in local bounty such as the famous oysters and nearby adventure on the Connemara Peninsula and the Aran Islands, and the fun never ends.

Traditional Music

Western Europe's most vibrant folk music is Irish traditional music, which may have earned worldwide fame thanks to the likes of Riverdance but is best expressed in a 'trad session' – a loosely organised performance in an old-fashioned pub. The west of Ireland is particularly musical: from Donegal down to Kerry there are centres of musical excellence, none more so than Doolin: in County Clare, the unofficial capital of Irish music, where you'll find pubs and 'music houses' – private dwellings known for their sessions and open to the public.

Glendalough, County Wicklow

St Kevin knew a thing or two about magical locations. When he chose a remote cave on a glacial lake nestled at the base of a forested valley as his monastic retreat:, he inadvertently founded a settlement that would later become one of Ireland's most dynamic universities and, in our time, one of the country's most beautiful ruined sites. The remains of the settlement (including an intact round tower), coupled with the stunning scenery, are unforgettable.

Walking and Hiking

Yes, you can visit the country easily enough by car, but Ireland is best explored on foot, whether you opt for a gentle afternoon stroll along a canal towpath or take on the challenge of any of the 43 waymarked long-distance routes. There are mountain hikes and coastal walks, such as the Causeway Coast Way:, and you can explore villages along the way or steer clear of civilisation by traipsing along lonely moorland and across barren bogs. All you'll need is a decent pair of boots and, inevitably, a rain jacket.

Titanic Belfast

The construction of the world's most famous ocean liner is celebrated in high-tech, multimedia glory at this wonderful museum:. Not only can you explore virtually every detail of the Titanic's construction, including a simulated 'fly-through' of the ship from keel to bridge, but you can place yourself in the middle of the industrial bustle that was Belfast's shipyards at the turn of the 20th century. The experience is heightened by the use of photography, audio and – perhaps most poignantly – the only footage of the actual Titanic still in existence.

Clare Coast

Bathed in the golden glow of the late-afternoon sun, the iconic Cliffs of Moher: are but one of the splendours of County Clare. From a boat bobbing below, the towering stone faces have a jaw-dropping dramatic beauty that's enlivened by scores of seabirds, including cute little puffins. Down south in Loop Head, pillars of rock towering above the sea have abandoned stone cottages, the existence of which is inexplicable. All along the coast are charming villages such as trad-session-filled Ennistymon and the surfer destination of Lahinch.

A Gaelic Football or Hurling Match

It depends on whether you're in a football or hurling stronghold (some, such as County Cork, are both), but attending a match of the county's chosen sport is not just a unique Irish experience but also a key to unlocking local passions and understanding one of the cultural pillars of Ireland. Whether you attend a club football match in County Galway, an intercounty hurling battle between old foes such as Kilkenny and Tipperary, or an All-Ireland final at Croke Park:, you cannot help but be swept up in the emotion of it all.

Kilkenny City

From its regal castle to its soaring medieval cathedral, Kilkenny: exudes a permanence and culture that have made it an unmissable stop on journeys to the south and west. Its namesake county boasts scores of artisans and craftspeople and you can browse their wares at Kilkenny's classy shops and boutiques. Chefs eschew Dublin in order to be close to the source of Kilkenny's wonderful produce, and you can enjoy the local brewery's beers at scores of delightful pubs.

Brú na Bóinne, County Meath

Looking at once ancient and yet eerily futuristic, Newgrange's immense, round, white stone walls topped by a grass dome is one of the most extraordinary sights you'll ever see. Part of the vast Neolithic necropolis Brú na Bóinne: (the Boyne Palace), it contains Ireland's finest Stone Age passage tomb, predating Egypt's pyramids by some six centuries. Most extraordinary of all is the tomb's precise alignment with the sun at the time of the winter solstice.

Rock of Cashel, County Tipperary

Soaring up from the green Tipperary pastures, this ancient fortress: takes your breath away at first sight. The seat of kings and churchmen who ruled over the region for more than 1000 years, it rivalled Tara as a centre of power in Ireland for 400 years. Entered through the 15th-century Hall of the Vicars Choral, its impervious walls guard an awesome enclosure with a complete round tower, a 13th-century Gothic cathedral and the most magnificent 12th-century Romanesque chapel in Ireland.

Links Golf

If Scotland is the home of golf, then Ireland is where it goes on holiday. The best spots are along the sea, where the country's collection of seaside links are dotted in a steady string along virtually the entire Irish coastline, each carved into the undulating, marram-grass-covered landscapes. Some of the world's best-known courses, including 2019 Open host Royal Portrush:, share spectacular scenery with lesser-known gems, and each offers golfers the opportunity to test their skills against the raw materials provided by Mother Nature.

Cork City

The Republic's second city: is second only in terms of size – in every other respect it will bear no competition. A tidy, compact city centre is home to an enticing collection of art galleries, museums and – most particularly – places to eat. From cheap cafes to top-end gourmet restaurants, Cork excels, which is hardly a surprise given the county's exceptional foodie reputation. At the heart of it is the simply wonderful English Market, a covered produce market that is an attraction unto itself.

Derry

History runs deep in Northern Ireland's second city:. The symbols of the country's sectarian past are evident, from the 17th-century city walls built to protect Protestant settlers, to the latter forcing the adoption of its Loyalist name, Londonderry. Explore its tormented past by walking the walls, visiting the Bogside and the famous murals that tell the tale of resistance and defiance, before losing yourself in Derry's superb live-music scene and terrific nightlife. You're almost certainly guaranteed a memorable night out.

Carrowmore Megalithic Cemetery, County Sligo

One of Europe's most significant megalithic monuments, the collection of stone circles, passage tombs and dolmens at Carrowmore: is rich in superlatives: the oldest Stone Age monument in Ireland, and one of the largest cemeteries of its kind in Europe. What makes a visit here truly fascinating, however, is the ongoing process of discovery, as archaeologists continue to excavate new monuments and, most excitingly, piece together clues as to the site's deeper meaning and connection to the world around it, including its mathematical relationship with the rising and setting of the sun at Halloween.
DiscussPlaces
is a place to make new friends and share your passions and interests. Quench your thirst for knowledge, discuss places with other aficionados, and swap recommendations. Are you an aspiring foodie who dreams of living in New York? Or perhaps you are looking for the best chicken wings in Cincinnati? Then this is the place for you! Any one can join in with a passion or interest – whether it be talking about their favorite restaurant in Barcelona or raving about their latest trip to Italy. Join us!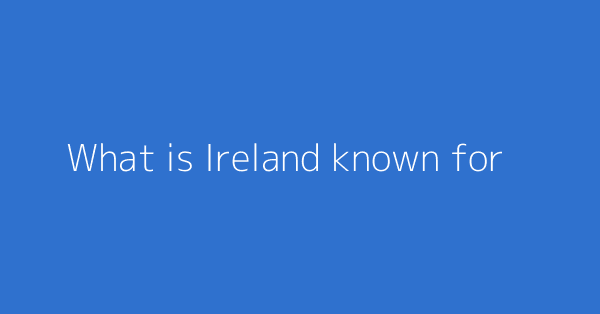 This page shows discussions around "What is Ireland known for?"