What is Afghanistan known for?
tinytiger956

last edited by




Afghanistan

Afghanistan, landlocked multiethnic country located in the heart of south-central Asia.
Lying along important trade routes connecting southern and eastern Asia to Europe and the Middle East, Afghanistan has long been a prize sought by empire builders, and for millennia great armies have attempted to subdue it, leaving traces of their efforts in great monuments now fallen to ruin.
The country's forbidding landscape of deserts and mountains has laid many imperial ambitions to rest, as has the tireless resistance of its fiercely independent peoples—so independent that the country has failed to coalesce into a nation but has instead long endured as a patchwork of contending ethnic factions and ever-shifting alliances.

Afghanistan has so much to offer, here are some of the things Afghanistan is known for.

Kabul: Afghanistan's hectic capital, permanently buzzing on the cusp of change.
Bamiyan: Home to the giant Buddha niches, and the nearby sapphire waters of the Band-e Amir lakes.
Herat: The Silk Road heart of the country, with an astounding Friday Mosque and Citadel.
Mazar-e Sharif: The blue domes of the Shrine of Hazrat Ali make this Afghanistan's most important pilgrimage site.
Wakhan Corridor: The remote plateaus of the High Pamirs are perfect for trekking with yaks.
DiscussPlaces
is a place to make new friends and share your passions and interests. Quench your thirst for knowledge, discuss places with other aficionados, and swap recommendations. Are you an aspiring foodie who dreams of living in New York? Or perhaps you are looking for the best chicken wings in Cincinnati? Then this is the place for you! Any one can join in with a passion or interest – whether it be talking about their favorite restaurant in Barcelona or raving about their latest trip to Italy. Join us!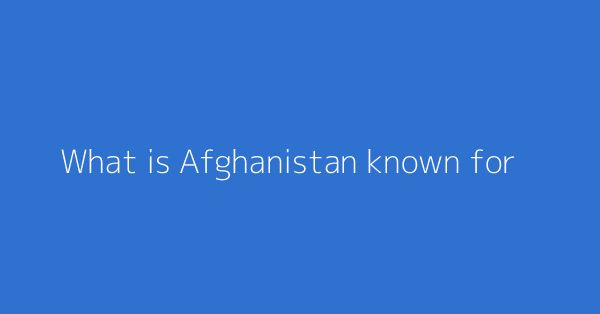 This page shows discussions around "What is Afghanistan known for?"