What is Sweden known for?
ticklishgoose482

last edited by




Sweden

Sweden, country located on the Scandinavian Peninsula in northern Europe.
The name Sweden was derived from the Svear, or Suiones, a people mentioned as early as 98 ce by the Roman author Tacitus.
The country's ancient name was Svithiod.
Stockholm has been the permanent capital since 1523.

Sweden has so much to offer, here are some of the things Sweden is known for.

Stockholm

The nation's capital calls itself 'beauty on water', and it certainly doesn't disappoint in the looks department. Stockholm's many glittering waterways reflect slanted northern light onto spice-hued buildings, and the crooked cobblestone streets of Gamla Stan are magic to wander. Besides its aesthetic virtues, Stockholm: also has top-notch museums, first-class dining and all the shopping anyone could ask for. Its clean and efficient public transport, and multilingual locals, make it a cinch to navigate, and at the end of the day you can collapse in a cushy designer hotel.

Norrland Hiking, Abisko

Sweden has some absolutely gorgeous hiking trails, most of which are well maintained and supplied with conveniently located mountain huts along the way. The season is relatively short, but it's worth a bit of extra planning to get out into the wilderness: its natural landscape is one of Sweden's best assets. A good place to start your venture is the Norrland village of Abisko:, at the top of the Kungsleden long-distance trail – it's a hiker headquarters and easily reached by train.

Northern Delights, Kiruna

The twin phenomena that have made the north of Sweden so famous – one natural, one artificial – are both found beyond the Arctic Circle. No other natural spectacle compares to the aurora borealis: the shape-shifting lights that dance across the night sky during the Arctic winter (October to March). The Icehotel, humble igloo turned ice palace just outside Kiruna:, takes its inspiration from the changeable nature of the northern lights – once re-created each winter, it is now a year-round phenomenon.

Medieval Visby

It's hard to overstate the beauty of the Hanseatic port town of Visby:, in itself justification for making the ferry trip to Gotland. Inside its thick medieval walls are twisting cobblestone streets, fairy-tale cottages draped in flowers and gorgeous ruins atop hills with stunning Baltic views. The walls themselves, with 40-plus towers and the spectacular church ruins within, are a travel photographer's dream, and the perimeter makes an ideal scenic stroll. The city is also a food-lover's heaven, packed with top-notch restaurants accustomed to impressing discriminating diners.

Ambitious Menus, Stockholm

Traditionally, basic Swedish cuisine is a humble, healthy enterprise based on fish, potatoes and preserved meat. But in recent years the country's top chefs have pushed the boundaries, so that alongside classic everyday dishes such as fried herring or meatballs, or even more exotic northern fare like Arctic char or reindeer with wild berries, you'll find innovative, experimental dishes that are fiercely global in influence and ambition. There's also a new emphasis on vegetarian cuisine:. Dining out can be an adventure and an experience.

Gothenburg

The humble sibling to Stockholm's confident polish, Gothenburg: is a city of slick museums, raw industrial landscapes, pleasant parks, can-do designers and cutting-edge food. Try delectable shrimp and fish – straight off the boat or at one of the city's five Michelin-rated restaurants. There's the thrill-packed chaos of Sweden's largest theme park, the cultured quiet of the many museums, and you can't leave without window-shopping in the Haga and Linné districts. For a unique way of getting there, jump on a boat and wander the 190km of the Göta Canal.

Kingdom of Crystal

In the Glasriket: (Kingdom of Crystal) a rich mix of skill and brawn combine to produce stunning (and often practical) works of art. Watch local glass-blowers spin bubbles of molten crystal into fantastic creatures, bowls, vases and sculptures. Choose something for the mantelpiece or try glass-blowing for yourself at the well-stocked centres in Kosta and Orrefors. For background on the 500-year-old industry there's Smålands Museum in Vaxjo, and for the ultimate finish enjoy a cocktail at Kjell Engman's cobalt-blue bar at the Kosta Boda Art Hotel.

Gotland and Fårö

Merchants in the 12th and 13th centuries dotted the beautiful island of Gotland: with fabulous churches. Today, Gotland's lovely ruins, remote beaches, idyllic bike- and horse-riding paths, peculiar rock formations, excellent restaurants and rousing summer nightlife attract visitors from all over the world. The event of the season is Medieval Week, which brings Visby's old town alive with costumes, re-enactments and markets. Film buffs and nature lovers will want to head north to visit Ingmar Bergman's stomping ground of Fårö:.

Stockholm Archipelago

Scattered between the city and the open Baltic Sea, this archipelago: is a mesmerising wonderland of small rocky isles, some no more than seagull launch pads, others studded with deep forests and fields of wildflowers. Most are within easy striking distance, a few hours from the city, with regular ferry services in summer and several organised tours designed for island-hopping. Hostels, campgrounds and more upmarket slumber options make an overnight stay a good option, as does the growing number of excellent restaurants.

Bohuslän Coast

Caught between sky and sea, the coast of Bohuslän is raw and starkly beautiful, its skerries thick with birds and its villages brightly painted specks among the rocks. Choose from myriad quaint seaside boltholes. Film star Ingrid Bergman loved pretty Fjällbacka:, the bargain-hunting Norwegians flock to Strömstad and every sailor knows Tjörn is the place to be in August for the round-island regatta. For a real taste of Swedish summer, spread your beach blanket on a smooth rock and tuck into a bag of peel-and-eat shrimp.

Vikings Village – Foteviken

There are still real, live Vikings, and you can visit them at one of Sweden's most absorbing attractions. An evocative 'living' reconstruction of a late–Viking Age village, Foteviken Viking Reserve: was built on the coast near the site of the Battle of Foteviken (1134) and contains some 22 reed-roofed houses. You can tour all of these, check out the great meeting hall, see a war catapult and buy Viking-made handicrafts. It's all admirably legit, too – the reserve's residents hold to old traditions, laws and religions.

Winter Sports, Åre

Winter sports in Lappland are a major draw. To go cross-country skiing, just grab a pair of skis and step outside; for downhill sports, be it alpine, heli-skiing or snowboarding, Åre: is your best bet. And those are far from your only options. Few pastimes are as enjoyable as rushing across the Arctic wasteland pulled by a team of dogs, the sled crunching through crisp snow – but if you prefer something with a motor, you can test your driving (and racing) skills on the frozen lakes instead.

Inlandsbanan to Gällivare

Take a journey through Norrland along this historic train line: (summer only), which passes small mining towns, deep green forests, herds of reindeer and, if you're lucky, the occasional elk (moose). Built during the 1930s and rendered obsolete by 1992, the line has more than enough charm and historical appeal to make up for its lack of speed – you'll have plenty of time to contemplate the landscape, in other words. It's a beautiful, oddball means of transport, best suited to those for whom adventure trumps efficiency.

Gammelstad

There is an abundance of Unesco World Heritage–recognised treasures in Sweden. A fine example is Gammelstad church town: near Luleå. The largest church town in the country, it was the medieval centre of northern Sweden; visiting feels a bit like time travel. The village's stone Nederluleå Church (built in 1492) has a reredos worthy of a cathedral and choir stalls for a whole consistory, and there are 424 wooden houses where rural pioneers stayed overnight on their weekend pilgrimages.

Vasamuseet

Stockholm's unique Vasamuseet: is a purpose-built preservation and display case for an ancient sunken battleship. The ship was the pride of the Swedish Crown when it set out in August 1628, but pride quickly turned to embarrassment when the top-heavy ship tipped and sank to the bottom of Saltsjön, where it would await rescue for 300 years. The museum explains – in fascinating multimedia – how it was found, retrieved and restored, why it sank in the first place, and what it all means to the Swedish people.

goldenfish468

last edited by




Here are a few popular Norwegian dishes. Please share your favorites as a reply.

Pizza Grandiosa (Pizza)
Sodd (Meat Soup)
Fårikål (Stew)
Fiskesuppe (Seafood Soup)
Kjøttboller (Beef Dish)
Pinnekjøtt (Lamb/Mutton Dish)
Lutefisk (Saltwater Fish Dish)
Brunost (Cheese)
Jarlsberg (Cheese)
Lefse (Flatbread)
DiscussPlaces
is a place to make new friends and share your passions and interests. Quench your thirst for knowledge, discuss places with other aficionados, and swap recommendations. Are you an aspiring foodie who dreams of living in New York? Or perhaps you are looking for the best chicken wings in Cincinnati? Then this is the place for you! Any one can join in with a passion or interest – whether it be talking about their favorite restaurant in Barcelona or raving about their latest trip to Italy. Join us!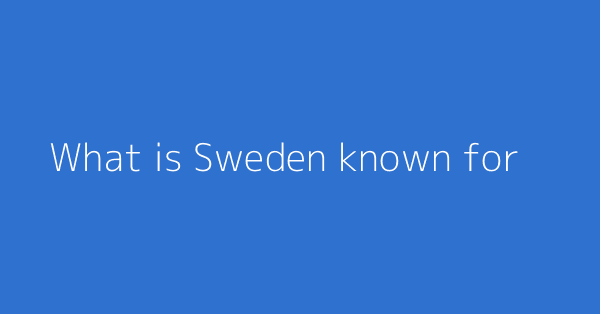 This page shows discussions around "What is Sweden known for?"