What is Lithuania known for?
yellowcat832

last edited by




Lithuania

Lithuania, country of northeastern Europe, the southernmost and largest of the three Baltic states.
Lithuania was a powerful empire that dominated much of eastern Europe in the 14th–16th centuries before becoming part of the Polish-Lithuanian confederation for the next two centuries.

Lithuania has so much to offer, here are some of the things Lithuania is known for.

Vilnius: Wandering the backstreets of the beautiful baroque capital, looking for that perfect bar or bistro.
Curonian Spit: Spending time cycling, swimming in the Baltic Sea, or exploring hardy human settlements on this thin spit of sand and spruce.
Nemunas Delta: Losing yourself in the whispering rushes, teeming birdlife and perfect serenity.
Žemaitija National Park: Staring down the barrel of a disused nuclear missile silo before taking a peaceful stroll through woods.
Aukštaitija National Park: Taking time out for fishing, boating, bathing and berrying in Lithuania's beloved lakeland.
Druskininkai: Strolling, boating or taking the waters at Lithuania's leading spa resort.
Orvydas Garden: Walking through a peaceful rock and statue garden that feels as holy as the Hill of Crosses and as quiet as a national park.
DiscussPlaces
is a place to make new friends and share your passions and interests. Quench your thirst for knowledge, discuss places with other aficionados, and swap recommendations. Are you an aspiring foodie who dreams of living in New York? Or perhaps you are looking for the best chicken wings in Cincinnati? Then this is the place for you! Any one can join in with a passion or interest – whether it be talking about their favorite restaurant in Barcelona or raving about their latest trip to Italy. Join us!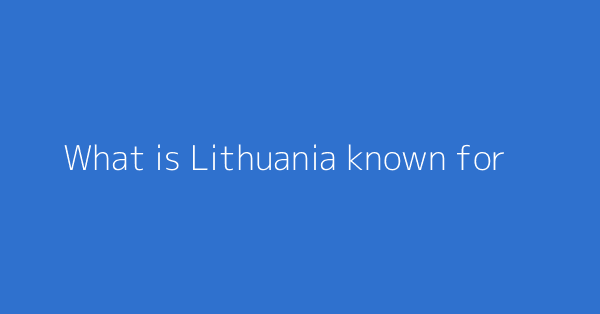 This page shows discussions around "What is Lithuania known for?"