What is Bhutan known for?
redswan469

last edited by




Bhutan

Bhutan, country of south-central Asia, located on the eastern ridges of the Himalayas.
Historically a remote kingdom, Bhutan became less isolated in the second half of the 20th century, and consequently the pace of change began to accelerate.
With improvements in transportation, by the early 21st century a trip from the Indian border to the Bhutanese capital, Thimphu, that once took six days by mule could be made in just a few hours by car along a winding mountain road from the border town of Phuntsholing.
The governmental structure also changed radically.
Reforms initiated by King Jigme Dorji Wangchuk (reigned 1952–72) in the 1950s and '60s led to a shift away from absolute monarchy in the 1990s and toward the institution of multiparty parliamentary democracy in 2008.

Bhutan has so much to offer, here are some of the things Bhutan is known for.

Taktshang Goemba

Bhutan's most famous monastery, Taktshang Goemba: is one of its most venerated religious sites. Legend says that Guru Rinpoche flew to this site on the back of a tigress to subdue a local demon; afterwards he meditated here for three months. This beautiful temple clings to the sheer cliffs soaring above a whispering pine forest. The steep walk to the monastery is well worthwhile, providing the most photogenic views of the monastery and the Paro valley, and you can combine a visit with the Bumdrak trek.

Terrific Tsechus

Most of Bhutan's dzongs and goembas (monasteries) have annual festivals featuring sacred dance dramas. The largest of these festivals is the tsechu: – with dances in honour of Guru Rinpoche. The dances are performed by monks and laypeople dressed in colourful costumes and painted masks, and the dancers take on aspects of wrathful and compassionate deities, heroes, demons and animals. During the dances, atsara (masked clowns) mimic the dancers and perform comic routines, and even harass the audience for money in exchange for a blessing with the wooden phallus they carry!

Himalayan Treks

Bhutan's treks are physically demanding but hugely rewarding. They are the only way to get close to Bhutan's high mountains and to visit such fabled valleys as Laya and Lingzhi. The Jhomolhari trek: and Snowman trek in particular rank as two of the world's classic walks. On all treks you will be expertly guided and looked after and your pack will be carried by ponies. Meeting traditionally dressed locals tending their animals according to century-old traditions will be a highlight of your trip.

Archery

Bhutan's national sport of archery (datse) is exhilarating and entertaining to watch, with competitions held across the country throughout the year. There are two classes of competition: one for the traditional bamboo bows, and another for the space-age carbon-fibre bows that propel arrows at astonishing speeds. The targets seem impossibly tiny and the distance immense, yet the target is hit quite regularly. Narrow misses, bawdy banter and singing and dancing accompany the whoosh of arrows and hoots of delight as the competition heats up. Look for weekend practice sessions at Paro's Archery Ground:.

Haa Valley

Just a few hours' drive from Paro, over Bhutan's highest motorable road, this little-visited valley: is home to magical cliffside hermitages, ancient temples and charming villages. Accommodation is focused around boutique farmhouses and homestays rather than big group resorts, giving it a more intimate feel. The valley rim is a great place to do some hiking or trekking, either along the Cheli La ridge or up to the Saga La, with its fine views of snow-capped Jhomolhari. Budget a couple of days to beat the crowds.

Punakha Dzong

Superbly situated where two rivers converge, Punakha Dzong: is the most dramatic and beautiful example of Bhutanese architecture in the country. Visit in spring to see the famous jacaranda trees splash lilac flowers down the whitewashed walls and red-robed monks wandering on a sea of purple petals. The fortress-thick walls are intimidating and are silent one moment, then warmed with the echoes of giggles in another as a horde of young monks head off for a meal. The dzong's spring festivals rank as the country's most colourful.

Traditional Textiles

Hand-woven and embroidered textiles are generally recognised as Bhutan's premier handicraft. Centuries of tradition have honed the techniques of textile dyeing, weaving and stitching. Most of the weavers are women and it is a rare home in Bhutan that does not 'clunk' to the sound of a loom. In addition to the National Textile Museum: in Thimphu, there are small shops throughout the country – particularly in Bumthang and in the far east – selling vibrant fabrics that make beautiful souvenirs.

Gross National Happiness

Gross National Happiness: has become Bhutan's philosophical tagline and an offering to a world grappling with unsustainable 'growth economics'. Based on core Buddhist values, this measurable index is a counterpoint to the economist's Gross National Product. It is also a revolutionary philosophy that places real value on things such as cultural heritage, health, education, good governance, ecological diversity and individual wellbeing. Importantly, it sees economic growth not as an end but rather as a means of achieving quality of life and it's fascinating to see the philosophy in action.

Bumthang

The valleys comprising Bumthang: make up the cultural heartland of Bhutan. The region's ancient goembas, dzongs and temples figured prominently in Bhutan's early development as well as in the foundation of the unique aspects of Bhutanese Buddhism. Witness the rock imprint of Guru Rinpoche, hoist Pema Lingpa's 25kg chain mail, and stare into the churning waters of Membartsho, where Pema Lingpa uncovered hidden Buddhist treasures. Bumthang is also one of the best places for day hikes up to some superbly sited monasteries and meditation retreats.

Paro Dzong and National Museum

Paro's Rinpung Dzong is a hulking example of the defining fortress-like dzong architecture that dots Bhutan's major settlements and valleys. The colourful Paro tsechu is held here in spring; the festival culminates with the unfurling of a thondrol (a huge religious image) depicting the Tantric saint Guru Rinpoche. Above the dzong is an old, round watchtower, the Ta Dzong, now converted into the excellent National Museum:, which has an informative and eclectic collection. It's the perfect introduction to Bhutan's cultural heritage.

Arts and Crafts

Bhutan's pride in its handicrafts is on show at the schools of Zorig Chusum: and Bhutan's many handicraft shops. Many items have a utilitarian or religious use, such as bamboo baskets, brass butter lamps or the exquisite wooden bowls hand-turned from intricately patterned burlwood. Silk, cotton, wool and even yak hair is spun, dyed, woven and stitched into cloth and traditional garments. Bhutan's rich painting tradition lives on in the form of intricate thangkas (religious pictures), while Bhutanese stamps are must-haves for collectors.

Trongsa Dzong and the Tower of Trongsa Museum

Sprawling down a ridge towards an ominous gorge, Trongsa Dzong: sits in a central position in Bhutan's geography and in its recent history. Both the first and second kings ruled the country from this strategic position. Inside is a labyrinth of stairways, narrow corridors and courtyards. Overlooking the dzong, the Tower of Trongsa Museum is housed in the two-winged watchtower. This excellent museum is dedicated to the history of the royal Wangchuck dynasty and has exhibits ranging from personal effects of the royals to Buddhist statues.

Thimphu Centenary Farmers' Market

Thimphu's bustling weekend Centenary Farmers' Market: is the biggest and brightest in the country. The food section is an olfactory overload with dried fish competing with soft cheese, betel nut and dried chilli to assault your nostrils. Curly fern fronds (nakey), red rice and ground herbal incense are just some of the exotic offerings. Cross the fast-flowing Wang Chhu on the traditional cantilever footbridge to get to the handicraft and textile stalls where you can barter for 'antiques', rolls of prayer flags or even a human thigh-bone trumpet.

Wonderful Wildlife

Bhutan has the largest proportion of land designated as protected areas in the world, with 65% of its territory covered in forest and mountains, protecting richly varied habitats and an amazing diversity of plants and creatures, including snow leopards and Bengal tigers. Birdwatchers flock to the monsoon-soaked evergreen forests of southern Bhutan, where hundreds of species can be spotted from the road. The endangered black-necked crane winters in central and eastern Bhutan and the reliably returning cranes of the Phobjikha valley: are justifiably renowned.

Kyichu Lhakhang

Kyichu Lhakhang: is one of Bhutan's oldest, most venerated and most beautiful temples and it sits just a short distance from the gateway town of Paro. The oldest temple in this twin-temple complex is believed to have been built in AD 659 by King Songtsen Gampo of Tibet. The outside grounds hum with prayers and spinning prayer wheels, while inside a treasured 7th-century statue of Jowo Sakyamuni sits in the inner sanctuary. Easy day walks begin in the vicinity of this serene lhakhang.

Thimphu Valley

Thimphu abounds with museums and cultural attractions, including the Trashi Chho Dzong:, which celebrates one of the country's most popular tsechus in autumn. The capital also boasts the country's only real dining and nightlife scene. There are several great hikes around the valley walls, taking in a handful of perfectly positioned monasteries offering excellent views over the city and valley. And just west of Thimphu's centre, Motithang Takin Preserve is your best bet for spotting Bhutan's extraordinary national animal.

Forests and Blooms

Although the ethereal high-altitude blue poppy is the national flower and the cypress the national tree, no plant is more emblematic of Bhutan than the rhododendron. In spring, splashes of red, pink and white rival the multicoloured prayer flags at many high passes, but especially around the Dochu La: en route to Punakha. With some of the Himalaya's most pristine forests, Bhutan beckons amateur botanists with its sheer variety of flora and shades of green. Long drives are inevitable, so remember to stop the car and smell the flowers.
DiscussPlaces
is a place to make new friends and share your passions and interests. Quench your thirst for knowledge, discuss places with other aficionados, and swap recommendations. Are you an aspiring foodie who dreams of living in New York? Or perhaps you are looking for the best chicken wings in Cincinnati? Then this is the place for you! Any one can join in with a passion or interest – whether it be talking about their favorite restaurant in Barcelona or raving about their latest trip to Italy. Join us!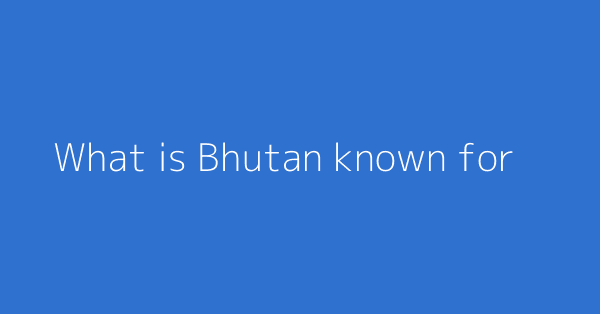 This page shows discussions around "What is Bhutan known for?"