What is Armenia known for?
bluekoala297

last edited by




Armenia

Armenia, country of Transcaucasia, lying just south of the great mountain range of the Caucasus and fronting the northwestern extremity of Asia.
To the north and east Armenia is bounded by Georgia and Azerbaijan, while its neighbours to the southeast and west are, respectively, Iran and Turkey.
Naxçıvan, an exclave of Azerbaijan, borders Armenia to the southwest.
The capital is Yerevan (Erevan).

Armenia has so much to offer, here are some of the things Armenia is known for.

Yerevan: Lazing away a few days in the welcoming cafes, wine bars and restaurants of the capital.
Noravank: Watching the sun slowly set over the dramatic reddish-gold cliffs surrounding picture-perfect church buildings.
Dilijan National Park: Hiking through millions of springtime wildflowers.
Geghard Monastery: Marvelling at the ancient rock-hewn churches at the World Heritage–listed monastery.
Areni: Winery hopping in a region that's been producing wine for 6100 years.
Goris: Exploring an abandoned cave city carved out of soft volcanic rock.
Debed Canyon: Visiting magnificent medieval monasteries and fresco-covered churches in this dramatic canyon.
Tatev: Floating to the fortified monastery on the world's longest cable car.
DiscussPlaces
is a place to make new friends and share your passions and interests. Quench your thirst for knowledge, discuss places with other aficionados, and swap recommendations. Are you an aspiring foodie who dreams of living in New York? Or perhaps you are looking for the best chicken wings in Cincinnati? Then this is the place for you! Any one can join in with a passion or interest – whether it be talking about their favorite restaurant in Barcelona or raving about their latest trip to Italy. Join us!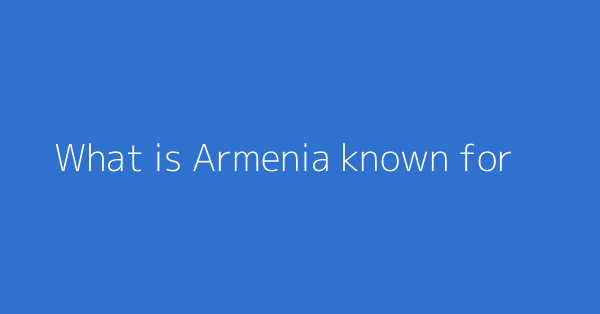 This page shows discussions around "What is Armenia known for?"