What is Trinidad and Tobago known for?
goldenzebra524

last edited by




Trinidad and Tobago

Trinidad and Tobago, island country of the southeastern West Indies.
It consists of two main islands—Trinidad and Tobago—and several smaller islands.
Forming the two southernmost links in the Caribbean chain, Trinidad and Tobago lie close to the continent of South America, northeast of Venezuela and northwest of Guyana.
Trinidad, by far the larger of the two main islands, has an area of about 1,850 square miles (4,800 square km).
It is 7 miles (11 km) from the Venezuelan coast at its nearest point and is separated from it by the Gulf of Paria and two narrow channels, where there are several small islands and rocks.
Tobago, much smaller, with an area of about 115 square miles (300 square km), lies 20 miles (30 km) to the northeast of Trinidad.
Extending diagonally from southwest to northeast, Tobago is about 30 miles (50 km) long and more than 10 miles (16 km) across at its widest point.
Little Tobago lies about a mile off Tobago's northeastern coast.
Also called Bird of Paradise Island, Little Tobago was once noted as the only wild habitat of the greater bird of paradise outside of New Guinea; however, the bird is no longer found there.

Trinidad and Tobago has so much to offer, here are some of the things Trinidad and Tobago is known for.

Port of Spain: Exploring the atmospheric downtown and city sights, sampling street food or fine-dining meals, visiting panyards and partying on Ariapita Ave or at the fabulous Carnival.
Northern Range: Scouting the waterfalls, wildlife and ruggedly gorgeous Trinidad coastline.
Diving: Submerging yourself among Speyside's spectacular underwater canyons and coral gardens.
Asa Wright Nature Centre: Grabbing your binoculars to spy on Trinidad's prolific birdlife.
Pigeon Point: Dipping your toes into whiter-than-white sand and turquoise waters at Tobago's most popular beach.
Grande Riviere: Peeking at leatherback turtles laying eggs on this remote Trinidad beach (March to August) and holding your breath as the hatchlings make a bid for the sea (May to September).
Boat Ride: Following Tobago's Caribbean coastline to snorkel at hidden coves and eat fresh fish at a beach barbecue.
DiscussPlaces
is a place to make new friends and share your passions and interests. Quench your thirst for knowledge, discuss places with other aficionados, and swap recommendations. Are you an aspiring foodie who dreams of living in New York? Or perhaps you are looking for the best chicken wings in Cincinnati? Then this is the place for you! Any one can join in with a passion or interest – whether it be talking about their favorite restaurant in Barcelona or raving about their latest trip to Italy. Join us!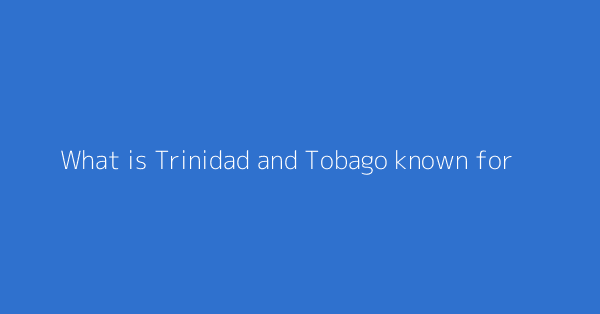 This page shows discussions around "What is Trinidad and Tobago known for?"