What is Turkey known for?
happysnake631

last edited by




Turkey

Turkey, country that occupies a unique geographic position, lying partly in Asia and partly in Europe.
Throughout its history it has acted as both a barrier and a bridge between the two continents.

Turkey has so much to offer, here are some of the things Turkey is known for.

Crossing Between Continents

In İstanbul, you can board a commuter ferry: and flit between Europe and Asia in under an hour. Every day, a flotilla of ferries take locals up the Bosphorus and over the Sea of Marmara, sounding sonorous horns as they go. Morning services share the waterways with diminutive fishing boats and massive container ships, all accompanied by flocks of shrieking seagulls. At sunset, the tapering minarets and Byzantine domes of the Old City are thrown into relief against a dusky pink sky – it's the city's most magical sight.

Cappadocia

Cappadocia's: hard-set honeycomb landscape looks sculpted by a swarm of genius bees. The truth – the effects of erosion on rock formed of ash from megalithic volcanic eruptions – is only slightly less cool. Humans have also left their mark here, in the Byzantine frescoes in rock-cut churches and in the bowels of complex underground cities. These days, Cappadocia is all about good times: fine wine, local dishes and five-star caves; horse riding, valley hikes and hot-air ballooning. There's enough to keep you buzzing for days.

Ephesus

Undoubtedly the most famous of Turkey's countless ancient sites, and considered the best-preserved ruins in the Mediterranean, Ephesus: (Efes) is a powerful tribute to Greek artistry and Roman architectural prowess. A stroll down the marble-coated Curetes Way provides myriad photo opportunities – not least the Library of Celsus with its two storeys of columns, and the Terraced Houses, their vivid frescoes and sophisticated mosaics giving insight into the daily lives of the city's elite. Much of the ancient port is yet to be unearthed.

Aya Sofya

Even in mighty İstanbul, nothing beats the Aya Sofya:, or Church of the Divine Wisdom, which was for centuries the greatest church in Christendom. Emperor Justinian had it built in the 6th century as part of his mission to restore the greatness of the Roman Empire; gazing up at the floating dome, it's hard to believe this fresco-covered marvel didn't single-handedly revive Rome's fortunes. Glittering mosaics depict biblical scenes and ancient figures such as Empress Zoe, one of only three Byzantine empresses to rule the empire.

Hamams

At many hamams in Turkey, plenty of extras are on offer: bath treatments, facials, pedicures and so on. However, we recommend you stick with the tried and true hamam experience – a soak and a scrub followed by a good (and optional) pummelling. After this cleansing ritual and cultural experience, the world (and your body) will never feel quite the same again; do leave time to relax with a çay afterwards. For a truly memorable hamam, seek out a soak in Antalya's atmospheric old quarter or on either side of the Galata Bridge in İstanbul:.

Lycian Way

Acclaimed as one of the world's top 10 long-distance walks, the Lycian Way: follows signposted paths for 500km between Fethiye and Antalya. This is the Teke Peninsula, once the stamping ground of the ancient and mysterious Lycian civilisation. The route leads through pine and cedar forests in the shadow of mountains rising almost 3000m, passing villages, stunning coastal views and an embarrassment of ruins at ancient cities such as Pınara, Xanthos, Letoön and Olympos. Walk it in sections (unless you have plenty of time and stamina).

Gallipoli Peninsula

The narrow stretch of land: guarding the entrance to the much-contested Dardanelles is a beautiful area where pine trees roll across hills above Eceabat's harbour and Kilitbahir's castle. Touring the peaceful countryside is a poignant experience for many: memorials and the passionate guides do a good job of evoking the futility and tragedy of the Gallipoli campaign, one of WWI's worst episodes.

Meyhanes

Say şerefe (cheers) to carousing Turks in a meyhane (tavern). A raucous night mixing meze with rakı (aniseed brandy) and live music is a time-honoured Turkish activity. Melon, white cheese and fish go particularly well with the aslan sütü (lion's milk; the clear rakı turns white when added to water) and the soundtrack ranges from romantic ballads to fasıl, lively local gypsy music. A great place to sample Turkish nightlife is Beyoğlu, İstanbul:, where the meyhane precincts around İstiklal Caddesi heave with people on Friday and Saturday nights.

Sumela Monastery

The improbable cliff-face location of Sumela Monastery: is more than matched by the Black Sea hinterland's verdant scenery. The gently winding road to the Byzantine monastery twists past riverside fish restaurants, and your journey from nearby Trabzon may be pleasantly hindered by a herd of fat-tailed sheep en route to fresh pastures. The last few kilometres afford tantalising glimpses across pine-covered valleys of Sumela's honey-coloured walls, and the final approach on foot leads up a forest path to the rock-cut retreat. Sumela is set to reopen after a major restoration is completed in 2018.

Beaches

Turkey's beaches are world famous, offering a reliable summer mix of sun, sand and azure waters.Topping the list are Mediterranean and Aegean beauties such as Kaputaş:, a tiny cove with dazzling shallows near Kalkan, and Patara, Turkey's longest beach. Many of the finest Mediterranean plajlar (beaches) dot the Lycian Way footpath, while stretches of Aegean sand offer activities such as windsurfing in Alaçatı, Akyaka and Gökçeada. The Black Sea coast also has its charms, and the beaches around the historic towns of Amasra and Sinop are perennially popular with Turkish tourists.

Ani

Ani: is a truly exceptional site. Historically intriguing, culturally compelling and scenically magical, this ghost city floating in a sea of grass looks like a movie set. Lying in blissful isolation right at the Armenian border, the site exudes an eerie ambience. Before its decline following a Mongol sacking in 1236, Ani was a thriving city, a Silk Road entrepôt and capital of the Armenian kingdom from 961 to 1046. The ruins include several notable churches as well as a cathedral built between 987 and 1010.

Kekova Island

Cruise to the underwater ruins fringing this Mediterranean isle or stay beneath the Crusader fortress in neighbouring Kaleköy ('Castle Village'), its pensions, fish restaurants and Lycian sarcophagi reached by boat or the Lycian Way footpath. Kekova Island: itself is skirted by the remains of Lycian Simena, which was submerged following a series of severe earthquakes in the 2nd century AD. From a kayak or glass-bottomed boat, you can see shattered amphorae, building foundations, staircases and moorings disappearing into the Mediterranean depths.

Kaçkar Mountains (Kaçkar Dağları)

Rippling along between the Black Sea coast and the Çoruh River, the Kaçkars: rise to almost 4000m, affording superb hiking when the snow melts in summer. Spending a few days crossing the yaylalar (mountain pastures) between hamlets like Olgunlar and Ayder is one of Turkey's top trekking experiences, and the lower slopes offer cultural encounters. The local Hemşin people are a welcoming bunch, serving their beloved, fondue-like Muhlama (cornmeal cooked with butter and cheese) in villages with Ottoman bridges and Georgian churches.

Superb southeastern mosaics

Datça and Bozburun Peninsulas

These mountainous peninsulas:, stretching lazily from Marmaris towards the Greek island of Symi, form a scenic dividing line between the Aegean and Mediterranean. From gület-building Bozburun village to the ruins of Knidos at the tip of the Datça Peninsula, the adjoining fingers of land mix holiday charm with rustic tranquility. Eski Datça (Old Datça) has cobbled lanes and bougainvillea-draped stone houses, while Selimiye is an up-and-coming village with some good restaurants. In summer, ferries cross daily between the Datça Peninsula and Bodrum.

Gület Cruising

Known locally as a 'blue voyage' (mavi yolculuk), a cruise lasting four days and three nights on a gület (traditional wooden yacht) along the western Mediterranean's Turquoise Coast is the highlight of many a trip to Turkey. The cruises offer opportunities to explore isolated beaches, watch sunsets and truly get away from it all, offshore and offline – a rare treat nowadays. The usual route is Fethiye: to Olympos, stopping at Mediterranean highlights such as Butterfly Valley, though aficionados say the Fethiye to Marmaris route is even prettier.

Bazaar Shopping

Turkey's markets range from İstanbul's famously clamorous Grand Bazaar: to its colourful and fragrant Spice Bazaar; and from the traditional shadow puppets in Bursa's kapalı çarşı (vaulted bazaar) to the typical mixed sack of Ottoman tiles, nargiles (water pipes) and Spider-Man suits in Antalya's İki Kapılar Hanı. To take home the finest Turkish carpets you need a sultan's fortune, but don't be discouraged. Find something you like, drink some çay with the shopkeeper, and accept that you might not bag the world's best deal but at least you'll have honed your haggling skills.

Nemrut Dağı (Mt Nemrut)

One man's megalomania echoes across the centuries atop Nemrut Dağı's: exposed and rugged summit, home to a 1st-century BC king's monumental burial ground. A gently emerging sunrise coaxes stark shadows from the mountain's giant sculpted heads, and as dawn breaks the finer details of the immense landscape below are gradually added. As you huddle against the chill of a new morning, a warming glass of çay could not be more welcome. And when your time on the summit is complete, don't miss the graceful Roman bridge crossing the nearby Cendere River.

Pamukkale

Famed for its intricate series of travertines: (calcite shelves), and crowned by the ruined Roman and Byzantine spa city of Hierapolis, the 'Cotton Castle' – a bleach-white mirage by day and alien ski slope by night – is one of Turkey's most unusual treasures. Explore ruins such as the Roman theatre and soak your feet in the thermal water filling the crystal travertines, then tiptoe down to Pamukkale village past a line of the saucer-shaped formations. An optional extra is a dunk in Hierapolis' Antique Pool amid toppled marble columns.

Whirling Dervishes

The sema (whirling dervish ceremony) crackles with spiritual energy as the robe-clad dervishes spin, a constellation of dancers performing this trance-like ritual. The ceremony begins and ends with chanted passages from the Koran and is rich with symbolism; the dervishes' conical felt hats represent their tombstones, as the dance signifies relinquishing earthly life to be reborn in mystical union with God. You can see a sema in locations including İstanbul, Cappadocia, Bursa and Konya; Konya's Mevlâna Museum: gives insight into the mystical Mevlevi, the original whirling dervishes.

Safranbolu

Listed for eternal preservation by Unesco in 1994, Safranbolu: is Turkey's prime example of an Ottoman town brought back to life. Domestic tourists full of nostalgia descend here to stay in half-timbered houses that seem torn from the pages of a children's storybook. And the magic doesn't end there. Sweets and saffron vendors line the cobblestone alleyways, and artisans and cobblers ply their centuries-old trades beneath medieval mosques. When the summer storms light up the night sky, the fantasy is complete.
DiscussPlaces
is a place to make new friends and share your passions and interests. Quench your thirst for knowledge, discuss places with other aficionados, and swap recommendations. Are you an aspiring foodie who dreams of living in New York? Or perhaps you are looking for the best chicken wings in Cincinnati? Then this is the place for you! Any one can join in with a passion or interest – whether it be talking about their favorite restaurant in Barcelona or raving about their latest trip to Italy. Join us!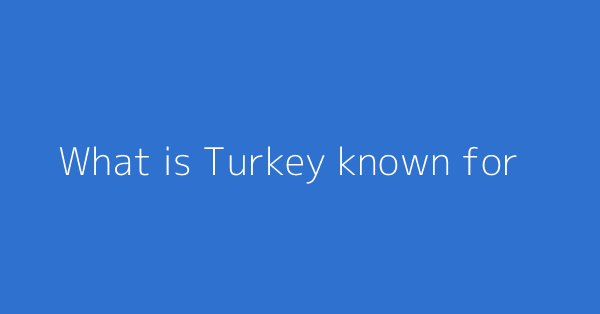 This page shows discussions around "What is Turkey known for?"