What is Mauritania known for?
lazyostrich587

last edited by




Mauritania

Mauritania, country on the Atlantic coast of Africa.
Mauritania forms a geographic and cultural bridge between the North African Maghrib (a region that also includes Morocco, Algeria, and Tunisia) and the westernmost portion of Sub-Saharan Africa.
Culturally it forms a transitional zone between the Arab-Amazigh (Berber) populations of North Africa and the African peoples in the region to the south of the Tropic of Cancer known as the Sudan (a name derived from the Arabic bilād al-sūdān, "land of the Blacks").
Much of Mauritania encompasses part of the Sahara desert, and, until the drought conditions that affected most of that zone of Africa in the 1970s, a large proportion of the population was nomadic.
The country's mineral wealth includes large reserves of iron ore, copper, and gypsum, all of which are now being exploited, as well as some oil resources.

Mauritania has so much to offer, here are some of the things Mauritania is known for.

Réserve Satellite du Cap Blanc: Tracking down a rare colony of charismatic Mediterranean monk seals in the country's remote north.
La Tissayade: Tasting Mauritanian cooking in Nouakchott's best and most atmospheric restaurant.
Parc National du Banc d'Arguin: Observing vast flocks of birds from a traditional pirogue.
Port de Pêche: Witnessing the amazing tableau of hundreds of fishing boats returning to the beach just outside Nouakchott.
Iron-Ore Train: Hopping on one of the world's longest trains – be ready for the most epic journey of your life!
DiscussPlaces
is a place to make new friends and share your passions and interests. Quench your thirst for knowledge, discuss places with other aficionados, and swap recommendations. Are you an aspiring foodie who dreams of living in New York? Or perhaps you are looking for the best chicken wings in Cincinnati? Then this is the place for you! Any one can join in with a passion or interest – whether it be talking about their favorite restaurant in Barcelona or raving about their latest trip to Italy. Join us!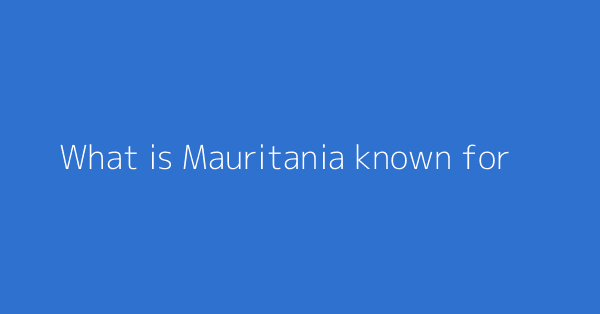 This page shows discussions around "What is Mauritania known for?"