What is Austria known for?
silverswan809

last edited by




Austria

Austria, largely mountainous landlocked country of south-central Europe.
Together with Switzerland, it forms what has been characterized as the neutral core of Europe, notwithstanding Austria's full membership since 1995 in the supranational European Union (EU).

Austria has so much to offer, here are some of the things Austria is known for.

Grossglockner Road

Hairpin bends: 36. Length: 48km. Average slope gradient: 9%. Highest viewpoint: Edelweiss Spitze (2571m). Grossglockner Road: is one of Europe's greatest drives and the showpiece of Hohe Tauern National Park. The scenery unfolds as you climb higher on this serpentine road. And what scenery! Snow-capped mountains, plunging waterfalls and lakes scattered like gemstones are just the build-up to Grossglockner (3798m), Austria's highest peak, and the Pasterze Glacier. Start early and allow enough time, as there's a stop-the-car-and-grab-the-camera view on every corner.

Imperial Palaces of Vienna

Imagine what you could do with unlimited riches and Austria's top architects at hand for 640 years and you'll have the Vienna of the Habsburgs. The monumentally graceful Hofburg: whisks you back to the age of empires; marvel at the treasury's imperial crowns, the equine ballet of the Spanische Hofreitschule and the chandelier-lit apartments fit for Empress Elisabeth. The palace is rivalled in grandeur only by the 1441-room Schloss Schönbrunn, a Unesco World Heritage site, and baroque Schloss Belvedere, both set in exquisite gardens.

Skiing in the Alps

In a country where three-year-olds can snowplough, 70-year-olds still slalom and the tiniest speck of a village has its own lift system, skiing is more than just a sport – it's a way of life. Why? Just look around you. There's St Anton am Arlberg: for off-piste and après-ski, Mayrhofen for freestyle boarding and its epic Harakiri, Kitzbühel for the perfect mix – the scope is limitless and the terrain fantastic. Cross-country or back-country, downhill or glacier, whatever your ski style, Austria has a piste with your name on it.

Cafe Culture in Vienna

A pianist plays and bow-tied waiters bustle to and fro with cakes and encyclopaedic coffee menus. Ahhh, this is what the Viennese mean by Gemütlichkeit (cosiness), you realise, as you sip your melange (milky coffee), rustle your newspaper and watch life go decadently by. Café Sacher: for the richest of chocolate cakes, Café Jelinek for its quirky vibe, Café Leopold Hawelka for bohemian flavour – Vienna has a coffee house for every mood and occasion. Indulge, talk, read and dream; just as Trotsky and Freud, Hundertwasser and Warhol once did.

Festung Hohensalzburg

Work up a sweat on the steep walk or step into the funicular and sway up to Salzburg's glorious fortress, Festung Hohensalzburg:, beckoning on a forested peak above the city. As you make your way around Europe's best-preserved fortress, glide through the Golden Hall, with its celestial ceiling capturing the starlit heavens. After all this beauty, you will find yourself cast among a chilling array of medieval torture instruments in the Fortress Museum, and don't miss the 360-degree views from the tower.

The Wachau

When Strauss composed 'The Blue Danube', he surely had the Wachau in mind. Granted Unesco World Heritage status for its harmonious natural and cultural beauty, this romantic stretch of the Danube Valley: waltzes you through poetic landscapes of terraced vineyards, forested slopes and apricot orchards, with the meandering river nearly always in sight. Beyond the highlight attraction of Stift Melk, Dürnstein's Kuenringerburg begs exploration. This ruined hilltop castle is where the troubadour Blondel attempted to rescue Richard the Lionheart from the clutches of Duke Leopold V.

Salzburg Festival

No country can outshine Austria when it comes to classical music. The country was a veritable production line of great composers in the 18th and 19th centuries. And there's always a reason to celebrate that great heritage, especially at the much-lauded Salzburg Festival:, held late July to August, which was staged for the first time in 1920 and is today a highlight of Austria's cultural calendar. As well as concerts featuring illustrious composers such as home-grown Mozart, make sure you catch an opera and a theatre performance or two.

Hiking the Pinzgauer Spaziergang

You're on the Pinzgauer Spaziergang:, a crisp blue sky overhead, snowy peaks crowding the horizon. You're waking up to a rose-tinted sunrise in the Dolomites. Or perhaps tramping along the Zillertal Circuit, its highest peaks frosted with glaciers. You're thanking your lucky stars you packed your walking boots… Locals delight in telling you that the best – no, no, the only – way to see the Austrian Alps is on foot. And they're right. Here a peerless network of trails and alpine huts brings you that bit closer to nature.

Eisriesenwelt

The frozen, twinkling chambers, vaults and passageways of Eisriesenwelt: are like something out of Narnia under the White Witch. Sculpted drip by drip over millennia, the icy underworld of the limestone Tennengebirge range is billed as the world's largest accessible ice cave. Otherworldly sculptures, shimmering lakes and a cavernous Eispalast (ice palace) appear as you venture deep into the frozen heart of the mountain, carbide lamp in hand. Even in summer, temperatures down here are subzero, so wrap up warm.

The Sound of Music

Salzburg is a celebrity for those who have never even set foot in the city, thanks to its star appearance in The Sound of Music. Should you wish, you can fine-tune your own tour of the film locations. The sculpture-dotted Mirabellgarten: of 'Do-Re-Mi' fame, the Benedictine nunnery Stift Nonnberg, the 'Sixteen Going on Seventeen' pavilion in Hellbrunn Park – it's enough to make you yodel out loud. For the truth behind the celluloid legend, stay the night at the original Villa Trapp, a 19th-century mansion in the Aigen district.

Stift Melk

Austria's greatest works of art are those wrought for God, some say. Gazing up at the golden glory of Stift Melk:, Austria's must-see Benedictine abbey-fortress, you can't help but agree. The twin-spired monastery church is a baroque tour de force, swirling with prancing angels, gilt flourishes and Johann Michael Rottmayr's ceiling paintings. Such opulence continues in the library and marble hall, both embellished with illusionary trompe l'oeil tiers by Paul Troger. If you can, stay to see the monarch of monasteries strikingly lit at night.

Spa Sensations

With its crisp mountain air and thermal springs, Austria positively radiates good health. For an otherworldly spa experience, drift off in flying-saucer-shaped pools at crystalline Aqua Dome: at the foot of the Ötztaler Alps, or in the fantastical hot springs of Hundertwasser's technicolor Rogner-Bad Blumau. History bubbles to the surface in the Wienerwald's Römertherme, where beauty-conscious Romans once took the sulphuric waters. The Victorians favoured belle-époque Bad Gastein, whose radon-laced springs reputedly cure a multitude of ills. Wherever you're heading, there's a spa to suit and soothe.

MuseumsQuartier

The former imperial stables have been born again as one of the world's biggest exhibition spaces. Vienna's enormous (and enormously impressive) 60,000-sq-metre MuseumsQuartier: contains more art than some small countries. Emotive works by Austrian masters like Klimt, Kokoschka and Schiele hang out in the Leopold Museum, while the basalt MUMOK highlights provocative Viennese Actionists, and the Kunsthalle new media. Progressive boutiques, workshops and cafes take creativity beyond the canvas. On warm days, Viennese gather in the huge courtyard to chat, drink and watch the world go by.

Outdoor Adventure in Tyrol

Anywhere where there's foaming water, a tall mountain, a snowy slope or a sheer ravine, there are heart-pumping outdoor escapades in Austria – and Tyrol tops the lot in the adventure stakes. For a summertime buzz, you can't beat throwing yourself down raging rivers such as the Inn and Sanna in Tyrol, Austria's rafting: mecca. Or strap into your harness and be blown away by the alpine scenery, paragliding in the Zillertal. Cyclists use the cable car network to access the many high-altitude and downhill routes.

Wine Tasting in Heurigen

Vienna is one of the only world capitals to grow serious wine within its city limits, and there's no place better to sample it than at a Heuriger:, a rustic wine tavern, often with a vine-canopied terrace for summer imbibing and a cosy wood-panelled interior for cooler days. Look for the pine branch hanging above the door that denotes it's open, then step inside for good vibes, Grüner Veltliner white and spicy Blaufränkisch wines, and hearty food. Come in the golden month of September for new wine and vineyard strolls.

Krimmler Wasserfälle

No doubt you'll hear the thunderous roar of the 380m-high Krimmler Wasserfälle:, Europe's highest waterfall, before you see it. You can't help but feel insignificant when confronted with the sheer force and scale of this cataract, which thrashes immense boulders and produces the most photogenic of rainbows. As with all natural wonders, this one looks best from certain angles, namely from the Wasserfallweg (Waterfall Trail). The path zigzags up through moist, misty forest to viewpoints that afford close-ups of the three-tiered falls and a shower in its fine spray.

Semmeringbahn

The monumental Semmeringbahn:, or Semmering Railway, is a panoramic journey through the Eastern Alps and a nostalgic trip back to early rail travel. Some 20,000 workers toiled to create the railway, an alpine first, in a feat of 19th-century engineering that is now a Unesco World Heritage site. Though steam has been replaced by electricity, you can imagine the wonder of the first passengers as the train curves around 16 viaducts, burrows through 15 tunnels and glides across 100 stone bridges. The grandeur of the railway and landscapes is timeless.

Mozart's Salzburg

Mozart's spiritual home may have been Vienna, but the musical prodigy was born and bred in Salzburg's baroque Altstadt. Here you can see where the 18th-century superstar lived, loved and composed:. Orchestras wish the late Amadeus a happy (if rather belated) birthday at Mozartwoche in late January. Year-round there are chamber concerts of Mozart's music in the exquisite surrounds of the Marmorsaal (Marble Hall) at Schloss Mirabell. Marionettes bring his operas magically to life at the nearby Salzburger Marionettentheater.

Admont's Benedictine Abbey

Situated deep in the rifts of the Gesäuse mountains in Styria, Admont's Benedictine Abbey: is a remarkable fusion of landscape, architecture and museum space. The Benedictine Abbey's baroque library, with its ceiling frescoes from the 18th century, should be sufficient to lure you into this remote region of gurgling streams and soaring peaks. But take the time to stroll around the abbey's museums, which bring together the region's natural history and contemporary art. From a glass staircase you can revel in the spectacular view to the Nationalpark Gesäuse.

Vienna's Naschmarkt

Austrians pride themselves on home-grown flavours, with almost every region producing mouth-watering surprises. And most of these find their way to Vienna's largest and most famous market, the Naschmarkt: – fresh cheeses from the Kemptal in Lower Austria or the Bregenzerwald, or Thum ham from the Mangalitza breed. A market mooch takes you not only through Austria's culinary regions, but also into a sensory world of exotic spices. Drop by the food stalls, where you can take a break and fill up on some of the capital's best street food.

Innsbruck

Set against the uplifting backdrop of the Nordkette Alps, Tyrol's capital: is the kind of place where one minute you're celebrating cultural achievement in elegant state apartments or Gothic Hofkirche, and the next you're whizzing up to the Alps inside Zaha Hadid's futuristic funicular and zipping down ski pistes. Culture is folded neatly here into the crevices of the landscape. If clinging to a fixed rope on the Innsbrucker Klettersteig while you make your way across seven peaks sounds too head-swirling, try the marginally less vertiginous Nordkette Singletrail mountain-bike track.

Lakes of the Salzkammergut

With its jewel-coloured alpine lakes, the Salzkammergut: is one of Austria's most enticing regions for escaping the city and diving into crystal-clear waters. The Hallstätter See, at the foot of the abrupt and monumentally rugged Dachstein Mountains, is a spectacular place to enjoy the lakes. Across the lake in Obertraun the shore retains a sleepy air. A stroll or bike ride around warmer, gentler Wolfgangsee is an alternative easily reachable from small towns like Bad Aussee and Bad Ischl. Or unfurl the sails and go with the wind across Mondsee.

Graz

Austria's largest city after Vienna is also one the country's most relaxed. After you have visited Schloss Eggenberg and climbed the Schlossberg for magnificent views over the red rooftops of town – perhaps sipping a long drink or two on a warm afternoon at the Aiola Upstairs – set your sights upon the south Styrian wine roads. This wine-growing region about 50km south of Graz: is a treat to the taste buds as well as to the eyes: rolling, verdant hills and picturesque vineyards unfolding to the Slovenian border.
DiscussPlaces
is a place to make new friends and share your passions and interests. Quench your thirst for knowledge, discuss places with other aficionados, and swap recommendations. Are you an aspiring foodie who dreams of living in New York? Or perhaps you are looking for the best chicken wings in Cincinnati? Then this is the place for you! Any one can join in with a passion or interest – whether it be talking about their favorite restaurant in Barcelona or raving about their latest trip to Italy. Join us!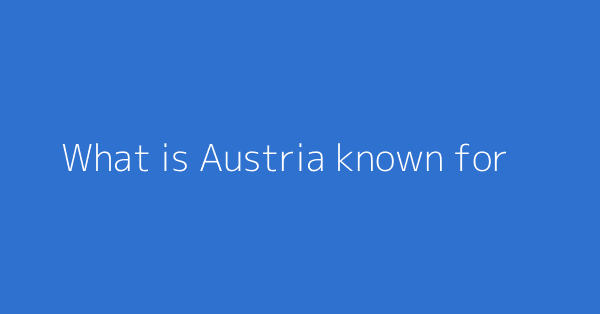 This page shows discussions around "What is Austria known for?"
---
Because conversations are the one thing we all have in common. We provide a platform where those conversations can be had freely, widely, and openly.
We are focused on building a community where people from around the world can share their interests.
---