Chad

Chad, landlocked state in north-central Africa.
The country's terrain is that of a shallow basin that rises gradually from the Lake Chad area in the west and is rimmed by mountains to the north, east, and south.
Natural irrigation is limited to the Chari and Logone rivers and their tributaries, which flow from the southeast into Lake Chad.
The capital, N'Djamena (formerly Fort-Lamy), is almost 1,000 miles (1,600 km) by road from the western African coastal ports.

Chad has so much to offer, here are some of the things Chad is known for.

Zakouma National Park Big herds of elephants and dazzling birds thrive in one of Central Africa's finest national parks.
Gaoui Beautiful painted houses and a fascinating village just minutes from N'Djaména.
Sarh A green and pleasant town along the banks of the Chari River.
Bol The best place from which to find a boat to head out onto Lake Chad**.**
Ennedi Dramatic desert scenery and rock formations in what is perhaps the most spectacular corner of the Sahara.
Emi Koussi Its cratered 3445m summit stands high above the desert that it dominates.
N'Djaména A capital city where hippos roam on the banks of the Chari River.
DiscussPlaces
is a place to make new friends and share your passions and interests. Quench your thirst for knowledge, discuss places with other aficionados, and swap recommendations. Are you an aspiring foodie who dreams of living in New York? Or perhaps you are looking for the best chicken wings in Cincinnati? Then this is the place for you! Any one can join in with a passion or interest – whether it be talking about their favorite restaurant in Barcelona or raving about their latest trip to Italy. Join us!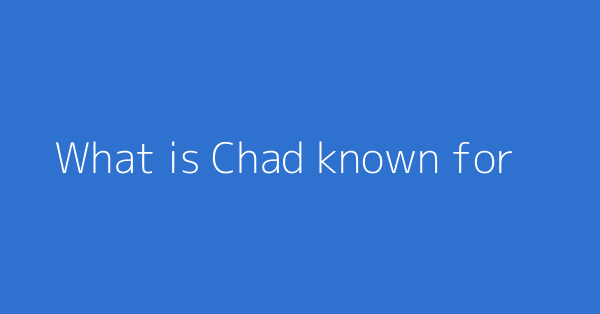 This page shows discussions around "What is Chad known for?"