What is Monaco known for?
crazyladybug404

last edited by




Monaco

Monaco, officially Principality of Monaco, French Principauté de Monaco, sovereign principality located along the Mediterranean Sea in the midst of the resort area of the Côte d'Azur (French Riviera).
The city of Nice, France, lies 9 miles (15 km) to the west, the Italian border 5 miles (8 km) to the east.
Monaco's tiny territory occupies a set of densely clustered hills and a headland that looks southward over the Mediterranean.
Many unusual features, however, have made Monaco among the most luxurious tourist resorts in the world and have given it a fame far exceeding its size.

Monaco has so much to offer, here are some of the things Monaco is known for.

Casino de Monte Carlo: Soaking up the casino's glitzy history on a day tour, or rubbing elbows with the highrollers on an evening gambling spree.
Formula One Grand Prix: Thrilling to the rhythm of revving engines at the world's most iconic motor sports event.
Musée Océanographique de Monaco: Watching fish frolic, and diving into the history of underwater exploration.
Palais Princier de Monaco: Whetting your appetite for royal living in the Grimaldi family's sprawling ancestral residence.
Jardin Exotique: Wandering in a wonderland of exotic cacti, high above the sparkling Med.
Monaco Open-Air Cinema: Celebrating balmy summer evenings with movies in a dramatic outdoor setting.
DiscussPlaces
is a place to make new friends and share your passions and interests. Quench your thirst for knowledge, discuss places with other aficionados, and swap recommendations. Are you an aspiring foodie who dreams of living in New York? Or perhaps you are looking for the best chicken wings in Cincinnati? Then this is the place for you! Any one can join in with a passion or interest – whether it be talking about their favorite restaurant in Barcelona or raving about their latest trip to Italy. Join us!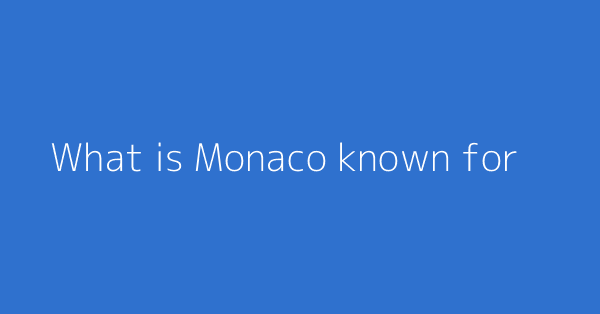 This page shows discussions around "What is Monaco known for?"