What is Panama known for?
happytiger122

last edited by




Panama

Panama, country of Central America located on the Isthmus of Panama, the narrow bridge of land that connects North and South America.
Embracing the isthmus and more than 1,600 islands off its Atlantic and Pacific coasts, the tropical nation is renowned as the site of the Panama Canal, which cuts through its midsection.
It is equally well known for its natural beauty, for its diverse plant and animal life, including hundreds of bird and tree species, and for its vibrant music and culture.

Panama has so much to offer, here are some of the things Panama is known for.

Panama City

Panama City: is high-octane Latin America: think ceviche (citrus-cured seafood), casinos and a stacked skyline. For this sparkling city of nearly a million, transformation is afoot: coastal green space, a biodiversity museum, colonial restoration in Casco Viejo and Central America's first subway system. Sure, the traffic resembles a boa constrictor digesting one megalithic meal, but its appeal persists. People are real here and nature is never very far away. Beauty lives in the skewed rhythms, incongruous visions and fiery sunsets.

Panama Canal

The Panama Canal: is one of the world's greatest shortcuts, cutting right through the continental divide, linking the Atlantic and the Pacific. And it's worth marveling at. Just as stunning as the hulking steel container ships passing through the locks are the legions of creatures watching from the jungle fringes. Two visitor centers offer viewing platforms and museums that lay bare the construction and its expansion. There are also worthwhile boat and kayak trips on the waterway, or you can book a partial transit and squeeze through the locks yourself.

Casco Viejo

Casco Viejo: is Panama City's most historical living neighborhood, full of crumbling convents and cobblestones. The colonial architecture may hark back to Havana, but this is not a spot where time stands still. It's as much about today's urban mix as the eclectic, easygoing vibe. The Cinta Costera, a recently completed green space, takes walkers and bikers from downtown past Casco Viejo. On sticky evenings artists' booths line the promenade, couples dine under parasols and live music fills the plazas.

Parque Nacional Coiba

Parque Nacional Coiba:, often compared to the Galápagos, is a veritable lost world of pristine ecosystems and unique fauna. Spy flocks of scarlet macaws, enormous schools of fish, migrating humpback whales with calves, and manta rays scuffing the ocean floor. Scuba divers might glimpse a hammerhead or whale shark. Most importantly, it's still wild, with few visitors and little infrastructure. Not long ago an infamous prison isolated all on the main island, but now everyone comes here by choice.

Archipiélago de Bocas del Toro

Archipiélago de Bocas del Toro: is Panama's number one vacation spot. 'It's all good,' say the laid-back locals of this Caribbean island chain. Pedal to the beach on a cruiser bike, hum to improvised calypso on Isla Bastimentos and laze over dinner in a thatched hut on the waterfront. Lodgings range from cheap backpacker digs to stunning jungle lodges and luxury resorts located on outer islands. Surfers hit the breaks, but there's also snorkeling with varied sea life or volunteering opportunities to help nesting sea turtles.

Water Sports

Water sports: in Panama range from diving with a rare whale shark, ocean kayaking around uninhabited islands or getting soaked while rafting in the highlands. Clear and cool, the Pacific is the best place to spot a wide variety of marine mammals, including whales, in spots such as Parque Nacional Coiba and the Golfo de Chiriquí, while the Caribbean is known for its colorful corals and starfish around Bocas del Toro and the powdery white-sand beaches of the Archipiélago de San Blas.

The Highlands

Panama's highlands: are the equivalent of a breath of fresh air in the steamy tropics. The topography ranges from lush forest with tiny golden frogs to mist-covered coffee plantations. From Panama City, weekenders take to El Valle and El Copé. Boquete is the classic mountain town, but if you are looking to get off the beaten path, the hamlet of Santa Fé has true mountain tranquility, with local-led horse rides and hikes to waterfalls with swimming holes. Paradise is not lost.

Festivals

Festivals: are a window into the country's wilder side. Panama's many fetes also reveal the breadth of cultures packed into this small nation. From Caribbean Congo celebrations in Portobelo to the vibrant folkloric traditions of the Península de Azuero, the three-day Guna stomp that is Nogapope or Panama City's open-air jazz festival, all of Panama loves a good rum-soaked time. When it's all over, a replenishing bowl of 'Get Up Lazarus' (a potent seafood soup) at Mercado de Mariscos in the capital is in order.

Península de Azuero

Península de Azuero: has sweet landscapes of sculpted hills, lonely beaches and crashing surf: this rural peninsula has become today's hot getaway. Yet the strongest impression is one of tradition. Spanish culture has deep roots here, evident in the charm of tiled colonials, country hospitality, religious festivals and elaborate polleras (embroidered lace dresses). Playa Venao has emerged as a major surf destination, while to the west the delightfully untrammeled Sunset Coast has quiet beaches, great surfing and community turtle tours.

Boquete

Boquete: is equal parts adventure hub and mountain retreat, plus a magnet for expats, retirees and travelers of all stripes. Birdwatchers come for a glimpse of the resplendent quetzal, while adventurers come to climb a mountain, ride a zipline or raft white water. But what really moves this small town is one of the world's most important export crops: coffee. Coffee farms dot the countryside, with tours showing the process from leaf to cup. Fuel up, and you're ready for the next adventure.

Parque Nacional Volcán Barú

Parque Nacional Volcán Barú: features Panama's one and only volcano. It dominates the landscape of the misty Chiriquí highlands, and at 3474m, it is also the highest point in the country. Enthusiasts can make the predawn climb, steep and usually muddy, for the reward of viewing the Atlantic and Pacific Oceans at the same time – if it's clear. Another, perhaps saner, option is the Sendero Los Quetzales, a stunning trail that traverses the park, crossing over the Caldera River, with the possibility of seeing exotic orchids, tapirs and resplendent quetzals.

Santa Catalina

Santa Catalina: is a surf village that's all small town, with wave-front hotelitos and hostels far off the one paved road. Here nature is a delight and 'resort' is still a foreign word. The biggest draws are the world-class waves that roll in year-round but peak in February and March. The town is also the launching pad for excursions and diving trips into the wildlife-rich Parque Nacional Coiba, an island where nature and marine life flourish. With roads now paved, day trips here are easier than ever.

Archipiélago de San Blas

Archipiélago de San Blas could be your definition of paradise. There's little to do but negotiate the price of a coconut, sway in a hammock or snorkel turquoise waters. Locally known as Guna Yala:, this 400-plus island archipelago in the Caribbean is an independent indigenous territory steeped in tradition. Get around by speedboat, sailboat or dugout canoe. Most guest lodges are remote palm-fringed islets surrounded by clear waters. The Guna residents mostly live on community islands teeming with livestock, commerce, and thatched or concrete homes.

Wildlife-Watching

Wildlife watching: in Panama, with over 220 mammal and 978 bird species, is crack for naturalists. Scarlet macaws, toucans, sloths and squirrel monkeys are just a few of the local stars. As a spectator sport, this activity is nothing short of thrilling. The calls, cries and rumbles of the rainforest will be stamped on your memory forever. Serious birders might head to the highlands to spot a quetzal or brave the Darién for a glimpse of the legendary harpy eagle. Bring your binoculars.

Parque Nacional Soberanía

Parque Nacional Soberanía:, a quick day trip from the glass towers of Panama City, is one of the most accessible tropical rainforests in Panama. It's also one of the premier birdwatching sites in the world: on Pipeline Rd over 500 bird species – from toucans to motmots – have been sighted. While out on the trail also look for sloths, howler monkeys and white-faced capuchins. For an alternative view of the canopy, climb the towers at Rainforest Discovery Center or visit the neighboring Emberá and Wounaan communities.
DiscussPlaces
is a place to make new friends and share your passions and interests. Quench your thirst for knowledge, discuss places with other aficionados, and swap recommendations. Are you an aspiring foodie who dreams of living in New York? Or perhaps you are looking for the best chicken wings in Cincinnati? Then this is the place for you! Any one can join in with a passion or interest – whether it be talking about their favorite restaurant in Barcelona or raving about their latest trip to Italy. Join us!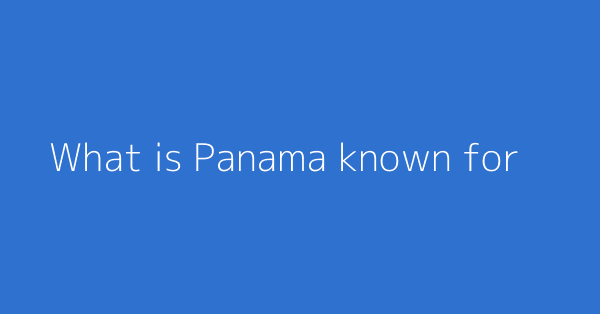 This page shows discussions around "What is Panama known for?"