What is Argentina known for?
redrabbit302

last edited by




Argentina

Argentina, country of South America, covering most of the southern portion of the continent.
The world's eighth largest country, Argentina occupies an area more extensive than Mexico and the U.
state of Texas combined.
It encompasses immense plains, deserts, tundra, and forests, as well as tall mountains, rivers, and thousands of miles of ocean shoreline.
Argentina also claims a portion of Antarctica, as well as several islands in the South Atlantic, including the British-ruled Falkland Islands (Islas Malvinas).

Argentina has so much to offer, here are some of the things Argentina is known for.

Glaciar Perito Moreno

As glaciers go, Perito Moreno: is one of the most dynamic and accessible on the planet. But what makes it exceptional is its inexorable advance – up to 2m per day. Its slow but constant motion creates incredible suspense, as building-sized icebergs calve from the face and spectacularly crash into Lago Argentino. You can get very close to the action via an extended network of steel catwalks and platforms. Cap the day with a huge steak dinner back in El Calafate.

Iguazú Falls

The peaceful Río Iguazú, flowing through the jungle between Argentina and Brazil, plunges suddenly over a basalt cliff in a spectacular display of sound and fury that is truly one of the planet's most awe-inspiring sights. Iguazú Falls: are a primal experience for the senses: the roar, the spray and the sheer volume of water will live forever in your memory. But it's not just the waterfalls – the jungly national parks that contain them offer a romantic backdrop and fine wildlife-watching opportunities.

Wine Tasting Around Mendoza

With so much fantastic wine: on offer, it's tempting just to pull up a bar stool and work your way through the menu – but getting out there and seeing how the grapes are grown and processed is almost as enjoyable as sampling the finished product. The best news is that wine tasting in Argentina isn't just for the wine snobs – there are experiences to meet every budget, from DIY bike tours for backpackers to tasting-and-accommodations packages at exclusive wineries.

Buenos Aires' Food Scene

Believe the hype: Argentine beef is some of the best in the world. Join the throngs of locals at one of the country's thousands of parrillas (steak restaurants), where waiters pour malbec and serve up seared steaks at leisurely meals. The scene in Buenos Aires: is buzzy, with experimental young chefs making their mark at a number of new casual restaurants. Their calling card: small plates of flavorsome gourmet fare paired with local craft beers and cocktails for the win.

Hiking the Fitz Roy Range

With rugged wilderness, glaciers and shark-tooth summits, the Fitz Roy Range: is the trekking capital of Argentina. Park rangers help orient every traveler who comes into the area. World-class mountain climbers battle its tough, outstanding routes, but the region's beautiful hiking trails are surprisingly easy and accessible, with the most stunning views just a day hike from town. Not bad for those who want to reward their sweat equity with a pint at the brewpub. Or private refugios (rustic shelters) offer backcountry comfort.

Ruta de los Siete Lagos

A journey of extraordinary beauty, the Ruta de los Siete Lagos (Seven Lakes Route): is a not-to-be-missed road trip. Your vehicular adventure winds through lush forests, past waterfalls and dramatic mountain scenery, and skirts the various crystal-blue lakes that give it its name. Stop for a picnic and go swimming, fishing and camping. You can also bus it in a couple of hours or bike it in a few days. Experiencing this gorgeous route is a decision you won't regret.

Ushuaia, the End of the Earth

Location, location, location. Shoehorned between the Beagle Channel and the snowcapped Martial Range, this bustling port is the final scrap of civilization seen by Antarctica-bound boats. But more than the end of the earth, Ushuaia: is a crossroads for big commerce and adventure. Snow sports brighten the frozen winters and long summer days mean hiking and biking until the wee hours. Happening restaurants, boisterous bars and welcoming BandBs mean you'll want to tuck in and call this port home for a few days.

Skiing at Las Leñas

Hitting the slopes at Las Leñas: isn't just about making the scene, although there is that. This resort has the most varied terrain, the most days of powder per year and some of the fastest and most modern lift equipment in the country. Splash out for some on-mountain accommodations or choose from a variety of more reasonably priced options just down the road. Whatever you do, if you're a fan of steep, deep runs, add this one to your austral winter itinerary.

Gaucho Culture

An enduring Argentine icon, the intrepid gaucho came to life after Spaniards let their cattle loose on the grassy pampas centuries ago. These nomadic cowboys lived by taming wild horses (introduced by the Spaniards), hunting errant herds and drinking mate (a tea-like beverage). It's a living tradition. You can see folkloric shows at estancias, the country's oversized livestock ranches, or the Feria de Mataderos in Buenos Aires. But if you want to see gaucho culture in all its glory, don't miss November's Fiesta de la Tradición: in San Antonio de Areco**.**

Quebrada de Humahuaca

You're a long way from Buenos Aires up here in Argentina's northwestern corner, and it feels a whole world away. This spectacular valley: of scoured rock in Jujuy province impresses visually with its tortured formations and artist's palette of mineral colors, but it is also of great cultural interest. The Quebrada's settlements are traditional and indigenous in character, with typical Andean dishes supplanting steaks on the restaurant menus, and llamas, not herds of cattle, grazing the sparse highland grass.

San Telmo

One of Buenos Aires' most charming and interesting neighborhoods is San Telmo:, lined with cobblestone streets, colonial buildings and a classic atmosphere that will transport you back to the mid-19th century. Be sure to take in the Sunday feria (street fair), where dozens of booths sell handicrafts, antiques and knickknacks, while buskers perform for loose change. Tango is big here, and you can watch a fancy, spectacular show or catch a casual street performance – both will wow you with amazing feats of athleticism.

Bariloche

A gorgeous lakeside setting, adjacent to one of the country's more spectacular and accessible national parks, makes Bariloche: a winning destination year-round. During winter you can take in the magnificent panoramas on skis from on top of Cerro Catedral. Once the snow melts, lace up your hiking boots and hit the trails in the Parque Nacional Nahuel Huapi, where a well-organized network of mountain refuges means you walk as long as your legs will take it.

Nightlife in Córdoba

Boasting seven universities (and counting), it's no surprise that Argentina's second city: is one of the best places for night owls in the entire country. The wide variety of cute sidewalk bars, thumping mega-discos and live-music venues (all more or less within walking distance) could keep you occupied for months. While you're in town, try to catch a cuarteto show – popular all over the country, this music style was invented in Córdoba and all the best acts regularly play here.

Colonial Salta

Argentina's northwest holds its most venerable colonial settlements, none more lovely than Salta:. This beautiful city is set in a fertile valley that acts as a gateway to the impressive Andean cordillera not far beyond. Postcard-pretty churches, a sociable plaza and a wealth of noble buildings give it a laid-back historical ambience that endears it to all who visit. Add in great museums, a lively folkloric music scene, some of the country's most appealing lodging options and a fistful of attractions within easy reach: that's one impressive place.

Reserva Faunística Península Valdés

Once a tawny, dusty peninsula with remote sheep ranches, today Península Valdés: is a hub for some of the best wildlife watching on the continent. The main attraction is seeing endangered southern right whales get acrobatic and up close; whale-watching tours actually attract these huge mammals. But the cast of wild characters also includes killer whales (orcas), Magellanic penguins, sea lions, elephant seals, rheas, guanaco and numerous sea birds. Shore walks feature ample wildlife-watching opportunities, but diving and kayak tours take you even deeper into the ambience.

Jesuit Missions

The Jesuits brought some fine things to Argentina – winemaking and universities to name just two. Many Jesuit missions are listed as Unesco World Heritage sites and open to the public, offering visitors the chance to get in touch with their inner archaeologist while wandering among sun-drenched stonework surrounded by lush nature. In Misiones province, San Ignacio Miní: has the most impressive mission ruins. Nearby Santa Ana and Loreto are also atmospheric. For more, day trip to nearby Paraguay for further amazing remnants of this curious historical interlude.

Parque Esteros del Iberá

These protected wetlands: offer astonishing wildlife-watching opportunities around shallow vegetation-rich lagoons. Head out in a boat and you'll spot numerous alligators, exotic bird species, monkeys, swamp deer, and one of the world's cutest rodents, the capybara – but no, you can't take one home. It's an out-of-the-way location, and a wealth of stylish, comfortable lodges make this a top spot to book yourself in for a few days of relaxation amid an abundance of flora and fauna.

Cementerio de la Recoleta

A veritable city of the dead, Buenos Aires' top tourist attraction: is not to be missed. Lined up along small 'streets' are hundreds of old crypts, each uniquely carved from marble, granite and concrete, and decorated with stained glass, stone angels and religious icons. Small plants and trees grow in fissures, while feral cats slink between tombs, some of which lie in various stages of decay. It's a photogenic wonderland, and if there's a strange beauty in death you'll find it in spades here.

Cerro Aconcagua

The tallest peak in the western hemisphere, Aconcagua: is an awe-inspiring sight. People come from all over the world to reach its summit, not a task to be taken lightly. If you can take the time to train and acclimatize, and you're good enough to reach the top, you'll be granted bragging rights as one of a select group who have touched the 'roof of the Americas.' Otherwise, savor viewing it from the nearest vantage point and save your energy for wine tasting in Mendoza.

Mar del Plata

Argentina's premier beach resort: is a heaving zoo in summer but that's what makes it such fun. Compete with porteños (Buenos Aires residents) for a patch of open sand, then lie back and enjoy watching thousands of near-naked bodies worship the sun, play sand games or splash around in the surf. Outdoor activities such as surfing, fishing, horseback riding and even skydiving are also on deck. When the sun goes down, it's time for steak or seafood dinners, followed by late-night entertainment, from theater shows to nightclubs.
DiscussPlaces
is a place to make new friends and share your passions and interests. Quench your thirst for knowledge, discuss places with other aficionados, and swap recommendations. Are you an aspiring foodie who dreams of living in New York? Or perhaps you are looking for the best chicken wings in Cincinnati? Then this is the place for you! Any one can join in with a passion or interest – whether it be talking about their favorite restaurant in Barcelona or raving about their latest trip to Italy. Join us!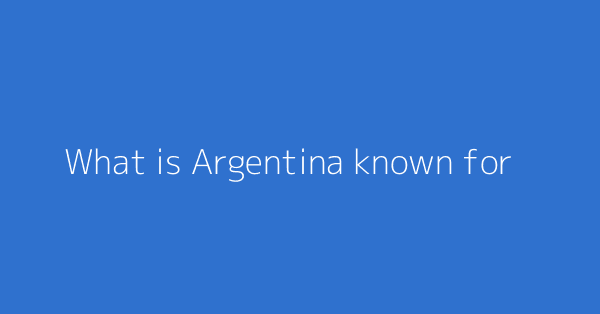 This page shows discussions around "What is Argentina known for?"