What is Montenegro known for?
goldenfrog555

last edited by




Montenegro

Montenegro, country located in the west-central Balkans at the southern end of the Dinaric Alps.
It is bounded by the Adriatic Sea and Croatia (southwest), Bosnia and Herzegovina (northwest), Serbia (northeast), Kosovo (east), and Albania (southeast).

Montenegro has so much to offer, here are some of the things Montenegro is known for.

Kotor

Time-travel back to a Europe of moated walled towns with shadowy lanes and stone churches on every square. It may not be as impressive as Dubrovnik's or as shiny as Budva's, but Kotor's: Old Town feels much more lived-in and ever so dramatic. The way it seems to grow out of the sheer grey mountains surrounding it adds a thrill of foreboding to the experience – as if they could at any point chose to squeeze the little town in a rocky embrace.

Njegoš Mausoleum

Once upon a time there was a Black Mountain. And on top of that mountain there was a tomb guarded by two granite giantesses. And inside the tomb, under a canopy of gold, there rested a great hero, lying in the arms of a giant eagle. This fairy-tale location is the final resting place: for the very real 19th-century vladika (bishop-prince) Petar II Petrović Njegoš. The simple but affecting structure and monumental statuary do little to distract from the remarkable views over all of Old Montenegro.

Ostrog Monastery

No photo can do justice to the wonder that is Ostrog Monastery:. Set in a seemingly sheer mountain wall, it's impossible to frame a picture that reveals its great height without reducing the luminous white monastery to little more than a speck. Orthodox Christians consider this Montenegro's holiest site; whether you're a believer or not, it's an affecting place. The complex includes several interesting stone churches, but none is more atmospheric than the cave chapels of the Upper Monastery, their rock walls covered in centuries-old frescoes.

Sveti Stefan

The postcard-perfect fortified island village of Sveti Stefan: is a wonder to behold. It's a little slice of Mediterranean heaven, with oleanders, pines and olive trees peeking between the terracotta roofs of pink stone dwellings. You may have to content yourself with the views; access to the island is limited to guests of the exclusive resort that owns it. Instead, laze on the beach, take a stroll through the woods to Pržno, and go crazy taking photographs – it's hard to get a bad shot.

Mountain Eyes, Durmitor National Park

Reflecting the beauty of the Durmitor range's imposing grey peaks are 18 glacial lakes, known as gorske oči (mountain eyes). The largest and most beautiful is Black Lake:; its inky appearance is caused by the surrounding black pines and the peak known as the Bear (Medjed) rearing above it. Black Lake is a breeze to get to and a delight to walk around, but other, more remote lakes await discovery further up along the park's hiking trails.

Perast

An oversized village comprised almost entirely of elegant baroque palaces and churches, romantic Perast: forms a worthy centrepiece to the entire Bay of Kotor. The positioning is perfect, sitting at the apex of the inner bay, looking straight down the narrow channel leading to the outer section. Catch a boat to Gospa od Škrpelja (Our-Lady-of-the-Rock Island), one of two tiny islands sitting just offshore, where a sky-blue dome covers a church filled with votive offerings left by grateful sailors.

Stari Grad, Budva

Budva's walled Old Town: rises from the Adriatic like a miniature, less frantic Dubrovnik. There's an atmosphere of romance and a typically Mediterranean love of life palpable around every corner. While away the hours exploring the labyrinth of narrow cobbled streets, visiting tiny churches and charming galleries, drinking in al fresco cafe-bars, snacking on pizza and being inspired by the gorgeous sea views from the Citadela. When it's time to relax, there's a beach on either side.

Rafting the Tara River

It's hard to get a decent view of the beautiful Tara Canyon: – its sheer tree-lined walls, up to 1300m high, tend to get in the way. The effect is most impressive from the water, which goes some way to explaining why rafting is one of the country's most popular tourist activities. You'll hit a few rapids, but outside of April and May it's a relatively gentle experience, gliding over crystalline waters through a landscape untouched by human hands.

Ulcinj

There's a special buzz to Ulcinj:, Montenegro's southernmost town – an indefinable excitement that's particularly apparent on summer nights, when the beachfront thrums with Eastern-tinged pop and a constant parade of holidaymakers. Look up: minarets compete with oversized socialist sculpture, and the imposing walls of the Old Town perch high on the cliff. Continuing along the coast, rocky coves give way to the long sandy expanses of Velika Plaža (Big Beach) and the clothing-optional island, Ada Bojana.

Lake Skadar National Park

Shared between Montenegro and Albania, the Balkans' largest lake is home to an extraordinary array of birdlife. On the Montenegrin side, a national park: encompasses island monasteries, old stone villages famous for their wine, and the serpentine loops of the Crnojević River. Descending from the mountains, the river winds sluggishly through the water lilies on its journey to the lake and the conical pair of mountains that the locals affectionately call 'Sofia Loren'. No Italian actress ever looked so sublime.

Hiking the Prokletije Mountains

They're called the 'Accursed Mountains', but for hikers and climbers, this rugged range: in Montenegro's far east leans more to the divine than the damned. Snaking across Montenegro, Albania and Kosovo, Prokletije makes up the highest – and arguably hardiest – part of the Dinaric Alps. The prodigious Peaks of the Balkans hiking trail winds 192km through the range, criss-crossing between all three countries with tracks that veer from easy to moderate to once-in-a-lifetime extreme. Whether you tackle the entire trail or take a brief alpine amble, a Prokletije pilgrimage leaves you feeling on top of the world.

Stari Bar

While there's not much to recommend the modern industrial town of Bar, there's a real gem hidden in the hinterland. The ancient city of Stari Bar: lies in enigmatic ruins atop a bluff surrounded by gnarled olive trees, many of which are more than a thousand years old. The city itself has been here for around 2800 years but its current state of dilapidation dates from a bombardment in 1878. The whole place is laid bare for you to explore.

Biogradska Gora National Park

Nestled within the folds of the Bjelasica mountains, Biogradska Gora: has such a peaceful, solitary, untouched-by-the-world feel to it that you might not want to leave. The national park's showcase is pretty Lake Biograd, but further enchantments await on the hiking tracks through one of Europe's most significant remaining tracts of virgin forest. This green world is quite unlike the rocky terrain that characterises most of the country's mountains, and in autumn it kicks up its heels and turns on a colourful show.

Herceg Novi

Between the bustling waterfront promenade and the busy highway lies an unassuming Old Town; it's here that the very essence of Herceg Novi: hides. Catholic and Orthodox churches abound in equal profusion, cafe-bars set up their tables on sunny squares, and hulking fortresses huddle in silent menace. Order a glass of wine and soak it all in. The town beaches may not be great, but some of Montenegro's very best are only a short boat ride away.

The Kotor–Lovćen Road

One of the most memorable highlights of Montenegro is the simple joy of travelling along its many scenic routes and taking in the beauty and power of the landscape. The back road: connecting Kotor with Cetinje is one of the very best – looping up and up, providing ever more jaw-dropping views of the Bay of Kotor and the Adriatic Sea beyond. Any white-knuckle moments caused by the narrowness of the road and its sheer drops are compensated for by vistas of lavender-grey mountains and glassy green water.

The Museums of Cetinje

Cetinje may have been stripped of its capital status by Podgorica, but Montenegro's erstwhile royal city still boasts the country's richest and most important museums:. Spanning centuries of history, the four museums – collectively known as the National Museum of Montenegro – include everything from plush palaces to bullet-riddled relics to Montenegro's first ever billiard table (owned by Montenegro's favourite son, Petar II Petrović Njegoš, but of course). Two superb galleries, a magnificent monastery and a host of handsome historic buildings amp up Cetinje's cultural cachet.

Morača Monastery

A location like the Morača Canyon is guaranteed to set the spirits soaring, making it the ideal place for medieval monastery: builders to set to work. Great masters of Serbian Orthodox art added the finishing touches, and here it still stands. The frescoes may have faded but otherwise it's barely unchanged since the 13th century. The highway that now whizzes above does little to dent the tranquillity of this peaceful place. Suddenly a life in black robes tending beehives seems almost appealing.

Rijeka Crnojevića

Clinging to the banks of the Crnojević River, this little village: was a favourite of Montenegro's ruling Petrović-Njegoš dynasty, and several of the relatively humble stone houses were once royal dwellings. A picturesque stone bridge spans the river and a marble promenade extends along one bank, providing a launching point for boat and kayak tours heading down towards Lake Skadar. Revel in the peace and quiet over a bowl of riblja čorba (fish stew); the village is home to one of Montenegro's best seafood restaurants.
DiscussPlaces
is a place to make new friends and share your passions and interests. Quench your thirst for knowledge, discuss places with other aficionados, and swap recommendations. Are you an aspiring foodie who dreams of living in New York? Or perhaps you are looking for the best chicken wings in Cincinnati? Then this is the place for you! Any one can join in with a passion or interest – whether it be talking about their favorite restaurant in Barcelona or raving about their latest trip to Italy. Join us!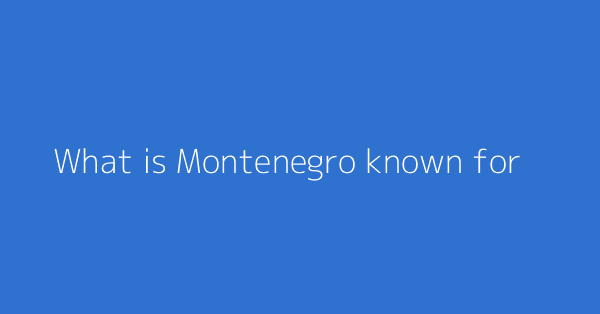 This page shows discussions around "What is Montenegro known for?"