Pros and Cons of Living in Brno, Czech Republic
Sarah

last edited by




I lived in Brno for 6 months working as an expat. I am from US and have lived in NJ and NYC and been to almost every major city in the US. Compared to US Cities this place just works, it's very easy to live here and the public transportation is wonderful. It was also extremely cheap compared to any US city and I could afford to eat out every meal and go to the fancier restaurants on my US salary. The beauty of the buildings in the center and quick access to nature was my favorite part as well as the beer and drinking culture which is kind of built into the czech blood. There are a lot of traditional czech pubs but also some very interesting hip things that you would see in Berlin or Brooklyn, I was impressed for the size of the city how many quality offerings they had. As for cons.. there were a bunch too! Language is hard to learn and Czech people can be hard to warm up to you. Everyone was nice and could speak english but when going out in groups it often switches to Czech. I didnt mind this obviously because I am a visitor in their country but it was hard and felt isolating. The city is small and I felt like I saw almost everything in the 6 months. You can tour the main parts in one day but there are a lot of hidden gems and festivities that happen throughout the seasons to keep it interesting. I would recommend visiting and living like a local here for a couple of months. It was a very rich experience for me!
What is discussplaces?
DiscussPlaces
is a place to make new friends and share your passions and interests. Quench your thirst for knowledge, discuss places with other aficionados, and swap recommendations. Are you an aspiring foodie who dreams of living in New York? Or perhaps you are looking for the best chicken wings in Cincinnati? Then this is the place for you! Any one can join in with a passion or interest – whether it be talking about their favorite restaurant in Barcelona or raving about their latest trip to Italy. Join us!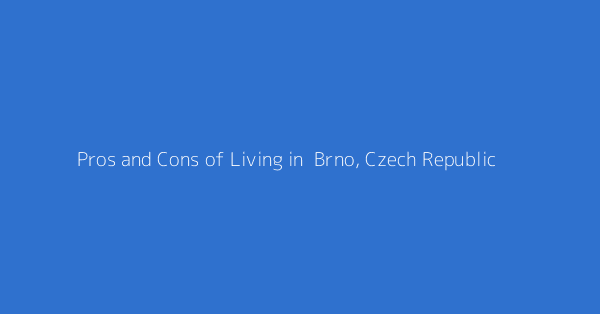 This page shows discussions around "Pros and Cons of Living in Brno, Czech Republic"
Whether the information provided was useful?
---