What is Thailand known for?
heavybutterfly196

last edited by




Thailand

Thailand, country located in the centre of mainland Southeast Asia.
Located wholly within the tropics, Thailand encompasses diverse ecosystems, including the hilly forested areas of the northern frontier, the fertile rice fields of the central plains, the broad plateau of the northeast, and the rugged coasts along the narrow southern peninsula.

Thailand has so much to offer, here are some of the things Thailand is known for.

Bangkok

Glittering temples, towering skyscrapers, a dynamic nightlife and, oh – the food! What's not to love about Bangkok:? Traffic jams, humidity and political instability aside, the Thai capital is now tidier and easier to navigate than ever. Zip between golden shrines, colourful markets, glitzy mega-malls and fascinating museums, stopping to refuel at sizzling street-side food stands and some of Asia's best restaurants. Head up to one of the city's famous rooftop bars on your first night to get your bearings in this heaving, twinkling metropolis, and prepare to dive straight in.

Chiang Mai

The cultural capital of the north, Chiang Mai: is beloved by culture geeks, temple-spotters and families. The old city is jam-packed with temples born during the time of the once independent Lanna kingdom. These and the area's winding side roads are best explored on bicycle. Cooking schools teach visitors the art of Thai food, while the scenic countryside boasts jungle treks, elephant encounters and minority villages. The city enjoys fantastic dining thanks to imports such as Japanese sushi and Burmese curries, plus home-grown northern specialities and vegetarian fare. The surrounding areas are rich with traditional handicraft outlets.

Railay

At the tip of the Krabi peninsula are some of Thailand's most famous natural features: the soaring limestone karsts of Railay:, anchored in the ocean. The beaches are sugar-white and the forested interior is traversed by foot traffic, not cars. No traffic jams, no transport hassles. Visitors come and go by long-tail boats. Come to lounge, swim, dive or rock-climb. Beginners can learn basic skills, and some stay so long they get good enough to do a free solo on a pinnacle then fall harmlessly into a cobalt sea.

Chiang Rai Province

The days of the Golden Triangle opium trade are over, but Chiang Rai: still packs intrigue in the form of fresh-air fun such as hiking and self-guided exploration. It is also a great destination for unique cultural experiences, ranging from a visit to an Akha village to a stay at the Yunnanese hamlet of Doi Mae Salong. From the Mekong River to the mountains, Chiang Rai is arguably Thailand's most beautiful province, and if you've set your sights further, it's a convenient gateway to Myanmar and Laos.

Ayuthaya

A once vibrant, glittering capital packed with hundreds of temples, the Ayuthaya: of today retains ample hints of its erstwhile glory. Cycle around the brick-and-stucco ruins, which form part of a Unesco World Heritage Site, and try to imagine how the city must have looked in its prime, when it greeted merchants from around the globe. On the outskirts of the city sit several more attractions, including an enormous handicraft centre and the most eclectic royal palace you will ever see.

Kanchanaburi

Once you've explored this western province's wartime past – the infamous Bridge Over the River Kwai is here – get ready to walk on the wild side in Kanchanaburi:, where dragon-scaled limestone mountains gaze down upon dense jungle. Activities from kayaking to rock-climbing are all on offer at this popular adventure-traveller hub. Trek past silvery waterfalls, clamber into caves, then spend the night in lavish riverside resorts, tree-top bungalows or traditional village homestays.

Similan Islands Marine National Park

The world-renowned dive sites off the Similan Islands: have anchored Thailand as a global diving destination. Live-aboard trips set out from Khao Lak, allowing for more time hanging out with aquatic residents, including manta rays and whale sharks, as well as still-intact soft corals. Above the water line, the islands are an attraction in their own right, with jungle-filled interiors and smooth white beaches surrounded by coral reefs, and national park accommodation on Ko Miang (also known as Island 4).

Pai

Combine a beautiful mountain valley, a party scene reminiscent of a Thai island, an old-school hippie vibe and laid-back northern Thai roots and you have Pai:, still northern Thailand's coolest destination. Its popularity means it can get crowded, especially at the peak of Thailand's 'winter' in December and January. But a huge spread of accommodation that caters to every budget, and a host of outdoor and laid-back activities mean that your visit won't be quite like anybody else's.

Sukhothai Historical Park

Step back some 800 years in time at one of Thailand's most impressive historical parks:. Exploring the ruins of this former capital by bicycle is a leisurely way to wind through the crumbling temples, graceful Buddha statues and fish-filled ponds. Worthwhile museums and some of the country's best-value accommodation round out the package. Sukhothai rarely feels crowded, but for something off the beaten track head to nearby Si Satchanalai-Chaliang Historical Park, where you might be the only person scaling an ancient stairway.

Mekong River

From the historic timber shophouses of Chiang Khan to the waterfalls of Pha Taem National Park:, northeast Thailand's glorious arc of the Mekong River offers an incomparable smorgasbord of culture and beauty. Chase the meandering river aboard a rickety bus, long-tail boat or even a bicycle. View the cross-pollination of Thai-Lao culture in local fishing villages, Nong Khai's bizarre sculpture park, and prehistoric rock paintings in Ubon Ratchathani. Those who follow this little-visited trail are rewarded with true travellers' tales to tell.

Ko Pha-Ngan

Famous for its techno-fuelled Full Moon Parties, Ko Pha-Ngan: has long since graduated from a sleepy bohemian island to an Asian Ibiza. Comfort-seekers have an alternative to Ko Samui thanks to a bevy of boutique bungalows. On the northern and eastern coasts, ascetic hammock-hangers can still find castaway bliss. Just offshore is Sail Rock, one of the Gulf of Thailand's best dive sites, while much of the island's interior is spectacular, unspoiled forest.

Phetchaburi

A delightful mix of culture and nature combine in this provincial capital:, which some call a living Ayuthaya. Explore an antique hilltop palace, sacred cave shrines and bustling temples. Wander the old shophouse neighbourhood filled with DIY businesses run by Thai aunties and grannies. Then head off to the wilds of Kaeng Krachan National Park to spot wild gibbons and exotic birds. Phetchaburi is also a clever layover for travellers returning from the south.

Ko Lipe

Where creature comforts meet laid-back island escape, Ko Lipe: takes work to reach but the ever-growing band of devotees agree that it's worth it. The days of desertion are over, especially in the high season when the island is overrun, but it is still a wonderful blend of white-sand beaches, authentic Thai kitchens, groovy guesthouses, boutique resorts and nature adventures in the national park. The diving and living are best here during the early wet season (mid-April to June). But keep that hush-hush.

Khao Sok National Park

A deep, dark jungle hugs the midsection of southern Thailand. This ancient rainforest: is filled with long, sweaty hiking routes up dramatic limestone formations that pay off with postcard-perfect views. Birds and bats call this forest home, as does the rare Rafflesia kerrii, one of the largest and stinkiest flowers on the planet. After trying out tubing, kayaking and rafting, you can reward your outdoor work with riverside camping or sleep on the floating lake-top huts at Chiaw Lan.

Khao Yai National Park

This park is home to elephants, monkeys, gibbons, hornbills, pythons, bears, a million bats and even a few wily tigers. Wildlife sightings are mostly at the mercy of chance, but your odds are excellent at this vast Unesco-listed reserve:, just a few hours out of Bangkok. And even if you don't meet many big animals, the orchids, birds, waterfalls and sense of adventure that inevitably arises when hiking in the jungle guarantee a good day out. Khao Yai's mix of scenery and accessibility is hard to beat.

Ko Kut

Still looking for that paradise island where the crowds are thin, the water aquamarine and clear, and the beaches wide and long? Try Ko Kut:. There is Hat Khlong Chao, one of the most beautiful stretches of sand anywhere in Thailand, fine snorkelling and hidden waterfalls to hike to. Best of all, Ko Kut retains a supremely unhurried pace of life that visitors soon find themselves imitating. There is nothing in the way of nightlife, apart from listening to the ocean. But that's why you're here.

Mae Hong Son Province

Tucked away in the country's northwest corner, this province: has a lot more in common with Myanmar than anywhere else in Thailand. With its remote location, soaring mountains and unique culture and cuisine, Mae Hong Son can seem like an entirely different country. Exploration is the reason to make the journey here, and can involve tramping through one of the province's many caves, taking a hairpin turn on your motorcycle or doing a self-guided trek from Mae La-Na to Soppong.

Phanom Rung Historical Park

Perched high atop an extinct volcano, Thailand's most impressive Khmer ruin: is something special. As you amble along the promenade, up the stairs and over the naga-flanked bridges, the sense of anticipation builds. And when you enter the temple, completely restored and still rich with Hindu sculpture, you experience a moment of timelessness. While Phanom Rung is not as awe-inspiring as Cambodia's Angkor Wat, the experience here is unique enough that you should definitely consider visiting both.

Ko Lanta

A beach bum's best friend, Ko Lanta: sports a mellow island vibe and a parade of peachy sand. Social butterflies alight on the northern beaches for the party scene. Solitude-seekers migrate southwards to low-key beach huts and a sleepy village ambience. Activities abound, from hiking through limestone caves to diving off Hin Muang and Hin Daeng, with the chance to glimpse rays and even whale sharks. Sprinkle in some culture by visiting the east coast's charismatic Old Town, home to a Muslim community and charming seafront coffee shops.

Phuket

An international beach resort, Phuket: is an easy destination for all ages. You can fly in from Bangkok (or even Dubai), and then retreat into a five-star resort or arty boutique hotel for a trouble-free tropical vacation. There are slinky stretches of sand, hedonistic party pits and world-class spas. Culture capital Phuket Town is now an attraction in its own right, plus there are day trips to mangrove forests, an elephant rescue sanctuary and a ton of water sports to take part in, from diving to surfing.
DiscussPlaces
is a place to make new friends and share your passions and interests. Quench your thirst for knowledge, discuss places with other aficionados, and swap recommendations. Are you an aspiring foodie who dreams of living in New York? Or perhaps you are looking for the best chicken wings in Cincinnati? Then this is the place for you! Any one can join in with a passion or interest – whether it be talking about their favorite restaurant in Barcelona or raving about their latest trip to Italy. Join us!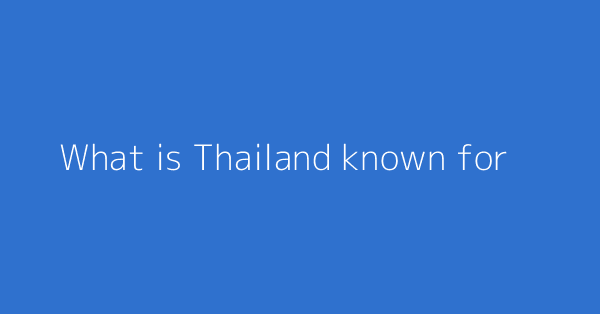 This page shows discussions around "What is Thailand known for?"