What is Belarus known for?
greenfish900

last edited by




Belarus

Belarus, country of eastern Europe.
Until it became independent in 1991, Belarus, formerly known as Belorussia or White Russia, was the smallest of the three Slavic republics included in the Soviet Union (the larger two being Russia and Ukraine).

Belarus has so much to offer, here are some of the things Belarus is known for.

Minsk: Taking in the unique mid-20th-century architecture, the rowdy nightlife and the burgeoning arts scene of Belarus' capital.
Brest: Strolling through the mellow pedestrian streets of this cosmopolitan city and gaping at its epic WWII memorials.
Mir Castle: Training your lens on this fairy-tale 16th-century castle – and its equally famous reflection.
Nyasvizh: Exploring this tranquil provincial town's parks and impeccably restored castle.
Belavezhskaya Pushcha National Park: Cycling around Europe's oldest wildlife refuge in search of rare European bison.
Hrodna: Clambering over its ruined Old Castle and checking out its museums and well-preserved pre-WWII architecture.
Vitsebsk: Discovering the childhood home of painter Marc Chagall, with its excellent art museums.
Pripyatsky National Park: Taking a boat tour and spotting birds and other wildlife in this rich wetland.
DiscussPlaces
is a place to make new friends and share your passions and interests. Quench your thirst for knowledge, discuss places with other aficionados, and swap recommendations. Are you an aspiring foodie who dreams of living in New York? Or perhaps you are looking for the best chicken wings in Cincinnati? Then this is the place for you! Any one can join in with a passion or interest – whether it be talking about their favorite restaurant in Barcelona or raving about their latest trip to Italy. Join us!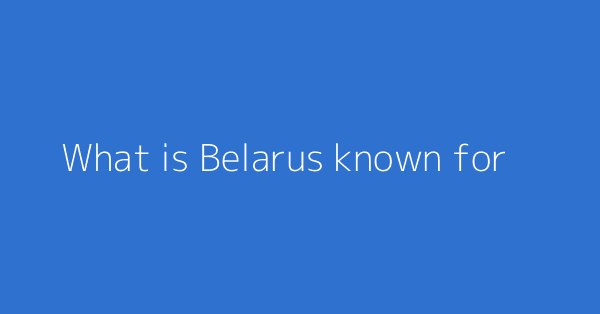 This page shows discussions around "What is Belarus known for?"