What is American Samoa known for?
crazypanda278

last edited by




American Samoa

American Samoa, officially Territory of American Samoa, unincorporated territory of the United States consisting of the eastern part of the Samoan archipelago, located in the south-central Pacific Ocean.
It lies about 1,600 miles (2,600 km) northeast of New Zealand and 2,200 miles (3,500 km) southwest of the U.
state of Hawaii.

American Samoa has so much to offer, here are some of the things American Samoa is known for.

Ogling rainforest-clad mountains and white sands while floating in the crystalline waters off Ofu Beach:.
Strolling the plantations and crater lakes on the diminutive island of Aunu'u:.
Hiking the jungle trails of the National Park of American Samoa:.
Snorkelling and whale watching in Fagatele Bay National Marine Sanctuary:.
Paddling about calm Pago Pago Harbor:, fringed by magnificently jagged peaks.
Enjoying a traditional Samoan meal with a modern twist, beachside at Tutuila's Tisa's Barefoot Bar:.
Exploring the mysteries of ancient Polynesia on the isolated island of Ta'u:.
DiscussPlaces
is a place to make new friends and share your passions and interests. Quench your thirst for knowledge, discuss places with other aficionados, and swap recommendations. Are you an aspiring foodie who dreams of living in New York? Or perhaps you are looking for the best chicken wings in Cincinnati? Then this is the place for you! Any one can join in with a passion or interest – whether it be talking about their favorite restaurant in Barcelona or raving about their latest trip to Italy. Join us!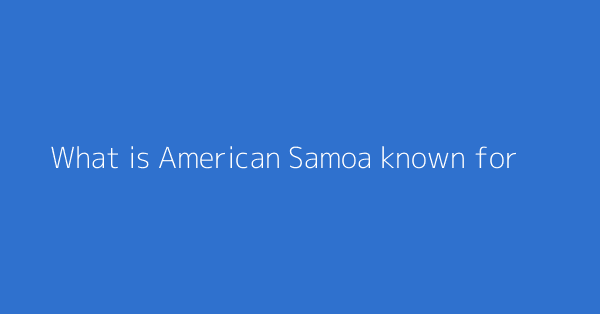 This page shows discussions around "What is American Samoa known for?"