What is Bangladesh known for?
goldenbear846

last edited by




Bangladesh

Bangladesh, country of South Asia, located in the delta of the Padma (Ganges [Ganga]) and Jamuna (Brahmaputra) rivers in the northeastern part of the Indian subcontinent.

Bangladesh has so much to offer, here are some of the things Bangladesh is known for.

River Trips

Rivers are the lifeblood of Bangladesh. More than 700 of them crisscross the country, and travelling along them is an experience not to be missed. From cross-river car ferries or creaking old paddle-wheel steamers to the humble rowboat or traditional wooden yachts, it is said that there are more types of boats: in Bangladesh than in any other country. So whether you fancy a multi-day adventure deep into the countryside or just a quick jaunt around a city dock, get yourself down to a river ghat, and climb aboard.

Tracking Tigers in the Sundarbans

The mangrove forests of the Sundarbans National Park: are home to the legendary Royal Bengal tiger and boarding a boat in search of them is an undisputed highlight of a trip to Bangladesh. For a true adventure, and to increase your admittedly slim chances of seeing a tiger, book yourself onto a four-day boat tour from Khulna. Even if you don't see one, the birdlife and scenery are real Bangladeshi highlights.

Swamp Safaris in Ratargul

Hidden under the canopies of an evergreen tropical forest, the swampy bayous of Ratargul: form an enchanting landscape of silent water channels that you can explore by a wooden dinghy boat. Known to be Bangladesh's largest freshwater swampland, these outlying marshes are a perfect day trip out of Sylhet and can be accessed by a village road that cuts through some amazing tea plantations and forests.

Hiking off the Beaten Track

The country's eastern regions of Sylhet and Chittagong contain forested hills and small, rugged mountains. This is no Himalaya, but the landscape offers plenty of opportunity to stretch your legs with a number of worthwhile hikes on offer. There are relatively simple day hikes you can take from places like Srimangal:, visiting tea estates, the Hum Hum waterfalls, and even spotting gibbons in the forests of Lowacherra National Park.

Riding the Rocket

Steeped in almost 100 years of history, Bangladesh's famous paddle-wheel steamer may not be the fastest thing on the waterways these days, but it gets more and more romantic each passing year. There are four remaining Rockets – all built in the early part of the 20th century – and although you can no longer ride them all the way from Dhaka to Khulna, you can still take long overnight trips on them. Book yourself a cabin to Barisal:, put your feet up and watch Bangladesh float by.

Surfing in Cox's Bazar

Every Bangladeshi will proudly tell you that Cox's Bazar has the longest natural beach in the world. What they might not reveal is that it's home to the country's nascent surfing: scene. The waves that roll in from the Bay of Bengal are suitable for beginners all the way to those looking to catch livelier breaks. At the end of a day at the beach, chill in the evening with a plate of fresh seafood that the area is celebrated for.

Rickshaws

There are cycle-rickshaws: all over Asia, but in Bangladesh they're arguably more colourful, more prevalent and more integral to everyday life than anywhere else. Designs are an art form in their own right and riders take great pride in making theirs look best. Almost every town and city has a huge fleet and it's pretty much impossible to avoid travelling on one at some stage. And why would you want to avoid it? They're cheap, fun, environmentally friendly and are often the quickest way to get through the busy streets.

Touring Ancient Mosques in Bagerhat

With the largest concentration of medieval mosques and mausoleums in all of Bangladesh, sleepy Bagerhat: is a splendid open-air museum that documents the heydays of the region's Islamic history. Peppered with graceful domed mosques, this Unesco-protected town with a friendly population is a delight to explore on foot. There's even a crocodile-infested pond here to capture your imagination!

Chittagong Hill Tracts

With most of the country being flat as a paddy field, the forested mountains of the Chittagong Hill Tracts: dominate the landscape. It's an undoubtedly stunning region, but it also offers a cultural diversity found nowhere else in the country. Around a dozen Adivasi (tribal) groups live here, and more than half the population is Adivasi. Many have closer ties to the people of Myanmar (Burma) than to Bengalis, and visiting their villages to learn about their different ways of life makes a trip out here more than just a chance to gawp at spectacular scenery.

Old Dhaka

For some, the assault on the senses is too much to handle, but for others, the unrivalled chaos that is squeezed into the narrow streets of Old Dhaka: is the main attraction of a stay in the capital. No matter where you've come from, or what big cities you've visited before, Old Dhaka will knock you for six with its manic streets, its crazy traffic and its nonstop noise and commotion. But the food is fabulous, the historical narrative fascinating and the sheer weight of humanity absolutely unforgettable.
DiscussPlaces
is a place to make new friends and share your passions and interests. Quench your thirst for knowledge, discuss places with other aficionados, and swap recommendations. Are you an aspiring foodie who dreams of living in New York? Or perhaps you are looking for the best chicken wings in Cincinnati? Then this is the place for you! Any one can join in with a passion or interest – whether it be talking about their favorite restaurant in Barcelona or raving about their latest trip to Italy. Join us!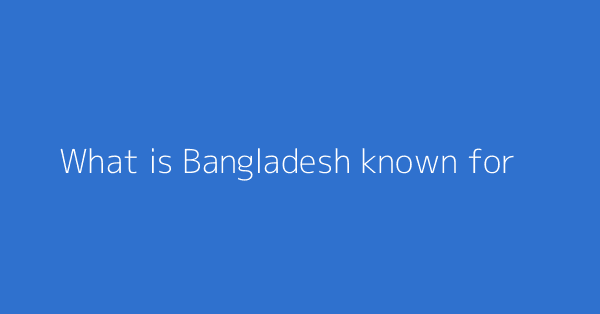 This page shows discussions around "What is Bangladesh known for?"
---
Because conversations are the one thing we all have in common. We provide a platform where those conversations can be had freely, widely, and openly.
We are focused on building a community where people from around the world can share their interests.
---