Pros and Cons of Living in Manila, Philippines
yellowduck771 Discussion Fanatics

last edited by




If you stay in the area immediately around Greenbelt then it's great. There's a cafe called Antipodean that serves all day breakfasts with excellent bacon and eggs, I stay 2 mins walk from there. I've stayed at Gramercy Apartments in Poblacion in the past and that wasn't good. That area is not very walkable and not much nearby except for some trendy bars. Being close to Greenbelt means you have everything you need in the malls. Also, if you're a single guy, then it's a wonderful place for dating, especially if you have the courage to talk to locals that you see in day to day life. Greater challenges are around eating nutritiously. I think Filipino food is underrated for its deliciousness but it's definitely not healthy. To better understand the Greenbelt area, it's a series of Malls (Greenbelt, Ayala, Glorietta, and some other mall). Collectively there would have to be upwards of 200 restaurants, so I'm sure there's a healthy option in there somewhere, just need to find it. It's true that there's not a lot to do in the city outside of nightlife. And the infrastructure makes it a headache to get around. That's why I recommend staying in this part of town. In this part of Makati you can just walk everywhere. I've heard good things about BGC but have never visited.
What is discussplaces?
DiscussPlaces
is a place to make new friends and share your passions and interests. Quench your thirst for knowledge, discuss places with other aficionados, and swap recommendations. Are you an aspiring foodie who dreams of living in New York? Or perhaps you are looking for the best chicken wings in Cincinnati? Then this is the place for you! Any one can join in with a passion or interest – whether it be talking about their favorite restaurant in Barcelona or raving about their latest trip to Italy. Join us!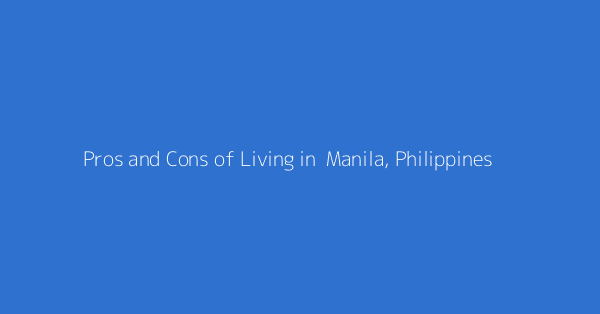 This page shows discussions around "Pros and Cons of Living in Manila, Philippines"
Whether the information provided was useful?
---