What is Seychelles known for?
sadwolf623

last edited by




Seychelles has so much to offer, here are some of the things Seychelles is known for.

Diving and Snorkelling

Anyone who loves the water will adore the Seychelles. Whatever your abilities, you'll experience sensory overload while diving off Mahé, Praslin and La Digue, as well as off the other inner islands. Mahé's north coast: offers the greatest variety, with a good balance of healthy reefs, fascinating shipwrecks and dense marine life. There's also the unmistakable cachet of swimming in sight of whale sharks and massive rays. Each island also caters to avid snorkellers, with gin-clear waters and a smattering of healthy coral gardens around.

Anse Lazio

On the northwest tip of Praslin, Anse Lazio: is a reminder of just why the Seychelles has become one of the most alluring destinations in the Indian Ocean. The beach here is near perfect, a stereotype come to life, with golden sands, granite boulders at either end, palm trees and unbearably beautiful waters somewhere between turquoise and lapis lazuli. Ideal for hours spent lying on the beach, snorkelling or eating in the beachfront restaurant, Anse Lazio is the sort of place you'll never want to leave.

Morne Seychellois National Park

In their quest for the perfect beach, many travellers are oblivious to the fact that there are fantastic experiences to be had in this lush and splendid national park: that rises in a series of peaks to crown the island of Mahé. Take a guided hike through dense forest, coastal mangroves and rugged mountains and you'll soon believe that the world and its clamour belong to another planet. While exploring, you'll come across rare species of birds, reptiles and plants, not to mention some breathtaking views.

Vallée de Mai

If you can tear yourself away from the beach, Vallée de Mai: is a paradise of a different kind. Inscribed by Unesco, and home to the rare and beautiful coco de mer palms and a host of other endemic plants, the nature reserve is all about being immersed in lush tropical forest, serenaded by birdsong, and losing yourself along quiet hiking trails that meander agreeably through a verdant miniwilderness. Keep your eyes peeled for the endemic Seychelles bulbul, the lovely blue pigeon, the Seychelles warbler and the endangered black parrot.

Bird Island

If you're into birds, you probably already know that Bird Island: is noted for its population of sooty terns, fairy terns and common noddies. You don't even need binoculars, for your feathered friends can easily be approached. The island is also home to giant tortoises. If you're lucky, you may also see hawksbill turtles and green turtles nesting on the beach – an unforgettable experience. You don't need to be super rich to enjoy these natural wonders – Bird Island is one of the most affordable private islands in the country.

Alphonse Island

If you want to live out that stranded-on-a-deserted island fantasy, you've come to the right place. Part of the Alphonse Group, Alphonse: is a coral islet that lies about 400km south of Mahé. This is a great private island resort with a heavy focus on sportfishing and, increasingly, diving and snorkelling. Alphonse offers the finest saltwater fly-fishing on the planet as well as sensational diving and snorkelling a mere 10-minute boat ride away. And there's only one boat: yours. No wonder it's gaining in popularity.

Anse Cocos

If you're suffering from visions of tropical paradise, here is your medicine. On the east coast of La Digue, Anse Cocos: is the sort of place you'll never want to leave. The beach here is near perfect, a stereotype come to life with blindingly white sand, casuarina trees and palms arching gracefully to shade beachgoers, shapely boulders forming clandestine coves at either end and startlingly blue waters. Ideal for hours spent lazing on the beach, far from the crowds.

Curieuse Island

You'll need to take a boat tour from Praslin or La Digue to get to this granite island, about 1.5km off Praslin's northern coast. Curieuse: is known for its giant Aldabra tortoises, which you can easily approach (and take a picture of). It's also a wonderful place for a barbecued lunch. After your picnic, take a dip in the glassy waters off Baie Laraie, which are excellent for snorkelling and swimming, or head to Anse José, another idyllic beach framed by massive granite boulders, equally good for sunning and swimming.

Denis

Welcome to paradise. It may be a much-abused cliché but the coral island of Denis: comes as close to living up to this claim as anywhere on the planet. This is a place where warm tropical waters lap quietly on a beach of white sand, while the lagoon offshore dazzles in magical shades of blue. The island's luxury lodge combines romance with seclusion to perfectly capture the idyll of barefoot luxury (no TV, no mobile phones), and you'll share the island with giant tortoises and gorgeous bird species.

Anse Volbert

Although less famous than other Praslin beaches, stellar Anse Volbert: does offer plenty of benefits: easy access, calm (and turquoise) waters and white sand. Fringing a lovely bay studded with a strand of palms, this is a stunning, 4km-long beach to sun yourself on, and it never feels crowded. For active types, a gaggle of watersports are available, including kayaking and paddleboarding. For snorkelling, Chauve Souris, a tiny clump of tree-covered rocks just 400m offshore, offers optimal conditions. There are some great dining options nearby.

Silhouette

Grand, brooding, powerful and charismatic. That pretty much sums up Silhouette:. The third largest island in the archipelago, it juts up dramatically from the cobalt-blue ocean, only 20 kilometres north of Mahé. Its highest point, Mt Dauban, reaches up 780m. With steep forested mountain peaks rising from the ocean above achingly beautiful palm-shaded beaches and coves, Silhouette is a truly magnificent hideaway. The whole island is protected as a national park, and there are only two lodging options. All visitors here fall under the spell of this unique island.
What is discussplaces?
DiscussPlaces
is a place to make new friends and share your passions and interests. Quench your thirst for knowledge, discuss places with other aficionados, and swap recommendations. Are you an aspiring foodie who dreams of living in New York? Or perhaps you are looking for the best chicken wings in Cincinnati? Then this is the place for you! Any one can join in with a passion or interest – whether it be talking about their favorite restaurant in Barcelona or raving about their latest trip to Italy. Join us!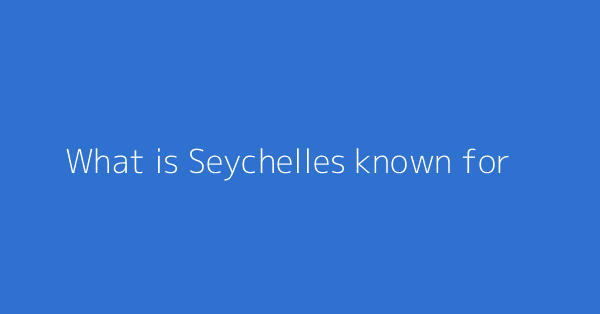 This page shows discussions around "What is Seychelles known for?"
Whether the information provided was useful?
---