orangepanda761

last edited by




Israel is located in Asia.

Israel, or the State of Israel, is situated along the Mediterranean Sea in the Middle East Region of the world. Located in Western Asia, Israel is the country that connects the continents of Africa and Asia. With Egypt along its southwestern border, Israel is surrounded by three other countries, as well as six central bodies of water. Lebanon borders Israel in the north, Syria in the northeast, and Jordan in the east. The six water sources that lie along various borders of Israel are the Mediterranean Sea, the Sea of Galilee, the Jordan River, the Dead Sea, the Gulf of Aqaba, and the Red Sea.

The GPS coordinates of Israel are comprised of a latitude of 31.0461° N and a longitude of 34.8516° E. The northernmost point of Israel is located along the border that separates Israel from Lebanon. Just outside of the city of Metula, this point has GPS coordinates of 33°17′ N and 35°34′ E. To the south, Israel stretches as far as a latitude of 29°29′ N and a longitude of 34°54′ E. The GPS coordinates point to the Taba Border Crossing, which is the name of the border control between Eilat, Israel, and Taba, Egypt.

The most extreme point of Israel to the east is along the border separating Syrian and Israeli land. More specifically, the easternmost point is on the Si'on River with GPS coordinates of 33°14′ N and 35°40′ E. The westernmost point of Israel is situated at a latitude of 31°31′ N and a longitude of 34°16′ E. This is the crossroads between Egypt, Israel, and the Gaza Strip.

With a total area of approximately 8,019 square miles, Israel ranks as the 150th largest country on the planet.

Populations fluctuate, so it is hard to record an exact amount that holds over time. However, the most recent census of 2018 has determined that Israel's population is approximately 8,511,061 people. In comparison to the rest of the world, Israel ranks as the 100th most populated country on the planet.

The population density of Israel is approximately 1,062 people per square mile. Based on this value, Israel ranks as the 35th most densely populated country of the 195 countries in the world.
DiscussPlaces
is a place to make new friends and share your passions and interests. Quench your thirst for knowledge, discuss places with other aficionados, and swap recommendations. Are you an aspiring foodie who dreams of living in New York? Or perhaps you are looking for the best chicken wings in Cincinnati? Then this is the place for you! Any one can join in with a passion or interest – whether it be talking about their favorite restaurant in Barcelona or raving about their latest trip to Italy. Join us!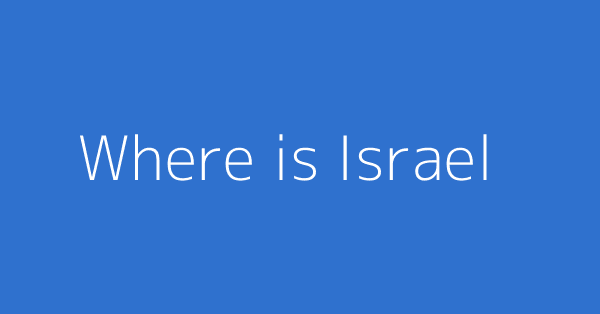 This page shows discussions around "Where is Israel?"