bigcat538

last edited by




Japan

Japan, island country lying off the east coast of Asia.
It consists of a great string of islands in a northeast-southwest arc that stretches for approximately 1,500 miles (2,400 km) through the western North Pacific Ocean.
Nearly the entire land area is taken up by the country's four main islands; from north to south these are Hokkaido (Hokkaidō), Honshu (Honshū), Shikoku, and Kyushu (Kyūshū).
Honshu is the largest of the four, followed in size by Hokkaido, Kyushu, and Shikoku.
In addition, there are numerous smaller islands, the major groups of which are the Ryukyu (Nansei) Islands (including the island of Okinawa) to the south and west of Kyushu and the Izu, Bonin (Ogasawara), and Volcano (Kazan) islands to the south and east of central Honshu.
The national capital, Tokyo (Tōkyō), in east-central Honshu, is one of the world's most populous cities.

Japan has so much to offer, here are some of the things Japan is known for.

Kyoto

Kyoto:, Japan's imperial capital for a thousand years, is home to more than a thousand temples. Among them are the monumental, like Kinkaku-ji (an exquisite pavilion sheathed entirely in gold leaf), and the meditative, like Ryōan-ji, with its stark Zen rock garden. And temples are only the start of it: there's the culture of tea, which you can appreciate at one of the city's many elegant teahouses; the art of the geisha, those iconic performers of traditional music and dance; and also a rich food culture, including kaiseki (Japanese haute cuisine).

Onsen

Some locals will tell you that the only distinctively Japanese aspect of their culture – that is, the only thing that didn't ultimately originate in mainland Asia – is the bath. Highly volcanic Japan has thousands of onsen: (hot springs) scattered across the archipelago, which feed baths. The Japanese have turned the simple act of bathing into a folk religion and the country is dotted with temples and shrines to this most relaxing of faiths. Not convinced? Wait until you give it a try (and feel years of stress melt away).

Japanese Cuisine

One of the joys of travelling in Japan is experiencing the true breadth of the country's cuisine:. Sushi (raw fish on vinegar-seasoned rice) may be synonymous with Japan, but head to the mountains, for example, and you'll discover a hearty cuisine that draws from the land. It's hard not to eat well in Japan: such is the care and thought put into ingredients and presentation. What's more, you can have a superlative meal on any budget: even (and often especially) a humble bowl of noodles can be sublime.

Staying in a Ryokan

Ryokan simply means 'inn', but in this modern age of hotels, the word has come to mean an inn with a particular aesthetic and attitude towards service that feels more traditionally Japanese. Ryokan: have tatami (woven reed mat) floors where guests sleep on futons (quilted mattresses) rather than beds. They're usually low-slung buildings with winding corridors of highly polished wood. In better ones, staff wear kimonos and are highly attuned to guests' needs. These will also serve exquisite meals of local, seasonal ingredients – a truly memorable experience.

Tokyo

Tokyo: is a city forever reaching into the future, pushing the boundaries of what's possible on densely populated, earthquake-prone land, adding ever taller, sleeker structures. It's Japan's top spot for contemporary art and architecture, pop culture, shopping, drinking and entertainment (and a tie with Kyoto for dining). But more than any one sight, it's the city itself that enchants visitors. It's a sprawling, organic thing, stretching as far as the eye can see. Always changing, and with a diverse collection of neighbourhoods, no two experiences of it are ever the same.

Cherry-Blossom Viewing (Hanami)

Come spring, countless cherry trees around Japan burst into colour, a spectrum that runs from the palest of pink to a riotous magenta. That's the cue for locals to gather in parks and along river banks for cherry-blossom-viewing parties called hanami:. It's a tradition that dates back centuries and one that is no less beloved today. The blossoms last only for a week or two, symbolic of life's ephemeral nature but also a reminder to seize the present. Do so and join the festivities.

Kumano Kodō

For centuries Japan's remote mountains were criss-crossed by mountain ascetics seeking spiritual enlightenment in what then must have felt like the ends of the earth. Somewhat less self-punishing pilgrims continue to follow their paths. Deep in southern Kansai, in the interior of the Kii Peninsula, the network of trails known as the Kumano Kodō: links three important Shintō shrines that, as part of local culture, were historic sites of nature worship. The Kumano Kodō offers both gentle day hikes and weeklong treks, with the opportunity to soak in onsen along the way.

Daibutsu (Great Buddha) of Nara

Nara's 15m-tall gilt-bronze Buddha statue was first cast in the 8th century, at the dawn of the Japanese empire. It's among the largest gilt-bronze effigies in the world and the temple that houses it, Tōdai-ji:, is among the world's largest wooden structures. It's hard, in fact, to describe the Great Buddha without using superlatives; it's simply remarkable. It's also just one of many outstanding examples of Buddhist art to be found in Nara. There are several other important temples here, as well as the Nara National Museum.

Naoshima

Naoshima: is one of Japan's great success stories: a rural island on the verge of becoming a ghost town, now a world-class centre for contemporary art. Many of Japan's most lauded architects have contributed structures, including museums, a boutique hotel and even a bathhouse – all designed to enhance the island's natural beauty and complement its existing settlements. The resulting blend of avant-garde and rural Japan is captivating. It has also inspired some Japanese to pursue a slower life outside the big cities, relocating to Naoshima to open cafes and inns.

Mt Fuji

Even from a distance Mt Fuji: will take your breath away. Close up, the perfectly symmetrical cone of Japan's highest peak is nothing short of awesome. Dawn from the summit? Pure magic. Fuji-san is among Japan's most revered and timeless attractions. Hundreds of thousands of people climb it every year, continuing a centuries-old tradition of pilgrimages up the sacred volcano. Those who'd rather search for picture-perfect views from the less-daunting peaks nearby can follow in the steps of Japan's most famous painters and poets.

Skiing

Come winter, copious dumps of dry, powdery snow turn the mountains of Japan into peaks of meringue. In recent decades, Niseko: has emerged as Asia's top ski resort and a global destination, backed up by a thriving, cosmopolitan après-ski scene. If first tracks and an evening hot-spring soak are all you desire, there are hundreds of smaller resorts around the country that see fewer visitors (reminiscent of the days when Japan's excellent snow was still a well-kept secret). For thrill-seekers, there are backcountry opportunities, too.

Kanazawa

Kanazawa: is an old feudal-era capital on the Sea of Japan coast that, in its heyday, rivalled Kyoto as a centre for the arts. This vibrant artisan tradition is today evident in a number of shops and galleries. It also has one of Japan's top gardens, Kenroku-en, an excellent contemporary art museum and a rich food culture that draws heavily from the seafood pulled from the ocean. And yet Kanazawa has long flown under the radar, though that's starting to change. Go now, before everyone else catches on.

Tsumago and Magome

Tsumago and Magome are two post towns along the old Nakasendō:, a foot highway (used by lords and messengers alike) that connected Edo (now Tokyo) and Kyoto during the feudal period. The old path remains, paved with large stones, and it is possible to hike 7.8km between the two towns, through sleepy alpine hamlets and cedar forests, past waterwheels and rice paddies. The towns themselves are a treat too, with narrow lanes and low-slung dark wooden buildings that serve as inns, noodle restaurants and craft shops.

Wild Hokkaidō

Hokkaidō: is Japan's northernmost island: a largely untamed, highly volcanic landscape of massive mountains startlingly pock-marked with crystal-blue caldera lakes and opalescent, sulphur-rich hot springs. Its flora and fauna (of which there is a lot) is more closely related to Sakhalin, part of Russia, to the north, than the rest of Japan to the south. Hikers, cyclists and casual road trippers are all drawn to the island's big skies, wide open spaces and dramatic topography. With shinkansen (bullet train) access and cheap flights, it's easier than ever to add Hokkaidō to your itinerary.

Hiroshima

Hiroshima: today is a forward-thinking city with attractive, leafy boulevards. It's not until you visit the Peace Memorial Museum that the true extent of human tragedy wreaked by the atomic bomb becomes vividly clear. A visit here is a heartbreaking, important history lesson and the park around the museum, much of which was designed by Japan's great modernist Tange Kenzō, offers many opportunities for reflection. But the city's spirit of determination – as well as its food – will ensure that you'll have good memories to take with you when you leave.

Yakushima

Yakushima:, a small island off the coast of southern Kyūshū, is often described as magical, enchanting – other-worldly even. It's a place where words fail and clichés step in. Home to some of Japan's last primeval forest, here you'll find the yakusugi, an ancient cedar native to the island, whose giant roots form alien tentacles. Hiking trails underneath them cover craggy terrain often fuzzy with moss. The landscape here is believed to have been an inspiration for the iconic animated film Princess Mononoke.

Kamikōchi

One of the most stunning natural vistas in Japan, Kamikōchi: is a highland river valley enveloped by the soaring peaks of the Northern Japan Alps. Easy day hikes are possible along the pristine Azusa-gawa through tranquil forests of willow, larch and elm trees. The birthplace of Japanese alpinism, Kamikōchi is also the gateway for more challenging treks up some of the country's tallest mountains, such as Yariga-take (3180m). Private cars are banned from Kamikōchi, which lessens the impact of the crowds.

Kōya-san

Riding the funicular up to the sacred Buddhist monastic complex of Kōya-san: feels, appropriately, like ascending to another world. There are over a hundred temples here, the highlight of which is Oku-no-in, where paths weave their way among towering cryptomeria trees and time-worn stone stupas covered in moss and lichen. Other temples offer a different experience: the chance to spend the night, dine on traditional vegetarian Buddhist cuisine and wake up early for (optional) morning meditation with the resident monks.

Okinawa and the Southwest Islands

Okinawa and the Southwest Islands: offer a totally different experience from the rest of Japan. This semi-tropical archipelago forms an arch between Kyūshū and Taiwan. Until annexed by Japan in the 19th century, they formed their own kingdom – the Ryūkyū Empire – and the cultural differences are apparent in everything down to the architecture and food. This is where you'll find Japan's best beaches, like those in Ishigaki and Kerama, with sugar-white sand fringed with palms and turquoise waters. Bask in the sun, or snorkel and scuba dive.

Sumo

The purifying salt sails into the air. The two giants leap up and crash into each other. A flurry of slapping and heaving ensues. Who will shove the other out of the sacred ring and move up in the ranks? From the ancient rituals to the thrill of the quick bouts, sumo is a fascinating spectacle. Tournaments take place several times a year, in Tokyo:, Nagoya, Osaka and Fukuoka; outside of tournament season you can catch an early-morning practice session at one of the stables where wrestlers live and train.

Osaka

Tokyo doesn't nab all the superlatives when it comes to urban experiences. Osaka:, Japan's third-largest city, is tops for street food: don't miss its signature dish, tako-yaki (grilled octopus dumplings). It also has the most dramatic of nightscapes: a dazzling display of LED lights, animated signage and flashing video screens along the canalside strip Dōtombori. The city, Japan's oldest merchant centre, has a pace, spirit and zest for life all of its own: it's unofficial slogan is kuidaore (eat until you drop).

Castles

Japan's castles are evocative of its feudal past, peopled with fearsome samurai, whisper-footed ninja and all-powerful shoguns. The graceful curving roofs of the castle keeps, often stacked several storeys high, are emblematic of the country's traditional architecture. Japanese castles are made of wood, though they might sit atop foundations of enormous stones. Few originals survive; among those that do, the must-sees are the recently restored 'White Egret Castle', Himeji-jō:, and its natural foil, Matsumoto-jō, the fearsome black 'Crow Castle'.

Shikoku

Of Japan's four major islands, Shikoku: is the smallest, the least populated and the least visited – and we don't mean that as a slight at all. This is the place for a deep dive into rural Japan and all its spectacular, scenic glory. There are riveting gorges crossed by old-fashioned vine bridges, rapids and lazy rivers, sacred mountains to climb and old farmhouses to sleep in. Shikoku is most famous for its 88-temple pilgrimage; several of them are truly amazing, perched on peaks accessible by foot or ropeway.

Festivals

Catching a matsuri (traditional festival) is like stepping back in time: men and women wear colourful cotton kimono – and sometimes the men just wear short coats and fundoshi (the loincloths worn by sumo wrestlers). Some see rollicking parades of portable shrines or floats go through the streets; others involve dancing, bonfires or drumming. These celebrations: have their roots in Shintō and Buddhist traditions, but they also serve to renew age-old community bonds. August sees the lion's share of festivals, but they happen year-round. For major events, book accommodation well in advance.
DiscussPlaces
is a place to make new friends and share your passions and interests. Quench your thirst for knowledge, discuss places with other aficionados, and swap recommendations. Are you an aspiring foodie who dreams of living in New York? Or perhaps you are looking for the best chicken wings in Cincinnati? Then this is the place for you! Any one can join in with a passion or interest – whether it be talking about their favorite restaurant in Barcelona or raving about their latest trip to Italy. Join us!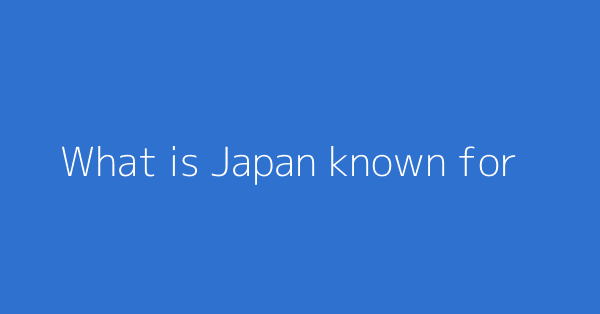 This page shows discussions around "What is Japan known for?"