What is Serbia known for?
happytiger122

last edited by




Serbia

Serbia, country in the west-central Balkans.
For most of the 20th century, it was a part of Yugoslavia.

Serbia has so much to offer, here are some of the things Serbia is known for.

Belgrade: Revelling in the intriguing melange of faded Yugonostalgia, cutting-edge Balkan cool and fascinating history.
Tara National Park: Hiking, rafting on the Drina or riding a narrow-gauge railway around the most scenic slice of Serbia.
Đerdap National Park: Cycling or cruising through the Danube's astounding Iron Gates gorge and millennia of history.
Studenica Monastery: Admiring ancient fresco masterpieces in this Unesco-listed, white-marble 12th-century monastery.
Uvac Canyon: Spotting the mighty griffon vulture from a boat gliding through the zigzagging Uvac river.
Subotica: Gawking at the marvellous art nouveau architecture of this leafy town in Vojvodina province.
Rajac Wine Cellars: Tasting the native drops in Negotin region's atmospheric 19th-century wine villages.
EXIT Festival: Joining thousands of revellers each July for eclectic beats at Novi Sad's formidable fortress.
DiscussPlaces
is a place to make new friends and share your passions and interests. Quench your thirst for knowledge, discuss places with other aficionados, and swap recommendations. Are you an aspiring foodie who dreams of living in New York? Or perhaps you are looking for the best chicken wings in Cincinnati? Then this is the place for you! Any one can join in with a passion or interest – whether it be talking about their favorite restaurant in Barcelona or raving about their latest trip to Italy. Join us!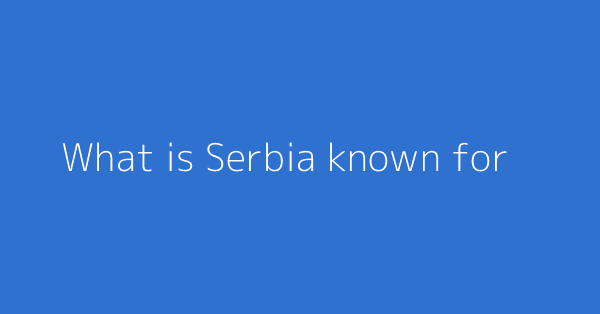 This page shows discussions around "What is Serbia known for?"