What is Romania known for?
heavybutterfly196

last edited by




Romania

Romania, country of southeastern Europe.
The national capital is Bucharest.
Romania was occupied by Soviet troops in 1944 and became a satellite of the Union of Soviet Socialist Republics (U.
) in 1948.
The country was under communist rule from 1948 until 1989, when the regime of Romanian leader Nicolae Ceaușescu was overthrown.
Free elections were held in 1990.
In 2004 the country joined the North Atlantic Treaty Organization (NATO), and in 2007 it became a member of the European Union (EU).

Romania has so much to offer, here are some of the things Romania is known for.

Palace of Parliament, Bucharest

Depending on your point of view, the Palace of Parliament: is either a mind-blowing testament to the waste and folly of dictatorship or an awe-inspiring showcase of Romanian materials and craftsmanship, albeit applied to sinister ends. Most visitors conclude that it's a bit of both. Whatever emotions the former 'House of the People' happens to elicit, the sheer scale of Romania's entry into the 'World's Largest Buildings' competition – on par with the Taj Mahal or the Pentagon – must be seen to be believed.

Bran Castle

Perched on a rocky bluff in Transylvania, in a mass of turrets and castellations, Bran Castle: overlooks a desolate mountain pass swirling with mist and dense forest. Its spectral exterior is like a composite of every horror film you've ever seen, but don't expect to be scared. Inside, Bran is anything but spooky, with its white walls and geranium-filled courtyard. Legend has it Vlad the Impaler (the inspiration for Count Dracula) was briefly imprisoned here, and you can follow his footsteps through an 'Escheresque' maze of courtyards and hidden passages.

Painted Monasteries of Bucovina

Tucked away in the eastern side of the Carpathian mountains, the Unesco-listed painted monasteries of Bucovina: proudly show off Romania's unique, Latin-flavoured Orthodox tradition. The churches are at one with their natural surroundings and the dizzying kaleidoscope of colours and intricate details in the frescoes bring to life everything from biblical stories to the 15th-century siege of Constantinople. The monasteries are largely the genius of Moldavian prince and national hero Stephen the Great (Ştefan cel Mare), who was later canonised for his works.

Wildlife in the Danube Delta

After flowing 2800km across the European continent, the mighty Danube River passes through a vast expanse of remote wetland in eastern Romania – the delta – before finally emptying into the Black Sea. Under the international environmental protection of the Danube Delta Biosphere Reserve Authority, the region: has developed into a sanctuary for fish and fowl of all stripe and colour. Birders, in particular, will thrill to the prospect of glimpsing species such as the roller, white-tailed eagle, great white egret and even a bee-eater or two.

Wooden Churches of Maramureş

Rising from forested hillsides like dark needles, the exquisite wooden churches of Maramureş:, in northern Romania, are both austere and beautiful, with roofs of shingle, and weather-beaten, Gothic-style steeples. Inside, you'll discover rich interiors painted with biblical frescoes, some of which date back to the 14th century. On Sundays, the villagers don traditional dress for church, and attending one of the services is a special treat. There are eight Unesco-listed churches in all: Bârsana, Budeşti, Deseşti, Ieud, Plopiş, Poienile Izei, Rogoz and Surdeşti.

Trekking in the Carpathians

Dense primeval forests leap straight from the pages of a Brothers Grimm story, with bears, wolves, lynx and boar, rugged mountain plateaus, well-marked trails and a network of cabins en route to keep you warm. Trekking is the best way to absorb this vibrant landscape of mountain tops, forests and rolling pastureland. The peaks can be approached from both Transylvania and Moldavia. The Retezat Mountains:, with some 80 glacial lakes and peaks towering above 2000m, are a spectacular stretch of the southern Carpathians.

The Perils of Plum Brandy

Big meals traditionally begin with a shot of Romanian moonshine, ţuică in the local parlance, but treat this innocent-looking liquid with a measure of respect. Home-brewed batches contain as much as 60% alcohol, and the wallop can be fast and furious. Classic ţuică is usually distilled from plums but other fruits, like apricots and pears, can be employed to this nefarious end. In villages, you'll likely be offered some of grandpa's best, or find it at any decent Romanian restaurant, such as Bucharest's Lacrimi și Sfinți:.

Cluj-Napoca

Romania's second-largest city has reawakened from its decades-long slumber and now offers countless bohemian cafes, great restaurants, music festivals, clubs and bars. It's also emerged as the country's contemporary arts hub. The tens of thousands of students here lend a youthful vibe and fuel a vigorous nightlife at places like Insomnia:. With increasing flight links to European cities, the city is welcoming more and more travellers, who usually shoot off to higher-profile burgs like Braşov, Sibiu or Sighişoara, but who come inevitably to regret not allowing enough time for Cluj.

Saxon Villages and Fortified Churches

Back in the 12th century, Saxon Germans were invited to settle parts of Transylvania to buffer the then-Hungarian kingdom from the threat of Tatar and Turkish attack. The architectural legacy is a row of regal fortified churches, watchtowers and impenetrable stone walls that dot the landscape between Sighişoara and Sibiu. Around these haunting churches, town entrances were guarded with heavy metal gates that could be quickly lowered. Most visitors are drawn to the impressive Fortified Church: in Biertan, though Viscri, Mălâncrav and Alma Vii are also worth exploring.

Driving the Transfăgărăşan Road

When the twisting, turning, high-altitude Transfăgărăşan road: in southern Transylvania was built in the '70s, it was derided as a vanity project for the Ceauşescu regime. Who could have imagined a generation later it would be celebrated by TV's Top Gear as the world's most exciting length of road. Boldly charging up and down one of Romania's highest mountains provides an unforgettable, white-knuckle experience behind the wheel. The climax is glacial Lake Bâlea, which hovers like a mirror among the rocks and is sometimes totally enshrouded by clouds.
DiscussPlaces
is a place to make new friends and share your passions and interests. Quench your thirst for knowledge, discuss places with other aficionados, and swap recommendations. Are you an aspiring foodie who dreams of living in New York? Or perhaps you are looking for the best chicken wings in Cincinnati? Then this is the place for you! Any one can join in with a passion or interest – whether it be talking about their favorite restaurant in Barcelona or raving about their latest trip to Italy. Join us!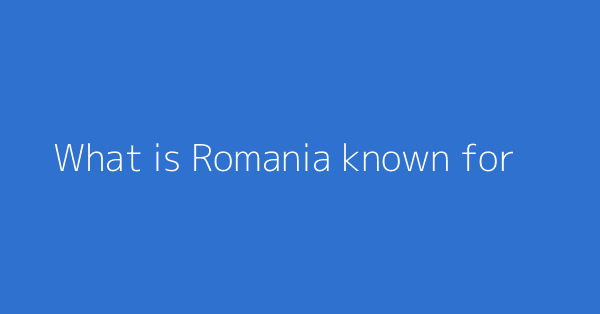 This page shows discussions around "What is Romania known for?"