What is Canada known for?
organictiger969

last edited by




Canada

Canada, second largest country in the world in area (after Russia), occupying roughly the northern two-fifths of the continent of North America.

Canada has so much to offer, here are some of the things Canada is known for.

The Rockies (British Columbia and Alberta)

The sawtooth, white-topped mountains straddling the British Columbia–Alberta border inspire both awe and action. Five national parks – Banff, Yoho, Kootenay, Waterton Lakes and Jasper – offer countless opportunities to delve into the lush wilderness, with ribbons of hiking trails, rushing white water and powdery ski slopes. The train: provides another popular way to experience the grandeur: luminous lakes, jumbles of wildflowers and glistening glaciers glide by as the steel cars chug up mountain passes and down river valleys en route to points east or west.

Haida Gwaii (BC)

Once known as the Queen Charlotte Islands, this dagger-shaped archipelago: 80km off BC's coast is a magical trip for those who make it. Colossal spruce and cedars cloak the wild, rain-sodden landscape. Bald eagles and bears roam the ancient forest, while sea lions and orcas cruise the waters. But the islands' real soul is the resurgent Haida people, best known for their war-canoe and totem-pole carvings. See the lot at Gwaii Haanas National Park Reserve, which combines lost villages, burial caves and hot springs with some of the continent's best kayaking.

Vancouver (BC)

Vancouver: always lands atop the 'best places to live' lists, and who's to argue? Sea-to-sky beauty surrounds the laid-back, cocktail-lovin' metropolis. With skiable mountains on the outskirts, beaches fringing the core and Stanley Park's thick rainforest just blocks from downtown's glass skyscrapers, it's a harmonic convergence of city and nature. It also mixes Hollywood chic (many movies are filmed here) with a freewheeling counterculture edge (there's a popular nude beach) and some buzzing multicultural communities.

Niagara Falls (Ontario)

Crowded? Cheesy? Well, yes. Niagara: is short, too – it doesn't even crack the top 500 worldwide for height. But c'mon, when those great muscular bands of water arc over the precipice like liquid glass, roaring into the void below, and when you sail toward it in a mist-shrouded little boat, Niagara Falls impresses big time. In terms of sheer volume, nowhere in North America beats its thundering cascade, with more than one million bathtubs of water plummeting over the edge every second.

Cabot Trail (Nova Scotia)

The 300km Cabot Trail:, named for explorer John Cabot, is a highway that winds and climbs over stunning coastal mountains, with heart-stopping sea views at every turn, breaching whales just offshore, moose nibbling on the roadside and plenty of trails to stop and hike. Be sure to tote your dancing shoes – Celtic and Acadian communities dot the area, and their foot-stompin', crazy-fiddlin' music vibrates through local pubs. Despite the climate and the winter snows, the trail is open throughout the year.

Nahanni National Park Reserve (Northwest Territories)

Gorgeous hot springs, haunted gorges and gorging grizzlies fill this remote park: near the Yukon border, and you'll have to fly in to reach them. Only about 1000 visitors per year make the trek, half of them paddlers trying to conquer the South Nahanni River. Untamed and spectacular, it churns 500km through the Mackenzie Mountains. Thirty-story waterfalls, towering canyons and legends of giants and lost gold round out the journey north. Visit on a fly-in day trip or paddle the Mackenzie River for a week or two.

Driving the Trans-Canada Highway

Canada's main vein: stretches 7800km from St John's, Newfoundland, to Victoria, BC, and takes in the country's greatest hits along the way. Gros Morne National Park, Cape Breton Island, Québec City, Banff National Park and Yoho National Park are part of the path, as are major cities including Montréal, Ottawa, Calgary and Vancouver. It takes most road-trippers a good month to drive coast to coast, so what are you waiting for? Fuel up, cue the tunes, and put the pedal to the metal.

Old Québec City (Québec)

Québec's capital: is more than 400 years old, and its ancient stone walls, glinting spired cathedrals and jazz-filled corner cafes suffuse it with atmosphere, romance, melancholy, eccentricity and intrigue on par with any European city. The best way to soak it all up is to walk the Old Town's labyrinth of lanes and get lost amid the street performers and cozy inns, stopping every so often for a café au lait, flaky pastry or heaping plate of poutine (French fries topped with in cheese curds and gravy).

Montréal Jazz Festival (Québec)

Where else can you join more than two million calm, respectful music lovers (no slam dancing or drunken slobs) and watch the best jazz-influenced musicians in the world, choosing from 500 shows, of which countless are free? Only in Montréal, Canada's second-largest city and its cultural heart. BB King, Prince and Astor Piazzolla are among those who've plugged in at the 11-day, late-June Montréal Jazz Festival:. You might want to join them after your free drumming lesson and street-side jam session. The good times roll 24/7.

Charlevoix (Québec)

A pastoral strip of rolling hills northeast of Québec City, the Charlevoix: region harvests much of the province's food. Gastronomes road-trip out, knowing that produce from the farms and orchards that flash by will, in true farm-to-table fashion, end up as part of part of their next meal. Village inns and alehouses serve the distinct, locally made wares: think tomato aperitif with foie gras or pear ice wine served with fresh sheep cheese. Artsy towns such as Baie St Paul and La Malbaie make good bases for exploration.

Manitoulin Island (Ontario)

The largest freshwater island in the world, floating right in Lake Huron's midst, Manitoulin: is a slowpoke place of beaches and summery cottages. Jagged expanses of white quartzite and granite outcroppings edge the shoreline and lead to shimmering vistas. First Nations culture pervades, and the island's eight communities collaborate to offer local foods (wild rice, corn soup) and eco-adventures (canoeing, horseback riding, hiking). Powwows add drumming, dancing and storytelling to the mix.

The Prairies (Saskatchewan, Manitoba)

Solitude reigns in Canada's middle ground. Driving through the flatlands of Manitoba and Saskatchewan: turns up uninterrupted fields of golden wheat that stretch to the horizon, eventually melting into the sunshine. When the wind blows, the wheat sways like waves on the ocean, punctuated by the occasional grain elevator rising up like a tall ship. Big skies mean big storms that drop like an anvil, visible on the skyline for kilometers. Far-flung towns include arty Winnipeg, boozy Moose Jaw and Mountie-filled Regina, interspersed with Ukrainian and Scandinavian villages.

Bay of Fundy (Nova Scotia)

This ain't your average Canadian bay, though lighthouses, boats and trawlers, fishing villages and other maritime scenery surround it, with frequent landward sightings of deer and moose. The unique geography of Fundy: results in the most extreme tides in the world, reaching 16m (56ft), about the height of a five-story building. They stir up serious whale food, with krill and other plankton attracting fin, humpback and blue whales here to feast, as well as endangered North Atlantic right whales, making a whale-watch here an extraordinary must-do.

Northern Lights

Canada has a lot of middle-of-nowhere, high-latitude places, from the Labrador: coast to Arctic villages. They may not seem like much during the day, but at night, drapes of green, yellow, aqua, violet and other polychromatic hues flicker and dance across the sky. Traditionally, some Inuit peoples believed the northern lights (aka the aurora borealis) were the spirits of hunted animals, while others feared they were the lanterns of demons chasing lost souls. Seen from September to March, darker skies make the coldest winter months the best for viewing.

Viking Trail (Newfoundland)

The Viking Trail:, aka Rte 430, connects Newfoundland's two World Heritage sites on the Northern Peninsula. Gros Morne National Park, with its fjord-like lakes and geological oddities, rests at its base, while the sublime, 1000-year-old Viking settlement at L'Anse aux Meadows – Leif Eriksson's pad – stares out from the peninsula's tip. The road is an attraction in its own right, holding close to the sea as it heads resolutely north past Port au Choix's ancient burial grounds and the ferry jump-off to big, bad Labrador.

Drumheller (Alberta)

Dinosaur lovers get weak-kneed in dust-blown Drumheller:, where paleontological civic pride runs high thanks to the Royal Tyrrell Museum, one of the planet's preeminent fossil collections. The world's largest dinosaur is here, too – a big, scary, fiberglass T-rex that visitors can climb and peer out of (through its mouth). Beyond the dino-hoopla, the area offers classic Badlands scenery and eerie, mushroom-like rock columns called hoodoos. Scenic driving loops take you past the good stuff.

Dawson City (Yukon)

End-of-the-road Dawson:, with its brightly painted Klondike-era buildings, once drew thousands in the search for gold. Today, instead of miners after the shiny stuff, the city attracts artists and rugged individualists, with a doors-always-open atmosphere that makes you feel like a returning local. Give gold panning a go in the icy rivers or try your hand at poker in the historic saloon, where cancan dancers still kick up their heels. Then soak up some of the spectacular sub-Arctic scenery that surrounds Dawson. Magic.

Green Gables (Prince Edward Island)

It may be the tiny, rural town of Cavendish: and its big star, Anne of Green Gables, that draw you to Prince Edward Island (PEI). Written by Lucy Maud Montgomery in 1908 about a red-haired orphan named Anne, the novel is still one of the island's biggest moneymakers. But once here, it's the seaside villages, creek-crossed woods, gabled farmhouses, rolling hills and rose-colored beaches that captivate. The fresh-plucked oysters and lobsters are simply the icing on the plum puffs. Nicknamed the Gentle Island, PEI will soothe you into holiday mode.

Churchill (Manitoba)

The first polar bear you see up close takes your breath away. Immediately forgotten are the two bum-numbing days on the train that took you beyond the tree zone onto the tundra, to the very edge of Hudson Bay. Churchill: is the lone outpost here, and it happens to be right in the bears' migration path. From late September to early November, tundra buggies head out in search of the razor-clawed beasts, sometimes getting you close enough to lock eyes. Summer lets you swim with beluga whales.

Toronto (Ontario)

A hyperactive stew of cultures and neighborhoods, Toronto: strikes you with sheer urban awe. Will you have dinner in Chinatown or Greektown? Five-star fusion or a peameal bacon sandwich? In Ontario's cool capital, designer shoes from Bloor-Yorkville are accessorized with tattoos in Queen West, while mod-art galleries, theater par excellence, rockin' band rooms and hockey mania add to the megalopolis. It is far and away Canada's largest city, as well as its most diverse – about half of its residents were born in another country.

Hockey

Hockey: is Canada's national passion, and if you're visiting between October and April, taking in a game is mandatory (as is giving a shout-out to the nation's 2014 Olympic gold medal–winning team). Vancouver, Edmonton, Calgary, Toronto, Ottawa, Winnipeg and Montréal all have NHL teams. Minor pro teams and junior hockey clubs fill many more arenas with rabid fans. And if you're still looking for a fight, pond hockey brings out the sticks in communities across the land.

Vancouver Island (BC)

C'mon, can a place really 'have it all'? Yes, if it's Vancouver Island:. Picture-postcard Victoria is the island's heart, beating with bohemian shops, wood-floored coffee bars and a tea-soaked English past. Brooding Pacific Rim National Park Reserve sports the West Coast Trail, where the wind-bashed ocean meets a mist-shrouded wilderness, and surfers line up for Tofino's waves. Then there's the Cowichan Valley, studded with welcoming little farms and boutique wineries, prime for wandering foodies.

Baffin Island (Nunavut)

The forlorn, brutal landscape of the Inuit, Baffin: is home to cloud-scraping mountains and a third of Nunavut's population. The island's crown jewel is Auyuittuq National Park – whose name means 'the land that never melts' – and indeed glaciers, fjords and vertiginous cliffs fill the eastern expanse. The park is a siren call for hardcore hikers and climbers, and more than a few polar bears. Baffin is also a center for Inuit art; studios for high-quality carving, printmaking and weaving pop up in many wee towns.

Fall Foliage

Canada blazes during autumn, which should come as no surprise in a country that's 42% covered by forest. Québec's Laurentian Mountains: flame especially bright from all the sugar maple trees (which also sauce the nation's pancakes and other goodies). Cape Breton, Nova Scotia, flares up so prettily that they hold a festival to honor the foliage – it's called Celtic Colours and it's in mid-October. New Brunswick's Fundy Coast and Ontario's Muskoka Lakes area pull in leaf peepers too.

Rideau Canal (Ontario)

This 185-year-old, 200km-long waterway – consisting of canals, rivers and lakes – connects Ottawa and Kingston via 47 locks. It's at its finest in wintry Ottawa:, when it becomes the world's largest skating rink. People swoosh by on the 7.8km of groomed ice, pausing for hot chocolate and scrumptious slabs of fried dough called beavertails. February's Winterlude festival kicks it up a notch when townsfolk build massive ice sculptures. Once it thaws, the canal becomes a boater's paradise.

angrycat662

last edited by




The capital of Canada is Ottawa and the largest city is Toronto.
DiscussPlaces
is a place to make new friends and share your passions and interests. Quench your thirst for knowledge, discuss places with other aficionados, and swap recommendations. Are you an aspiring foodie who dreams of living in New York? Or perhaps you are looking for the best chicken wings in Cincinnati? Then this is the place for you! Any one can join in with a passion or interest – whether it be talking about their favorite restaurant in Barcelona or raving about their latest trip to Italy. Join us!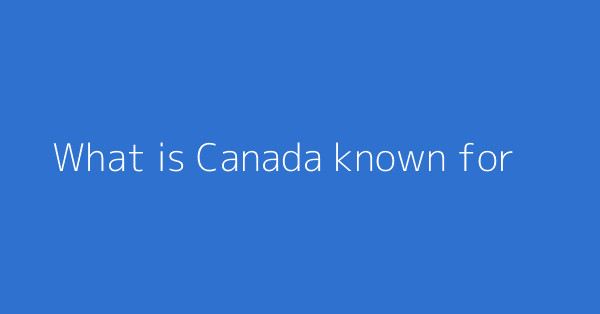 This page shows discussions around "What is Canada known for?"