Chile

Chile, country situated along the western seaboard of South America.
It extends approximately 2,700 miles (4,300 km) from its boundary with Peru, at latitude 17°30′ S, to the tip of South America at Cape Horn, latitude 56° S, a point only about 400 miles north of Antarctica.
A long, narrow country, it has an average width of only about 110 miles, with a maximum of 217 miles at the latitude of Antofagasta and a minimum of 9.
6 miles near Puerto Natales.
It is bounded on the north by Peru and Bolivia, on its long eastern border by Argentina, and on the west by the Pacific Ocean.
Chile exercises sovereignty over Easter Island, the Juan Fernández Archipelago, and the volcanic islets of Sala y Gómez, San Félix, and San Ambrosio, all of which are located in the South Pacific.
Chile also claims a 200-mile offshore limit.
The capital is Santiago.

Chile has so much to offer, here are some of the things Chile is known for.

Parque Nacional Torres del Paine

Some rites of passage never lose their appeal, so strap on that heavy pack and hike through howling steppe and winding forests to behold these holiest-of-holy granite mountain spires. Las Torres may be the main attraction of its namesake park:, but this vast wilderness has much more to offer. Ice-trek the sculpted surface of Glacier Grey, explore the quiet backside of the circuit, kayak the calm Río Serrano or ascend Paso John Gardner for gaping views of the southern ice field.

Chasing Big City Culture

Santiago: is the center of the nation's cultural and intellectual universe. Dig the poetry of Pablo Neruda's home, La Chascona, a tribute to the surrealist's affection for the wild-haired lover who would become his third wife. Mainstream museums such as the Museo Nacional de Bellas Artes and the Museo de Arte Contemporáneo are worth popping into, before you widen your optics to discover the hard-charging underground arts scenes in Barrios Brasil, Lastarria and Bellas Artes.

Moai of Easter Island

The strikingly enigmatic moai (large anthropomorphic statues) are the most pervasive image of Easter Island (Rapa Nui). Dotted all around the island:, these massive carved figures stand on stone platforms, just like colossal puppets on a supernatural stage. They emanate mystical vibes and it is thought that they represent clan ancestors. The biggest question remains: how were these giant statues moved from where they were carved to their platforms? It's a never-ending debate among specialists.

North Coast Surfing

Hit the potent tubes in northern Chile's duo of surf capitals, Iquique and Arica:. Surfers come in droves year-round for the consistent swell and a string of perfect gnarly reef breaks that break close to the desert shore. We're talking huge, hollow and nearly all left waves of board-breaking variety, especially in July and August when hard-core surfers storm the coast. But do bring booties and wetsuits – the shallow reefs are full of urchins and the water is cold, courtesy of the Humboldt Current.

Churches of Chiloé

No matter how many European cathedrals, Buddhist monasteries or Islamic mosques you have seen, Chiloé's 16 wooden Unesco World Heritage–listed churches: will be unlike any previously encountered. Each is an architectural marvel marrying European and indigenous design, and boasting unorthodox colors and construction. Built by Jesuit missionaries working to convert pagans to Catholicism, these 17th- and 18th-century cathedrals' survival mirrors the Chilote people's own uncanny resilience.

Wine Tasting

Big round cabernets and Carmeneres are the signature varietals of the Colchagua Valley:, a scorched parcel of earth that has become Chile's premier wine-tasting region. Oenophiles and gastronomes will be entranced by the epicurean delights of the valley's tony wineries, bistros and posh lodgings. For floral whites and mass-production reds, head just outside Santiago to visit the wineries of the Casablanca and Maipo Valleys, before traveling further south for a few heady but unpretentious reds in the Maule Valley.

Swooning over Valle de la Luna

See the desert don its surrealist cloak as you stand atop a giant sand dune, with the sun slipping below the horizon and multicolored hues bathing the sands, all with a backdrop of distant volcanoes and the rippling Cordillera de la Sal. In Valle de la Luna:, the moment the color show kicks in – intense purples, golds, pinks and yellows stretch as far as your eye can see – you'll forget the crowds around you, all squeezing in to catch sundown in the valley.

Elqui Valley

Spend a few languid days in the lush Elqui Valley: and you'll start to wax lyrical, or even channel the late Nobel Prize–winning poet Gabriela Mistral who grew up in these parts. Infused by poetry, pisco, pretty villages and star-sprinkled night skies, this is a wholesome land of spiritual retreats, ecofriendly inns, hilltop observatories and artisanal distilleries of the potent little grape. Sample food cooked solely by sun rays, get your aura cleaned, feast on herb-infused Andean fusion fare and ride the valley's mystic wave.

La Araucanía's National Park Trifecta

Sur Chico: boasts seven national parks, none more otherworldly than Reserva Nacional Malalcahuello-Nalcas and Parque Nacional Conguillío, whose charred desertscapes were born from volcanic eruptions, those of the magnificent volcanoes Lonquimay and Llaima among them. In ski season it's a wonderland of powder bowls and blue skies. Then there's Parque Nacional Tolhuaca, flush with araucarias and intensely hued lagoons. This stunning trifecta – easily accessed via a base along the road to Lonquimay – is a microcosm of all that's beautiful about Sur Chico.

Skiing the Andes

The Chilean Andes are home to some of the best southern hemisphere skiing found on this powder-dusted planet. For steep slopes, expansive vistas, hot-tub parties and plenty of après-ski revelry, head to top resorts: such as the all-in-one Portillo, budget-friendly El Colorado and the ritzy La Parva. Valle Nevado has expanded terrain with more than 7000 skiable acres. At Termas de Chillán you can take an after-ski dip in a hot-springs pool.

Road-tripping the Carretera Austral

Find out what adventures await on this 1240km romp through Andean backcountry dotted with parks and pioneer homesteads. The Carretera Austral: is every wanderer's dream. It was created in the 1980s under the Pinochet regime, in an attempt to link the country's most isolated residents to the rest of Chile. Now, with nearly half the road paved and a ferry connection to Puerto Natales, it's more accessible than ever. If you have the time, offshoot roads to glaciers, seaside villages and mountain hamlets are worthy detours.

Santiago Dining and Nightlife

Santiago's avant-garde restaurants: are taking South American fusion to new levels by combining old-school sensibilities with new-school flavors. For culinary forays, explore the pop-deco bistros of Bellavista, the sidewalk charmers in Lastarria and the high-falutin' eateries of Las Condes. Come nighttime, Santiago knows how to rage against the dying of the light, and you'll find raucous beer halls, decibel-piercing discotecas, candlelit poetry houses and just about anything else your inner Bacchus desires along the alleyways of party districts like Bellavista, Bellas Artes and Lastarria.

Puerto Williams, the Southernmost Spot

At the Americas' southernmost outpost, yachties trade round-the-world tales and wilderness looms larger than life. Part of the appeal is getting there, which means crossing the Beagle Channel. As villages go, Puerto Williams is the kind of place where people know your name within days of your arrival. For adventure, take the two-day ferry from Punta Arenas, with views of tumbling glaciers, or hike the Dientes de Navarino circuit:, a five-day walk through wild high country fringed by razor-faced peaks.

El Tatio Geysers

Dress warmly and catch daybreak on a frigid walk through the gurgling geysers, gnarly craters and gassy fumaroles of El Tatio:, the world's highest geyser field ringed by pointy volcanoes and mighty mountains at 4300m above sea level. Hear this giant steam bath hiss, groan, spit and grumble as it shoots up white-vapor jets of steam, while the sun rises over the surrounding cordillera and bathes it in a sudden and surreal splash of red, violet, green, chartreuse and blue.

Parque Nacional Patagonia

Dubbed the Serengeti of the Southern Cone, this new park: is the best place to spot amazing Patagonian wildlife such as guanacos, condors and flamingos. Once a down-and-out cattle and sheep ranch, its meticulous restoration has made it a model park worthy of worldwide recognition. Put aside a few days to take the trails to turquoise lagoons, undulating steppe and ridgetops, or just watch wildlife along the main road that climbs to the border of Argentina near Ruta 40.

Rano Raraku

Chances are that you've never seen a quarry quite like this one. The volcano of Rano Raraku:, known as 'the nursery', supplied the hard stuff that moai were shaped from. It's like wandering back into early Polynesian times as you walk among the partially carved moai dotting the southern slopes of the volcano. Make it all the way to the top for an awe-inspiring 360-degree view. Within the crater, there are a number of standing moai and a shimmering lagoon.

Monumento Natural Los Pingüinos

Every year, 60,000 Magellanic penguin couples convene just off the coast of Punta Arenas on Isla Magdalena:. Take a fast boat or ferry from the city to have a look at this enormous, squawking colony. Watching them as they waddle around, guard their nests, feed their fluffy, oversized offspring and turn a curious eye toward you makes for a great outing. There's also a historic lighthouse-turned-visitor center worth exploring. The penguins reside on the island from October to March.

The Lakes District

Don't judge a district by its name. The Lakes District, Los Lagos in Spanish, only tells part of the story. While turquoise, blue and green glacial lakes dominate the landscape, they're hardly the only attraction. Play on towering, perfectly conal, snowcapped volcanoes. Visit charming lakeside hamlets such as Frutillar. Admire the green umbrella of national parks like Parque Nacional Huerquehue. A long list of outdoor adventures and a unique, German-influenced Latin culture make for a cinematic region: that appeals to all.

Hills of Valparaíso

Generations of poets, artists, philosophers and shanty-singing dockworkers have been inspired by the steep technicolor cerros (hills) of Valparaíso:. A maze of winding paths leads you to some of the nation's best street art, remarkable views and a patchwork of dilapidated tin homes that whisper inspiration at every turn. A renaissance is bringing revived architecture, ultrachic boutique hotels with million-dollar views and amazing restaurants to a port town whose soul is encapsulated by its syncopated cityscape, arching views, never-ceasing breeze and rumble-and-tumble docks.

Isla Robinson Crusoe

Little visited and hard to get to, Isla Robinson Crusoe in the Archipiélago Juan Fernández: is one of the most beautiful and strange places you will see in Chile. For history lovers it's a dream destination: Alexander Selkirk, the inspiration for the fictional Robinson Crusoe, spent lonely years here as a castaway. It was also a stop for 17th- and 18th-century pirates. Today's visitors enjoy fantastic hiking, lobster dinners and scuba diving with the endemic Juan Fernández fur seals.

sadwolf623

last edited by




That would be called a sirocco

tinytiger956

last edited by




Even though Chile is internationally known for its succulent red wines and its devilish pisco, Chile also has a strong and diverse beer culture!
DiscussPlaces
is a place to make new friends and share your passions and interests. Quench your thirst for knowledge, discuss places with other aficionados, and swap recommendations. Are you an aspiring foodie who dreams of living in New York? Or perhaps you are looking for the best chicken wings in Cincinnati? Then this is the place for you! Any one can join in with a passion or interest – whether it be talking about their favorite restaurant in Barcelona or raving about their latest trip to Italy. Join us!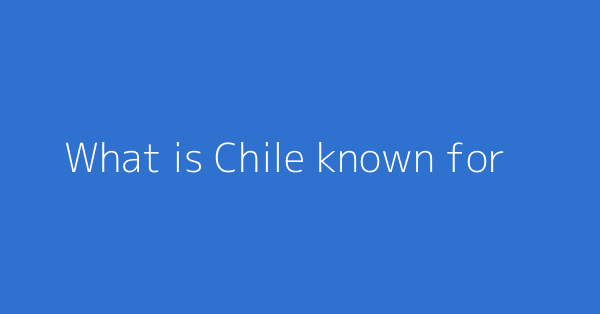 This page shows discussions around "What is Chile known for?"