goldenbear846

last edited by




Mali is located in Africa.

Mali is situated in western Africa, is also known as the Republic of Mali, and is entirely landlocked. Mali is surrounded by seven other countries: Algeria, Côte D'ivoire, Burkina Faso, Guinea, Niger, Senegal, and Mauritania. As part of the West African Craton region, Mali is one of the top ten most significant countries in all of Africa.

Mali has a total area that amounts to approximately 479,200 square miles. With a length of 552.91 miles and a width of 486.32 miles, Mali is the eighth largest country in Africa.

The population of Mali is only 0.25% of the world's total population. As of December 2018, 19,369,801 people are living in Mali. This number places Mali in the position of being the 62nd most populated country in the world.

By taking the population and dividing it by the total area, the population density can be determined. This value depicts the relationship between two variables: the area of a country and the number of people who inhabit the area. That said, Mali has a population density of about 41 people for every square mile of Mali's total area.

The GPS coordinates of Mali are a latitude of 17.5707° N, and longitude of 3.9962° W. Mali is above the equator of the earth. The West African country is found in the northern hemisphere, based on latitude, and the western hemisphere, based on longitude.

Mali stretches as far north as the Mali-Mauritania border with a latitude of 25°00' N. In the opposite direction, the southernmost point of Mali is situated at the geographic coordinate of 10°09' N. This point is along Mali's border with Côte d'Ivoire. Compared to the southern points of other countries, Mali ranks as the country with the 87th most southern point.

Mali shares a border with Niger in the east. Mali's Kidal Region and Gao Region are both situated along the easternmost part of the African country. At a longitude of 4°00' E, the easternmost point of Mali ranks as the 139th most eastern point in the world. To the west, Mali's furthest point is on the border separating Senegal, Mali, and Mauritania. As part of the Kayes Region, this point has a longitude of 12°00' W.
DiscussPlaces
is a place to make new friends and share your passions and interests. Quench your thirst for knowledge, discuss places with other aficionados, and swap recommendations. Are you an aspiring foodie who dreams of living in New York? Or perhaps you are looking for the best chicken wings in Cincinnati? Then this is the place for you! Any one can join in with a passion or interest – whether it be talking about their favorite restaurant in Barcelona or raving about their latest trip to Italy. Join us!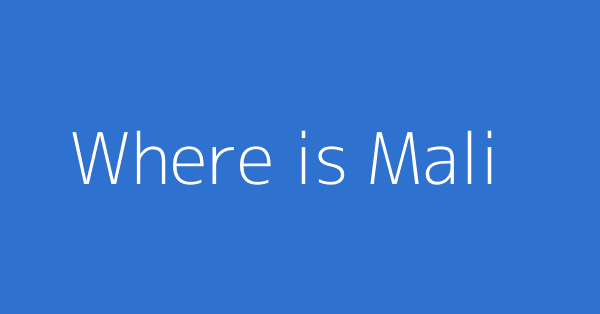 This page shows discussions around "Where is Mali?"