What is Croatia known for?



Croatia

Croatia, country located in the northwestern part of the Balkan Peninsula.
It is a small yet highly geographically diverse crescent-shaped country.
Its capital is Zagreb, located in the north.

Croatia has so much to offer, here are some of the things Croatia is known for.

Dubrovnik

Croatia's most popular attraction, the extraordinary walled city of Dubrovnik:, is a Unesco World Heritage Site for good reason. Despite being relentlessly shelled in the 1990s during Croatia's Homeland War, its mighty walls, sturdy towers, medieval monasteries, baroque churches, graceful squares and fascinating residential quarters all look magnificent again. For an unrivalled perspective of this Adriatic pearl, take the cable car up Srđ, the city's craggy backdrop. For a more intimate glimpse, circle the city walls and peer into hidden gardens and ancient lanes strung with laundry.

Plitvice Lakes National Park

A turquoise ribbon of lakes linked by gushing waterfalls in the forested heart of continental Croatia, Plitvice Lakes National Park: is an awe-inspiring sight. There are dozens of lakes – from 4km-long Kozjak to reed-fringed ponds – and their startling colours are a product of the karstic terrain. Travertine expanses covered with mossy plants divide the lakes, while boardwalks allow you to easily traverse this exquisite watery world. Follow hiking trails through beech, spruce, fir and pine forest to escape the crowds by the water.

Hvar

Come high summer, there's no better place to dress up and get your groove on than Hvar Town:. Gorgeous tanned people descend from their yachts in droves, rubbing shoulders with up-for-it backpackers at après-beach parties as the sun drops below the horizon. While the cashed-up yachtie types keep the town's top-notch restaurants and cocktail bars in business, sun-dazed young revellers do the same for the little dance bars that are the mainstay of the scene. Pack beach gear and shoes suitable for dancing on tables and you'll be sorted.

Mljet

Cloaked in dense pine forests, marvellous Mljet: is an island paradise. Legend has it that Odysseus was marooned here for seven years, and it's easy to appreciate why he'd take his time leaving. The entire western section is a national park, where you'll find two sublime cobalt-coloured lakes, an island monastery and the sleepy little port of Pomena, which is as pretty as a picture. Don't neglect eastern Mljet, home to some tranquil little bays, brilliant beaches and a couple of excellent eateries.

Coffee Fix in Zagreb

Elevated to the status of ritual, having coffee in one of Zagreb's outdoor cafes: is a must, involving hours of people-watching, gossiping and soul-searching, unhurried by waiters. To experience the city's vibrant cafe culture, grab a table on the cobbled car-free Tkalčićeva, with its endless streetside cafes, or one of the pavement tables on Trg Petra Preradovića or Bogovićeva. Don't miss the Saturday-morning špica, the coffee-drinking and people-watching ritual in the city centre that forms the peak of Zagreb's weekly social calendar.

Wining and Dining in Istria

La dolce vita reigns supreme in Istria:, Croatia's top foodie destination. The seafood, truffles, wild asparagus and boškarin (an indigenous species of ox) all stand out, as do myriad regional specialities and award-winning olive oils and wines by small local producers. Sample the best the region has to offer in upmarket restaurants by the sea, in traditional family-run taverns in medieval hilltop villages and in farmhouses all over the peninsula's verdant interior. If you're not consuming at least one truffle dish a day, you're not doing it right.

Vis Island

The most remote of Croatia's main islands, Vis: is also one of its most captivating. A duo of attractive towns adds historic interest to its northern and western coasts, while hidden to the south and east are some of the nation's most idyllic little coves – some pebbly and some sandy, and all completely irresistible. Scattered around the island in villages, on farms and at isolated beaches are an assortment of excellent traditional taverns, making the most of the island's organic produce and still-thriving fishing traditions.

Bol

Bol:, on the southern coast of Brač Island, is home to the illustrious Zlatni Rat beach, with its hornlike shape and golden pebbles. The pretty harbour town is a favourite among windsurfers: the channel between the islands of Brač and Hvar provides ideal wind conditions, thanks to the maestral (strong, steady westerly wind) that typically blows between April and October. The wind picks up slowly in the morning, an excellent time for beginners to hit the water. By early afternoon, the winds are strong – perfect for those looking for a real adrenalin kick.

Korčula

Like Dubrovnik in miniature, the sweet little seaside town of Korčula: has its own set of imposing walls and towers but only a fraction of the tourists of its more famous sibling. The highlight is its extraordinary cathedral, adorned with a downright kooky set of carvings. You can walk every one of the marbled streets of its compact old town in an hour, leaving plenty of time for lazing on the beach or heading into the hinterland for a memorable meal at a village konoba (tavern).

Krka National Park

There are Roman ruins, historic watermills and two fascinating monasteries (one on an island and one built over ancient catacombs), but the star of this highly scenic national park: is the Krka River itself, rushing through canyons, broadening into lakes and splashing over numerous falls and cascades. You can stroll along boardwalks and marvel at the multitude of fish darting through the emerald waters, and then cap off your visit with a dip in a lake at the foot of a mighty waterfall.

Split

Experience life as it's been lived for thousands of years in Diocletian's Palace, one of the world's most imposing Roman remains. The mazelike streets of this buzzing quarter – the living heart and soul of Split: – are chock-full of bars, shops and restaurants. Getting lost in the labyrinth of narrow streets, passageways and courtyards is one of Croatia's most enchanting experiences – and it's small enough for you to always find your way out again easily. Escape the palace walls for a drink on the marble-paved, palm-fringed Riva along the water's edge.

Zagorje

The postcard-perfect medieval castles of Zagorje: are prime for some time travel. Journey back to 1334 in Trakošćan Castle, although its present-day neo-Gothic exterior is the result of a 19th-century makeover. Learn about Croatian aristocracy in its well-presented museum and wander the 215-acre castle grounds landscaped into a romantic English-style park with exotic trees and an artificial lake. Enter the 16th century via the hilltop castle of Veliki Tabor, worth a visit for its pentagonal towers and turrets, atmospheric interiors, and the bucolic landscapes that surround it.

Zadar

Set on a peninsula shaped like a hitchhiker's thumb, the old town of Zadar: has history and culture in spades. Roman ruins protrude haphazardly from the city streets, while museums and churches lurk around every other corner. Artsy types, students and style-mavens rub shoulders in bars ranging from utterly classy to deliciously divey, while food lovers frequent the many excellent eateries. Backpackers are well served by some brilliant hostels, while families gravitate to the surrounding beach resorts, and charming boutique hotels reel in the romantics.

Cres

Leafy, sparsely populated and never overwhelmed by tourists, the island of Cres: is unique among Croatia's Adriatic isles. Strolling through the Tramuntana region in the north you might even begin to believe the old people's stories about elves lurking in the ancient forests. At the other end of the island, tiny Osor is a walled town as sleepy as you'll find on the entire coast. Scattered in between are gorgeous beaches, lost-in-time hilltop villages and the pretty pastel-hued harbour of Cres Town.

Cape Kamenjak

It's the rugged beauty and end-of-the-world vibe of this small peninsula, just south of Pula, that have earned it cult status among Istrian beachgoers. An undeveloped protected nature reserve, Cape Kamenjak: showcases a carpet of heath plants, shrubs and wildflowers, criss-crossed by a maze of dirt tracks. It's fringed by a string of pebble bays and secluded rocky beaches, surrounded by a crystalline blue-green sea. It gets busy in summer but there's always an empty beach to escape to, followed by a refreshing drink at a buzzy beach bar.

Kopački Rit Nature Park

A flood plain of the Danube and Drava Rivers, Kopački Rit: is part of a Unesco biosphere reserve and offers some of Europe's best birdwatching opportunities. Join a boat trip and keep your eyes peeled for white-tailed and imperial eagles, black storks, purple herons and woodpeckers – just some of the nearly 300 species recorded here. Alternatively, you can explore a flooded forest by canoe, or hike the nature trails and try to spot the area's resident mammals, such as red deer and wild boar.

Motovun

The approach to Motovun: is nearly as captivating as the destination itself. This picture-perfect hilltop town rises from a forested valley that appears untouched by the 21st century. Centuries-old houses line the steep approach to the outer gate of the even-older walled town, where a final gate opens onto the town square. The views from the fortifications are virtually unchanged from when they were built, taking in a lush expanse of green and the rolling hills beyond. Sally forth to hunt down truffles, fine wine and even finer olive oil.
DiscussPlaces
is a place to make new friends and share your passions and interests. Quench your thirst for knowledge, discuss places with other aficionados, and swap recommendations. Are you an aspiring foodie who dreams of living in New York? Or perhaps you are looking for the best chicken wings in Cincinnati? Then this is the place for you! Any one can join in with a passion or interest – whether it be talking about their favorite restaurant in Barcelona or raving about their latest trip to Italy. Join us!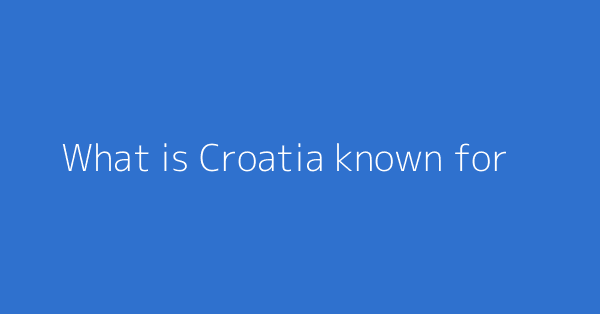 This page shows discussions around "What is Croatia known for?"