Pros and Cons of Living in Vancouver, Canada
happyduck881 Discussion Fanatics

last edited by




I live here and I can tell you that many of the stats listed are wrong. Getting an edible dinner for $10 is an utter fantasy. Typically that's what you pay for an appetizer. A 1-bdr in the city centre will cost you at least $1600 but probably more like $2000+ and chances are it will be a hell-hole at those prices. The night life is indeed terrible here. The saving grace is that there's dozens of micro-brewery pubs with very interesting beer very close to the city centre. But they're legally required to close at 23:00 and after that your options are mostly trash unless you happen to have insider knowledge about arty happenings. Most of the night life is so bad that it will make you feel like a tourist even if you're a local. There is no Uber or ride-sharing of any kind here the taxi lobby is far too strong. Tipping? Absolutely yes, minimum 15%! People that work in restaurants here cannot survive on their meagre wages. A really important thing to know is that listed prices here never include tax, so everything costs 12% more than you thought it would -- and at a restaurant your cost including taxes and tip will be at least 30% more than what you see on the menu. Don't come here unless you're looking for a quiet retirement. Go to Seoul or Berlin or Montreal instead. It will be cheaper, more social, more cultured, more fun, and there will be a lot more to do.
What is discussplaces?
DiscussPlaces
is a place to make new friends and share your passions and interests. Quench your thirst for knowledge, discuss places with other aficionados, and swap recommendations. Are you an aspiring foodie who dreams of living in New York? Or perhaps you are looking for the best chicken wings in Cincinnati? Then this is the place for you! Any one can join in with a passion or interest – whether it be talking about their favorite restaurant in Barcelona or raving about their latest trip to Italy. Join us!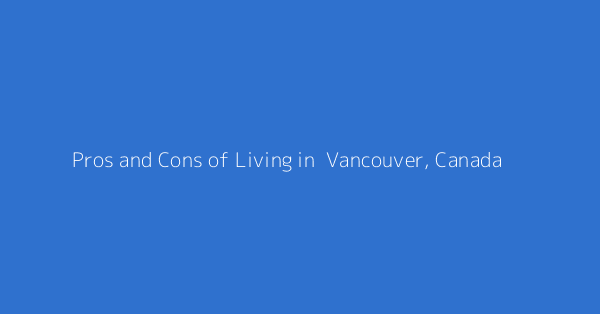 This page shows discussions around "Pros and Cons of Living in Vancouver, Canada"
Whether the information provided was useful?
---