Pros and Cons of Living in Barcelona, Spain
greenbird133 Discussion Fanatics

last edited by




Lived in Barcelona for a year and a half. I would agree that the weather is perfect and Barcelona does have a great tech scene as well as food and has everything landscape and lifestyle wise that you could think of. Bureaucracy isn't too bad if you nip it in the bu** early and have patience. Also some clubs are free. (Jamboree!). The metro is also, very efficient with red and purple being the busiest lines. Very walkable city too. Plenty of opportunity to meet people as well. The beaches are ok, just avoid Barceloneta as it's pretty gross and you WILL get bugged by vendors and pick pockets. Not really any violent crime unless there is a reason for it. But ok, time for the negatives. Crime... it is not super dangerous I never felt unsafe. However, I almost got jumped twice and had gotten pickpocketed 3 times. One timed almost jumped because I was waiting for the night bus in a certain neighborhood (Reval) and the bus was taking forever. Once, I had two women of the night sit next to me while waiting for the metro like, on both sides while noone else was there. And almost pick pocketed while on the metro going in run and dash method. Nothing ever happened or taken because I played it smart and didn't do any dumb tourist things but please be careful. Keep your cell phone in your FRONT pocket. Keep things in a secret pocket and don't put anything of importance in the front pockets of a backpack even if you hold it up front they have their ways lol. Also, Barcelona is mostly smoke and mirrors vibe wise. A lot of things you think are amazing or authentic are built purely for tourism and not authentic. Like, the "Gothic Quarter" for example. You can also entertain all of your vices here as well. Just be very very careful as Barcelona can swiftly drag you in and under. The Catalan people are courteous but not warm or friendly. If you want to thrive here you must learn Spanish AND Catalan. The only spanish speakers that are friendly are people from outside of Cataluyna but, quickly become on of them if from Spain so, your only bet are those from Latin America. And yeah, Barcelona is family friendly no problem. Just don't live in the Reval area unless you want break-ins. It's considered a hip place though despite that. And as a single person renting a room and using Cafe Wifi and going out for a drink once a week and buying bare minimal groceries; I would say I could live off of 700 euros bare minimum which, is kind of not enough if you ask me but it was ok. I could have found a cheaper room (Mine was 430 euros) but, alas I was desperate. However, Barcelona is amazing, with an art scene that is cool, a skater's paradise if that's your scene and many more. Just don't do dumb tourist things.
What is discussplaces?
DiscussPlaces
is a place to make new friends and share your passions and interests. Quench your thirst for knowledge, discuss places with other aficionados, and swap recommendations. Are you an aspiring foodie who dreams of living in New York? Or perhaps you are looking for the best chicken wings in Cincinnati? Then this is the place for you! Any one can join in with a passion or interest – whether it be talking about their favorite restaurant in Barcelona or raving about their latest trip to Italy. Join us!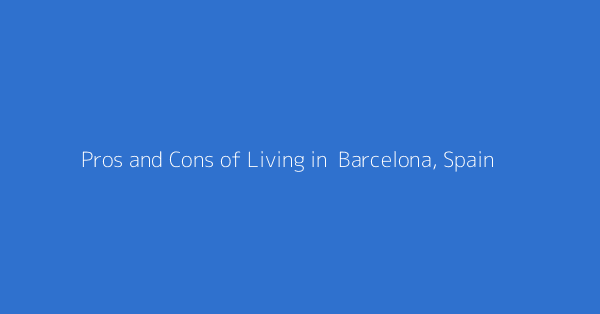 This page shows discussions around "Pros and Cons of Living in Barcelona, Spain"
Whether the information provided was useful?
---